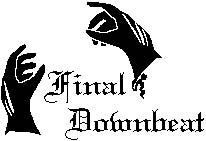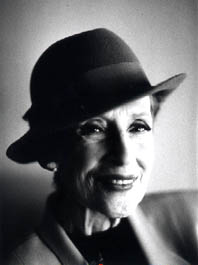 Pat Nacey: Friend of Jazz (1926­2003)
Our friend, and an important friend of Jazz died in her sleep on June 7th, 2003.
We went to her celebration on July 12, 2003 where we celebrated her life with her son, Peter Fitzsimmons, daughter, Kathy Skillicorn and her church, the church for the Fellowship of All Peoples in San Francisco. Pat was important to the San Francisco Jazz scene, and was well respected by the community. "The Mayor" Willie Brown was there with his testimonial, as well as her best friend, and San Francisco City Supervisor, Sue Bierman, whom we would see just about every time we saw Pat on the scene. After the service, we watched a film clip about Pat that was put together by Carol Chamberland, noted videologist, that showed some of Pat's philosophy and her passion for Jazz. Then her musician friends jammed for her. Of the one we knew, there was Noel Jewkes (Pat's favorite saxophone player), Allen Smith (trumpet), Harold Jones (drums), Terry Hilliard (bass), Denise Perrier, and Mary Stallings (vocals), just to name a few.
To read more about Pat Nacey, click on her name for an article about her in the February 2000 issue of Jazz Now Interactive magazine at: www.jazznow.com.
Her friends Michael and Nancy Kaplan adapted the following lyrics to the tune "I Can't Get Started" (original tune by Vernon duke and original lyric by Ira Gershwin) which summarizes Pat Nacey's life. We have the Kaplan's permission to publish it here:
First Chorus:
You didn't always come out of the rain
there are folks who thought you insane
But alas we are parted
And broken hearted...without you
Back in North Beach the "Beats" set you free
Ferlinghetti would ask you to tea
Such a great avant guard place
Was a fine showplace...for you
You were on the scene
Lyrics we wrote for You
Keen..That's how we thought of You
Dreams are what we have left of You
Oh...what more can we do
At Synanon you did play the "game"
William Diedrich gave you acclaim
Your life got all straighted
And highly rated were You
You had a rough bout with Mister "C"
And beat him for years, we did see
But he wasn't defeated
And we're now at a loss without You
Second Chorus:
On the Jazz scene you were nobody's fool
Everyone knew you were cool
Musicians top-rated
Jammed and created for You
At Bop city you knew the score
For you the players stayed on the floor
The horns, drums and string base
All played to your pace... what's more
You're with great sound
It plays day and night for you
Profound...that's how we think of you
Ground...that's where your feet were too
So what more could You do
Oh there were spouses, yes quite a few
One painted, one blew find horn for You
The third seemed well mated
But also ill fated...too true
Getting a Jazz club back on Filmore
You, Pat, were writing the score
But with You now parted
In your memory, we'll make it our chore.
Pat was serious about Jazz. She tried her very best to bring Jazz back to the Filmore district of San Francisco. She put one several shows in the community center at Filmore just to get things started and we have attended them. A cassette that she produced Vooti is available at Jazz Now Direct CD store. The title song was written and performed for her about her cat, Vooti, by Noel Jewkes, and Scotty Wright did the vocals for the piece.
We miss you Pat!
---
Back to

Contents Page
Jazz Now Interactive

Copyright Jazz Now, July 2003 issue, all rights reserved
jazzinfo@jazznow.com