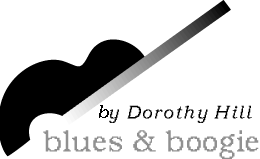 Terry Hanck
Although he recently relocated to Florida after residing in California for over thirty years, Terry Hanck (photo by Deb Lubin) recently returned to perform at Biscuits & Blues in San Francisco. Supporting him on this occasion were Butch Cousins on drums, Leonard Gill on bass and Chris "Kid" Andersen on guitar. Tenor saxophonist Hanck honed his craft as a member of the Elvin Bishop band during the 1970's and 1980's before striking out on his own. Hanck's musical style fuses the blues of his birthplace of Chicago with New Orleans jump blues and an abundance of soul.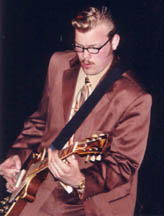 Opening up with a jump blues number, Hanck displayed an intensity that drove the tune to a high level of exploration. On the Chuck Willis tune, "Whatcha Gonna Do When Your Baby Leaves," Hanck's rugged vocal style was outstanding. His powerhouse saxophone solidly interpreted the melody on each tune, surging solos and improvising phrasing. Covered were tunes by Jr. Walker, Little Willie John and Ike Turner among others, mixed up with some funk along the way. Hanck's expressive rendition of "Turning Point" was a highlight of the evening.
Chris "Kid" Andersen (photo at right by Deb Lubin), a transplanted Norwegian who is making quite a mark on the blues scene with his inventive guitar playing, performed the title track from his new CD, "Rock Awhile." Andersen's technical ability is notable and his propensity for blues is astounding for someone who arrived in this country only three years ago, definitely a talent to watch.
Hanck's confident attitude and great showmanship and emotional interaction with an excellent band made for a fulfilling evening.
---
Buckwheat Zydeco
They moved the tables back for this one at Biscuits & Blues and the dancers took over. Stanley "Buckwheat" Dural (photo by Dorothy Hill) and his zydeco aggregation were in the house to spice it up with an evening of musical Louisiana gumbo. Buckwheat's traditional Creole roots are infused with a contemporary sound incorporating the blues in a unique blend.
The band opened up with the blues standard, "The Thrill Is Gone." Buckwheat came to the stage, hooking his accordion around his neck and lit into a swamp-boogie tune. On the Hank Williams tune "Hey Good Looking'," Buckwheat got the audience doing a call and response rotating from one side of the room to the next much to the delight of everyone. His infectious riffs on this tune were amazingly energetic which was the theme all night whether grooving with the washboard player or running over to the Hammond organ to knock out a few notes. He closed out the evening with a rollicking version of "Let The Good Times Roll." And, indeed they did for us this evening!
---
Barbeque, Beer and Bluesfest 2004
Dorothy King of Everett & Jones Barbeque closed down Second and Broadway in Oakland on Sunday, June 20th, and presented a fantastic blues festival on the street.
Bevery Stovall (top left), Bobby Womack (top right)
Beverly Watson (bottom left) Sonny Rhodes (bottom right).
Photos by Dorothy Hill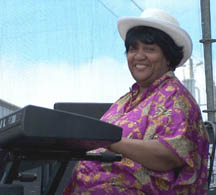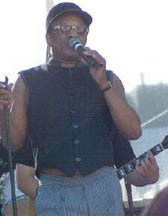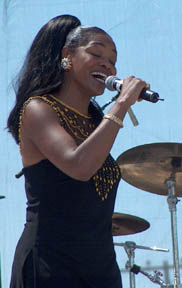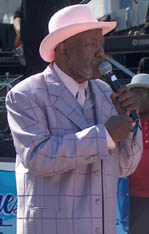 Opening up the festivities after a gospel presentation was Oakland's own Beverly Stovall. Boogie pianist, Stovall is one of the most talented ladies in the music. Her set was outstanding with Frank Samuels lending vocals to his drums and Paul Palizzolo on harmonica. Birdlegg, who plays one of the meanest harmonicas around, was his usual exuberant self, coming down into the audience and roaming around the tables while playing. Beverly Watson along with the Dynamic Four got the audience dancing and joined the electric slide group on the street. Watson's vocal phrasing was perfectly displayed on her dedication to Ray Charles on the tune "Georgia On My Mind." Bluesman Sonny Rhodes, dressed in a pink-toned suit and pink hat was in fine form (photo by at left by Dorothy Hill). There is no greater slide guitarist around and Rhodes thrilled the crowd with his blues vocals. The highlight of the day was the appearance of vocalist Bobby Womack. Womack took it to another level with his soulful rendition covering Sam Cooke and Marvin Gaye tunes, testifying with his gritty vocal style. His long set left the audience satisfied and there was no doubt that Womack can still deliver some of the deepest soul around.
In the tradition of street festivals, this was a day of good food and great music, kudos to Dorothy King!
---
Chris Cotton
With his band, Blue Eyed Devils, guitarist and vocalist, Chris Cotton (photo by Dorothy Hill) was getting recognition as a young fresh talent on the blues scene. When they disbanded the group, Cotton grabbed the opportunity to pursue his first love - country blues. He recently returned from a sojourn to Clarksdale, Mississippi where he cut a record covering the music of Skip James and Mississippi John Hurt among others--Big Jack Johnson came by and sat in on a tune.
So, on his return to San Francisco, Cotton performed this material at his acoustic show at Biscuits & Blues. Cotton told some wonderful stories between tunes personalizing the experiences which led him to memorialize them in his compositions. One of the best was his tune entitled "Morgan City, Mississippi" which told of being given a ride by the sheriff while hitchhiking and driving down the road at a hundred miles an hour when his traveling friend pulled out a can of beer in the back seat of the police cruiser.
The show was enlivened when drummer Justin Markovits joined Cotton on stage. No drums, but he brought his washboard and sticks and proceeded to produce fantastic rhythm using everything in sight including the floor, a wood chair, microphone stands and the plantations shutters on the doors behind the stage! The upbeat tune "City Boy/Country Blues" featured Cottonís unique country-tinged vocals along with Markovits on the washboard.
This was a propitious beginning for a very talented performer embarking on a new venture who undoubtedly will make his mark in this genre.
by Dorothy L. Hill
---
All rights reserved. Jazz Now July 2004 issue
Jazz Now Interactive July 2004 Vol 14 No. 3 - Table of Contents