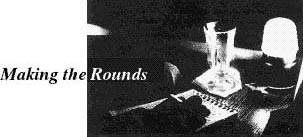 Gloria Cooper in San Francisco
June 2004 brought us to the Savannah Club in the Mission District of San Francisco twice. Once for the appearance of Gloria Cooper from New York, and the other for Buddy Montgomery from southern California. Savannah Club is one of our newest Jazz hangout in San Francisco, with comfortable seats and good sound. It is a listener lounge where social conversation is at a minimum. People come for the music. Owner-guitarist Pascal Bokar gets a chance to play a couple of pieces with whoever appearing for the evening. Beside sitting in with the groups, Herb Gibson acted as MC for both evenings, introducing the musicians, said a few words and cracked a few jokes.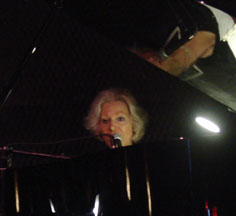 On June 12, Dr. Gloria Cooper (photo at left by Stella Houston), singer, pianist, educator and author was accompanied by Michael Jones on bass, Fernando Ruarte on drums, and Herb Gibson added vibes. She presented pieces like "Fools Rush In," Bertha Hope's "You Know Who?" Curtis Fuller's "Sweet and True," "East of the Sun, West of the Moon," "I Thought About You," Eddy Higgin's "Just A Dream" which I am not familiar at all, and its intervals sounded difficult. I appreciate the introduction of the pieces -- who wrote the tuned and the names of the tune. It helps me. It helps my education in Jazz. Her singing is warm and articulate, her piano swings. She scats with her right hand, meaning, she sings in unison as her right hand improvises with fresh ideas to these very standard on tunes. Occasionally we found the drummer accenting phrases with the celeste, and all the while, Michael Jones provided energetic bass lines, solidly backing as an anchor.

---
Buddy Montgomery at the Savanna Jazz Club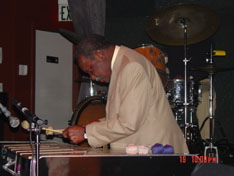 We found Michael Jones at the bar when we returned for Buddy Montgomery's performance on June 19th, with a very dapper Randy Moore (profiled in Jazz Now July 1993 issue) sitting at the bar. We walked in in the middle of the first set and found the room mostly filled. Well, I'd hope so. Buddy Montgomery (photo at left by Stella Houston), vibist and pianist, the brother of guitarist Wes Montgomery, was one of the original member of the Master Sounds. As we were settling in at our table, I heard a very fluid sound from the vibes which was fueled by the drums and driven by the bass and piano. I saw Walter Savage at the bass, but didn't see the drummer's or the pianist's faces. Came to find out that it was no other than Eddie Marshall on drums and Mike Greensill on piano. Buddy is a little stooped, and walks a little slow, but as I remembered Lionel Hampton in his later days, he was as energetic and fiery at the vibes as a youngster. Wow, I thought, I am in for a treat! Then they took a break.
| | |
| --- | --- |
| Pascal Boker | Buddy Montgomery receiving award from Orrin Keepnews |


At the interim, Randy Moore took up the drums, Michael Jones, the bass, Pascal Bokar on guitar, Herb Gibson on vibes and Mike Greensill returned to the piano. They offered a couple pieces before Herb Gibson introduced Orrin Keepnews, who, with owners Pascal Bokar and his lady, presented Buddy Montgomery with a plague, thanking him for his contribution to Jazz and the music community. Orrin Keepnews poured out accolades to Buddy, telling us how Buddy gave to his community (when he was living in Oakland, California years ago). He said Buddy put on concerts for community activities and advance Jazz before he was rich and famous. He said Buddy is a great person beside a great musician.

After the award presentation, Buddy came back to the vibes, but invited Kitty Margolis and Sunrise to sing a tune each. At this time, Eddie Marshal had left. Even with the continuous support from Walter Saving and Mike Greensill, I was a little disappointed. I wanted to hear more of the group that was there when I first entered the room. But it was already midnight, and the set is over.
---
Steve Smith and Buddy's Buddy
June 22 brought us back to Yoshi's to hear a group of musicians who are new to us. Steve Smith came to Yoshi's with Buddy's Buddies. Came to find out he is relating to a few of them who toured and worked with Buddy Rich. Andy Fusco was on alto, Steve Marcus on soprano and tenor saxophones, Mark Soskin on piano, Baron Browne on electric bass, and Steve Smith followed Buddy Rich's footstep performed with the showmanship of Buddy Rich on drums.
The drum set was set at the front of the stage on the right, with Steve Smith sitting slightly facing the band. This way, we could all see his drumming and his drums - an elaborate setup with six different kinds of cymbals, not counting the high-hat. There are two mallets attached to the kick drum. Talking about being a technician, Steve Smith is one.
The group is high energy. One can tell they have been playing for a while. They know exactly where to stop, where to hold a note, where to create an absolute space of silence as a group. They are confident. Their delivery is mature and solid. Steve Marcus offered a wonderful rendition of "How Do You Keep the Music Playing?" with beautiful sound and phrases. Piano, bass and drums showed strong support, cohesiveness and sensitivity. They offered some creative improvisations for some fairly standard tunes.
From left to right: Mark Soskin, Baron Browne, Steve Marcus, Andy Fusco and Steve Smith.
Photo by Heinz Kronberger

The center of attention is drummer, Steve Smith. If one wants to see a drum show. This is it! Steve plays drums with a flare, as was Buddy Rich as I was told. He twirled his sticks in mid-air, played on the side and the bottom of his drum or the top and bottom of his high-hat. At one time, he balanced and rolled one drum stick on his left wrist while hitting it continuously with his other stick in his right hand. All the while the tip of this stick that is being hit is hitting the snare.Then again he did the same thing balancing the stick on top of his left foot. Well, if I can't describe it clearly, you just have to go and see him! Even with all this fanfare, Steve is able to maintain his very complicated rhythm with absolute clarity, and he plays his drums melodiously.
It was a fun show, and we were glad we were there.

by Stella Cheung Houston
---
All rights reserved. Jazz Now July 2004 issue
Jazz Now Interactive July 2004 Vol 14 No. 3 - Table of Contents