Vision Festival 25 - 31 MAY 2004 - New York
by Sean Smith
"Free Jazz is historically the most hated musical genre in the world," at least according to Matthew Shipp, who ought to know. The free Jazz piano maestro was one of the stars of this year's Vision Festival, New York's annual celebration of everything left-field, now in its ninth year. And whilst Matthew might have a point, the continuing success of the festival suggests that the genre might also be one of the most cherished, too. The brainchild of dancer Patricia Nicholson, Vision looks to join the dots across a range of the performing arts: Jazz, performance poetry and dance all feature heavily. The result is a challenging mix of ideas, some purely musical, others not. Bassist William Parker - almost ubiquitous at this year's festival and, possibly not entirely coincidentally, Ms. Nicholson's husband - could be heard in a number of settings, from accompanying poet David Budbill, playing with Matthew and drummer Whit Dickey to leading his own quartet. Unsurprisingly, Mr. Shipp sees free Jazz as being central to the festival: "[The music] has a broader appeal than people would give it credit for, because of the openness of it. It's a melting pot and because of that people are free to bring their own experiences [to it] and get what they want out of it. The music feeds a lot of the artists here."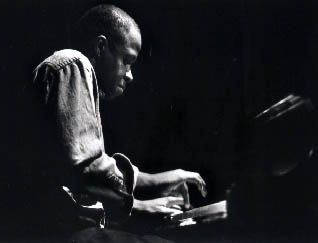 If there was a particular musical motif to this year's festival, which ran from 25 - 31 May at Old St. Patrick's Cathedral on Mulberry Street, it would be in the shape of Mr. Parker's bass. Aside from dedicating the final day to Wilber Morris and Peter Kowald, it was possible to see exponents such as Reggie Workman and Henry Grimes - following his Lazarus-like reappearance at last year's festival - and the week concluded with the William Parker Bass Quartet. However, with performances by the Sun Ra Arkestra, Roy Campbell Jr and even Amiri Baraka, Vision was never going to be predictable. Matthew Shipp (photo above by Steven Tucker) sees the festival as being "testimony to exploring other avenues [in music]," but he's also quick to point out that there are very close links to Jazz history: "this neighbourhood [has always been] a very rich neighbourhood for Jazz - Charlie Parker, Charles Mingus lived here. Most of the people are connected with the lower east side; this festival has a lot of life to it."
What is undeniable is that Vision has a charm of its own. The audience are accommodated on folding chairs and there is a sense of community which fits in perfectly with its church hall setting, but which is often sorely missing from the more obviously commercial festivals. That may be a reflection of the particular world view which informs Vision - one of the features of the Sunday was a panel discussion on "The Artist's Role in Waging Peace" - but it may also be an unspoken recognition by artists and audience that we are all engaged in celebrating and perpetuating something which will never be mistaken for the mainstream. Yet at a time when those mainstream forms of music are increasingly apolitical, with musicians taking a stand only on such narrow issues as the downloading of music over the net, and the airwaves crowded with bland boy bands and American Idolatry, can Vision continue to thrive? Mr. Shipp thinks so. "There's a psychological need in people to see other people create music with their whole being and that's not going to go away." At least not if Matthew, William Parker and Patricia Nicholson have anything to do with it.
by Sean Smith
---
All rights reserved. Jazz Now July 2004 issue
Jazz Now Interactive July 2004 Vol 14 No. 3 - Table of Contents