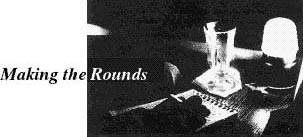 A Living Legend Gets An Award
by Haybert K. Houston
(James William and Frank Jackson, photo by John Tibbetts)
On June 3, 2005, at Jazz at Pearls Club in San Francisco, the Order of the Flask presented an award to Frank Jackson. The Order of the Flask is: Doug Edwards, Producer/Host of the radio show Ear Thyme, Jazz Passages, BAJABA Showcase on KPFA radio; Pete Fallico, Producer/Host of the radio show Doodlin' Lounge, Jazz Organ Fellowship on radio KUSP. KCSM and Jazz Beat Radio stations; Haybert King Houston, Publisher-Editor-in-Chief Jazz Now Interactive and programmer of Jazz Now radio show on KKUP radio; and Afrikahn Jahmal Dayvs, Producer/Host of Jazzline Radio/TV on KKUP and Jazz Beat Radio.
Frank Jackson is an international Jazz vocalist and pianist born in Cleburne, Texas. As a kid he moved to San Francisco with his family in 1942. During Frank Jackson's school days in San Francisco, he went to school with other people from the Jazz world; Sammy Simpson, Cal Tjader, Vince Guaraldi and Maya Angelo.
After a stint in the military, Frank Jackson started performing as a Jazz musician, pianist and vocalist at local clubs in the Fillmore and Sutter area of San Francisco. In the early 1950s, Frank was the first pianist to work at Slim Gaillard's "Voute City," where he was a member of the house band. This club was only opened for a few months and was reopened shortly thereafter as Jimbo's "Bop City," an after-hours club opened from 2 a.m. until 6 a.m. Frank Jackson worked as the house pianist at San Francisco's legendary "Bop City" with tenor sax giant, Dexter Gordon, and alto saxophonist, Pony Poindexter. Musicians traveling up and down the West Coast would drop in at "Bop City" to jam after their gigs or just to see who was in town. Being in the house band, Frank got the chance to associate with practically everyone, including Charlie Parker, Billie Holiday, Frank Foster, Ben Webster, Ella Fitzgerald, Lionel Hampton, Harold Land, Ernie Andrews, Joe Comfort, Erroll Garner, Nat "King" Cole, and the list goes on. Frank Jackson performed at various other clubs: at FAX 2, he was the house pianist and had the opportunity to meet Sarah Vaughn, who appeared with her trio. At Blue Mirror on Fillmore Street, San Francisco, he worked with T-bone Walker. At Jack's on Sutter, he met Louis Armstrong and Eddie King Cole, Nat "King" Cole's brother. At Booker T. Washington Hotel, he played with Jimmy Witherspoon and met Dinah Washington and Eartha Kitt. He had toured and played with Ruth Brown. Earlier in Frank's career, he worked with saxophonist, John Handy. He also worked with tenor saxophonist, Teddy Edwards, performed with vocalist Dennis Day, trombonist Jerry Cologna, bassist Vernon Alley and trumpeter Allen Smith and many others.
Frank Jackson can be found today performing at local Jazz clubs and other venues throughout the Bay Area, in New York and other parts of the world. Frank has recorded 3 CDs I Should Care, with Dave Kingsnorth, bass and Brian Kane, guitar, Swingin' And All Dressed to Go with Brian Kane on guitar and Bill Langlois on bass with guests, Eddie Pasternack, guitar, Terry Miller, bass, and Raul Ramirez, drums and percussion; and New York After Dark with the late great James Williams, piano; Ron Carter, bass; Billy Pierce, soprano and tenor saxophones; and Kenny Washington, drums.
It becomes apparent why the Order of the Flask deemed it important to bestow an award on the wonderfully talented man. The award is the MAISHA YA KAZI BORA AWARD. This award means "GOOD WORK FOR LIFE," or the Swahili equivalent of Life Time Achievement. The inscription read:
Frank Jackson, You are SONG! Your music defines and declares your impact
in the world as a Legend and Icon of American Classical Music. From "Voute City"
to "Jimbo's Bop City," you've shared the stage with the greats, past and present.
Your contributions cannot be measured by "Giant Steps." Your "Impressions" are
unique, your shoulders will support generations to come. Your "Footprints" are deep
and solid and that's a "Confirmation." It is with sincere and deep appreciation that we
acknowledge you for all you are, and have been. Your Life's Achievements will endure.
As a footnote I should note that Frank has in his memory bank the most impressive number of tunes, both lyrical and instrumental, of any artist I have ever heard.
By Haybert King Houston
---
The Coltrane Project
by Howard Fieldstein
McCoy Tyner/Joshua Redman/Brian Blade
Palace of Fine Arts, San Francisco - Friday, June 3, 2005
Joshua Redman, tenor sax; McCoy Tyner, piano; Reginald Veal, bass; Brian Blade, drums.
Crescent; Wise One; Bessie's Blues; Lonnie's Lament; The Drum Thing; Naima; The Greeting; Inner Glimpse
Rashied Ali/Sonny Fortune
Palace of the Legion of Honor, San Francisco - Saturday, June 4, 2005
Sonny Fortune, alto sax; Rashied Ali, drums.
Chasin' the Trane; Softly, As In a Morning Sunrise; In a Sentimental Mood
These two concerts were a part of "The Coltrane Project," seven shows comprising a special series in San Francisco. I managed to make it to the season opener on March 12, to witness A Love Supreme performed by the Branford Marsalis quartet. The opening act that evening was the Ravi Coltrane Group, performing originals and compositions by each of his parents (John and Alice). The strong performances that night set the tone for four wonderful months of Jazz in San Francisco. While I couldn't make it to all of the season, or even all seven of the Coltrane Project concerts, I knew I had to catch these two in early June. I was not disappointed.
With the passing of drummer Elvin Jones last year, McCoy Tyner is the sole surviving member of the "classic" John Coltrane Quartet of the 1960s. SFJazz Artistic Director Joshua Redman invited Tyner to lead a performance of the 1964 album Crescent in its entirety, taking on Coltrane's tenor sax role himself. Rounding out the quartet were two other musicians now in their prime - bassist Reginald Veal and drummer Brian Blade. All four musicians clearly came with a great deal of respect for each other and the music. The audience and the three younger musicians also showed particular honor to Tyner, who, at 66, may have lost a step literally (it was a bit painful to watch him enter and exit the stage), but still plays with strength, fluidity, and his signature sound.
The Crescent album is comprised of five Coltrane compositions, which are only recently getting the kind of attention and cover treatments that many of Coltrane's other songs have long garnered. As far as I know this was the first time anyone has taken on the whole album, and that fact (along with the presence of Tyner) raised an obvious question: how would they approach the material? Unlike Giant Steps, My Favorite Things, or so many other pieces (even A Love Supreme) associated with Coltrane, thinking of the Crescent songs means thinking of the original performances. Would this historic performance find the group attempting to re-create that sound, or would they bring their own interpretation? What liberties would they take - how, and how much, would they improvise? And how would the audience react to either scenario - would holding close to the original be a satisfying experience, as if the album were brought to life? Or would it be impossible to live up to the original? Conversely, would taking liberties be disconcerting after hearing the album for 40 years? Or would it seem in the spirit of the music, and of Jazz in general, to expand and grow the music with the experience and talents of a new generation?
The group came down mostly on the side of following the material closely and paying homage to the original sound. And for the most part, this was satisfying - the musicianship and interplay within the group was flawless, and there really was a sense of history and reverence in the air. The compositions are largely moody and evocative, and the group's thoughtful approach made sense with this material. Yet the one time the group did let loose provided an interesting contrast and provoked its own thoughts. Bessie's Blues was the one short tune on the album, just three and a half minutes in the middle of the album to offset the four longer, more reflective pieces. On stage, this group took advantage of the blues structure to lighten the mood and stretch out, giving this piece at least as much time as the others - at least 10 minutes to improvise on the blues and showcase everyoneís talents. The same feeling was struck when the group moved on to other material after completing the Crescent suite.
So while I was not disappointed (indeed, the rest of the audience and I were generally overjoyed) to hear Crescent played so true to the album, I found myself thinking "What would Coltrane have done?" Most of these compositions weren't performed live by Coltrane (he did include Lonnie's Lament on his 1963 European tour, which has made it to record). But given Coltraneís relentless search to find new sounds in the same tunes, and his constant reworking of every song he did perform live, one must assume he would have transformed each of these tunes the more he played them. Perhaps this concert of Crescent was only the beginning of a new life for these compositions, and there will be more interest in covering them, and then we'll see some surprises. I'm reminded of McCoy Tyner's own liner notes to his album Echoes of a Friend (dedicated to Coltrane), in discussing "My Favorite Things": "we did so much to make it what it became. First it was an infant and later it became an adult. A song is somewhat like a person, if you allow it to live."
After a standing ovation for the Crescent suite, Tyner played a beautiful solo version of Coltrane's ballad Naima, and was then rejoined by the others for a rousing rendition of his own composition "The Greeting." For an encore, the quartet performed Tyner's Inner Glimpse, again showing that Tyner is a gifted composer of uplifting material, and that all four musicians are among the best around. Tyner did not take any extended solos this night, sharing the time and space with each of the others.
The next afternoon, I attended the next concert in the Coltrane Project, billed as "Interstellar Duets," featuring drummer Rashied Ali and saxophonist Sonny Fortune. Ali and Fortune are, like Tyner, from Philadelphia (as was Coltrane) and in their late 1960s. Fortune is a strong saxophonist and gifted flutist who often performed with Tyner and with Elvin Jones. Ali played with Coltrane the last two years of John's life, including the album Interstellar Space, a series of intense and demanding duets. Given the title for the concert, the musicians, and the experience of the night before, I figured there was a good chance Sonny would show up with his tenor sax and they'd perform compositions from Interstellar Space. Given the age of the musicians and, again, the previous night's experience, I wondered how they'd approach it, how they'd pull it off, and how I'd react.
Imagine my surprise when Fortune showed up with only his alto sax, and without much fanfare or warmup, the two went right into Chasin' the Trane (Coltrane's tour de force recorded in 1961 with his quartet, featuring Elvin Jones). Within ten seconds the room and everyone in it were launched into another realm, with no turning back. Fortune played for a full hour nonstop, at breakneck speed. It was as if Coltrane were being channeled by Charlie Parker. The energy, intensity, spirit, and sheer quantity of music were astounding. It would be impossible to guess how many notes Fortune played, and the question seems pointless. These two men still have amazing stamina and physical strength, and clearly have just as much emotional strength and inspiration. They filled the intimate hall with the spirit of John Coltrane. At times I was reminded of being in church, with shouting and hollering from the back as Fortune reached new heights and Ali alternately drove him on and worked to keep up. (And all this with a high-hat cymbal that kept giving him trouble).
After returning to earth, Fortune and the audience took a break while Ali fixed his equipment, then off we went again. This time "Softly, As In a Morning Sunrise" provided the vehicle for Fortune's relentless explorations and Ali's multiple rhythms, sweeping the audience along for the ride. Not quite as "blowing" as the first hour, this was definitely not given a gentle ballad treatment - both men stretched and expanded the music as Coltrane himself might have, for a full half hour. From that extended journey, they quickly wound down and just as quickly segued into Duke Ellington's "In a Sentimental Mood." Ali provided sensitive, sporadic accompaniment with cymbals and a light touch on the skins, but then laid out as Fortune took it a cappella. It was as beautiful a treatment of this classic piece as I've ever heard, and as beautiful a saxophone solo of any sort as the audience could have wanted. If you ever get the chance to see either or both of these two masters, donít hesitate.
This spring seasonal event runs through June 26, and is billed as "an extravaganza of forty-two concerts performed by more than two hundred artists from seven countries in seven of San Francisco's most delightful venues." Under the direction of Joshua Redman, the season meets or even exceeds all expectations - I'd say it's one of the best Jazz programs I've encountered. Redman did/will perform in many of the concerts, in a variety of settings, but the schedule was not meant as an ego trip or a showcase for any one talent. He gathered an amazing array of musicians - also performing were such living legends as Roy Haynes, Sonny Rollins, Dave Brubeck, and Ravi Shankar, and such masters as Dee Dee Bridgewater, Frank Morgan, and Joe Lovano.
by Howard Fieldstein
---
Back to

Contents Page
Jazz Now Interactive

Copyright Jazz Now, July 2005 edition, all rights reserved
jazznow@sbcglobal.net