Celebrating Jazz and Those Who Dedicate Their Lives to The Music
by Kate Kaiser
The month of June 2005 was a month of celebrations in Jazz - "in honor of" as well as "in memoriam". While great musicians tend to become immortal by ways of the music they leave behind - through treasured recordings and tunes that continue to be played by future generations of performers - it is important to take the time to reflect upon past achievements already during the musicians life times. And not only the musicians, the most visible and audible members of the Jazz community, deserve acknowledgement, honors and applause, but also those individuals who often very quietly, without much fanfare, do their "labor of love work" within the world of Jazz.
On June 10th, a touching and unforgettable Memorial Service was held at Harlem's The Abyssinian Baptist Church, celebrating the life and memory of bassist Percy Heath who, at age 81, had passed away on April 28, 2005. Family, fans, and members of the music community trekked up to Odell Clark Place on a hot and humid Friday evening to not only talk about Percy but also the celebrate the music to which he had dedicated his remarkable life. Jazz is not about stardom - that's why I don't wish to call the event "star-studded" but it certainly was, in its own special way. Pianists Dr. Billy Taylor, Randy Weston and Jeb Patton, trumpeters Clark Terry and Joe Wilder were there. As were bassists Keter Betts and Buster Williams, among others, and, of course, Percy's brothers, saxophonist Jimmy and drummer "Tootie" Albert Heath. Barry Harris conducted his choir and pianist Stanley Cowell, accompanied by his talented daughter Sunny on violin, performed Percy Heath's "Suite for Pop" from his only album as a leader - released around the time of his 80th birthday in 2004. It was touching, also Jazz writer Ira Gitler's remark that "we live at a time when giants walk the earth." Clark Terry, in a wheel chair was a highlight that evening, the way he played the fluegelhorn, full of life and fervor. Terry received a standing ovation and many fans wanted to shake his hands upon leaving the church later on. I felt it was grand that he was able to be there that evening and to feel the love and admiration for his outstanding talent.
A few days later, on June 14th I was lucky to get another glimpse of Clark Terry- at B.B. King's Blues Club and Grill, near Times Square, at the Jazz Journalists Association (JJA) Jazz Awards ceremony, where he accepted the Trumpeter of the Year Award. Stepping up to the podium - with a little help but walking on his own - a smiling and gracious Terry accepted the honors bestowed upon him.
Also honored that day was Todd Barkan, a promoter and Jazz record producer whose discography track record spans 45 years and nearly 250 recordings. Barkan is a humble man whose mission is to showcase Jazz musicians, their work and nurture their artistic talents to the best of his abilities. "Todd is all about the music," vibraphonist Joe Locke described Barkan to me a while back. Barkan, former owner of the long gone but legendary Jazz club Keystone Corner in San Francisco, is now Artistic Director of Dizzy's Club Coca-Cola (part of Jazz at Lincoln Center) in Manhattan and received the "Best Jazz Programmer of the Year" award - competing against Newport Jazz Festival Founder George Wein and Patricia Nicholson-Parker, Co-founder of the Vision Festival in New York.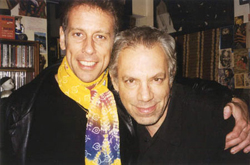 Vibraphonist Joe Locke (left) with Todd Barkan (right) who produced several of Locke's records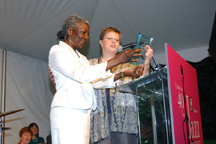 Dorthaan Kirk (left), Mary Sue Sweeney Price (right). Photo Credit: Shelley Kusnetz

Two other individuals immersed in and dedicated to the Jazz community were honored 24 hours later, on June 15th, across the Hudson River by the Newark Museum Council in Newark, New Jersey. One of the honorees was Dorthaan Kirk, widow of Rahsaan Roland Kirk. Kirk is Special Events and Programs Coordinator at Jazz radio station WBGO in Newark and one of the original members of WBGO's staff (the station just celebrated its 26th anniversary). Most recently she curated a fascinating photo exhibit showcasing legendary Jazz photographer Chuck Stewart for WBGO - a project three years in the making and possible only due to Kirk's persistence with publicity-shy Mr. Stewart. Kirk, who considers Jazz her community, received the award - along with Jazz critic Dan Morgenstern - for her "extraordinary contributions to the understanding and appreciation of this truly American art form." In 2003, Kirk had received a Discretionary Award from the JJA for her "humanitarian contributions" to Jazz.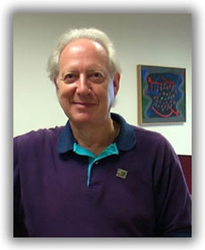 Dan Morgenstern (photo at right, courtesy of Rutgers Institute of Jazz Studies), chief editor of Down Beat magazine from 1967 to 1973 who, over the years has received six Grammys for Best Album Notes and an ASCAP Deems Taylor Award for Jazz People, was also honored this year by the JJA with a Best Book About Jazz Award for his "Living with Jazz" book which features a compilation of Morgenstern's highly regarded liner notes, record reviews, and other Jazz writings. Like Dorthann Kirk, the Newark Museum Council honored Morgenstern for his extraordinary contributions to the world of Jazz. At an age when most others long enjoy a well-deserved and settled retirement life, Morgenstern still heads the Institute of Jazz Studies at Rutgers University in Newark, continues to be a mentor to aspiring Jazz historians like myself, and acts as a highly sought after expert in all issues relating to Jazz and as spokesperson for the art form.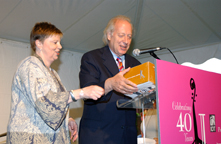 Newark Museum Director Mary Sue Sweeney Price (left), Dan Morgenstern (right). Photo Credit: Shelley Kusnetz

Unlike musicians, Jazz activists, writers, promoters and producers - to include Todd Barkan, Dorthaan Kirk and Dan Morgenstern - do not have the nightly applause from their fans to look forward to. However, what makes them get up in the morning and propels them forward to continue in their quests is the same magical force that musicians are exerted to: their permeating love of Jazz. That's why it is so important to pay homage to them through public recognition, by taking time to acknowledge their continued efforts, like we do for musicians, in a world that is increasingly harder to navigate for all of us. It is great to see that niche-organizations like the Jazz Journalists Association (JJA), arts-focused organizations serving the general public like the Newark Museum Council (New Jersey), the music-focused Recording Academy (NARAS) and the U.S. government supported National Endowment for the Arts (NEA), have taken on the task to serve as sponsors for such recognitions on a continuous basis. Congratulations to these organizations for their efforts - and keep the honors coming to those serving the world of Jazz.
by Kate Kaiser
---
Back to

Contents Page
Jazz Now Interactive

Copyright Jazz Now, July 2005 edition, all rights reserved
jazznow@sbcglobal.net