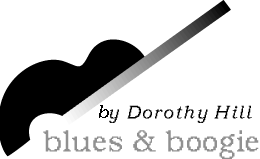 MONTEREY BAY BLUES FESTIVAL 2002 (Photos by Dorothy Hill)
The seventeen annual Monterey Bay Blues Festival was billed as the "Ultimate Blues Party From Blues Legends to New Jacks..." and that it was. From Bobby Blue Bland, Taj Mahal, and Clarence "Gatemouth" Brown to Kenny Neal, Sista Monica and Trudy Lynn and so much more in between. To satisy the less blues, oriented audience, Friday evening's main stage performance featured the Ojays and Teddy Pendergrass closed out the show on Sunday. The President's Stage and Garden Stage featured some of the headliners and a smorgasbord of top-quality blues acts.
Opening the Friday evening program, blues fans were delighted with the performance by Roy Gaines offering up a good dose of Texas blues in the T-Bone Walker style. Gaines thrilled the audience with his stage acrobatics, rolling all over the stage while playing. He always includes his "Bluesman For Life" tune in his performances and also did the outstanding original tune "Sweet Pig Porker."
In November 2001, the Board of Directors inaugurated a new feature, Battle of the Bands, at which California bands could compete for a slot to open up the Saturday main stage. The Grand Prize went to a young band led by Shane Dwight. Although the audience was sparse for their performance, this new band on the scene is making a name for themselves and put on a solid blues-rock infused show.

Kenny Neal (photo at left) won the hearts of the audience on the main stage on Saturday. His excellent band is composed of his brothers, Frederick on keyboards and Darnell on bass, along with Kennard Johnson , one of the best drummers on the scene having paid his dues with the James Cotton band long ago. Kenny is a swamp bluesman through and through straight out of Baton Rouge, Louisiana. He performed his version of "Since I Met You Baby," "Howling at the Moon" and closed out with a mournful "Blues Fallin' Down Like Rain." Kenny's gritty vocalizing and stinging guitar licks authenticate his status as an original talent in the blues world. Thoughout the weekend, festival goers were remarking that this performance was one of the highlights of the festival.

Taj Mahal's performance was another winner. I am particular about overuse of the term "legend", but Taj is getting there. His introductions are witty and spiritual and his set was just plain fun especially his vocalizing on the tune "Hoochi Coochi Coo." His set included a soulful "Stranger in My Own Home Town" and "Queen Bee." Taj gave Jazz a nod with his version of the Horace Silver classic "Senor Blues."
Heading out to the Garden Stage, caught Big Bill Morganfield who is following the footsteps of his legendary father Muddy Waters. He had the crowd dancing to "Got My Mojo Working."
On the main stage Saturday evening, Coco Montoya had the crowd rocking with his dazzling guitar style. Coco's reinvention of the Albert Collins tune "Same Old Thing" was outstanding with Benny Yee blasting the keyboards. The highlight of the set was a tribute to Albert Collins and the other blues greats no longer with us on a slow mournful blues tune "Nothing But Love."
Trudy Lynn, "the divine diva of blues and soul," strutted on stage in a gold lame animal print skin-tight outfit that was a knock-out and got the attention of the male audience. Trudy Lynn epitomizes elegance and sass. Her outstanding set included her rocking version of "Shake, Rattle and Roll" and her signature tune "Come to Mama." She had the crowd on their feet calling for more.
The final act of Saturday on the main stage featured the legendary Bobby "Blue" Bland who performed the standards well known by aficionados of his smooth delivery including "I've Got A Twenty Room House."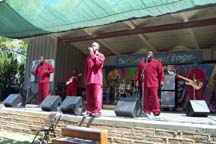 Sunday morning always opens with gospel and on the Garden Stage, a wonderful group of young men entitled Endurance had the early-risers testifying. The group called upon audience members to sing, some of whom were quite good. This was a wholly satisifying way to start out Sunday morning with some good old time religion. Endurance showed they know how to combine spirituality and fun.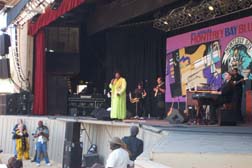 On the main stage the performance of Sista Monica (photo at left)was a highlight. She started out her set with "Sista Don't Play." A powerful vocalist, Sista writes most of her material and her performance this day was full of emotional intensity. Sista has been a Monterey favorite since her first festival appearance in 1993 and she was rewarded with the 2002 Artist of the Year Award by the Board of Directors in a touching ceremony.
Clarence "Gatemouth" Brown dished up his unique blend of Jazz and blues performing while sitting on a stool. His jazzy set included a Basie tune as well as a good dose of his own eclectic style of Cajun-inspired blues.
Teddy Pendergrass (photo below) was greeted by an enthusiastic audience. His suave demeanor was unmistakable despite being confined to a wheelchair. His amazing performance on this occasion confirmed his sensual approach to R&B has not diminished and his vocals were compelling. The female contingent of the audience was most appreciative of Teddy Pendergrass and many raved about his appearance for days after. He has not lost the touch!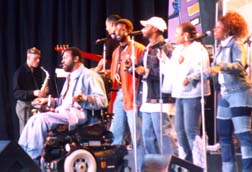 The final show of the festival was on the President's Stage which presented Alvon Johnson . Alvon is a commanding vocalist, plays sizzling guitar and has one of the most personable stage presences in blues. His red sequin outfit was only matched by a change to white suit and white hat(photo below). Alvon swaggers and sways while delivering his brand of downhome blues blended with raunchy rhythm and blues. This show was an extravaganza with backup singers and dancers--quite an appropriate ending to a great festival.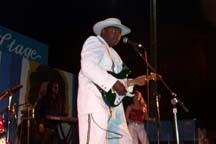 Once again, the Monterey Bay Blues Festival was a rousing success. The Monterey Bay Blues Festival Board of Directors has remained steadfast in their commitment to preserving blues and honoring the originators of this American art form. During the festival, each board member is in the trenches, working hard, making themselves visible and accessible. Thanks to them, as I say every year, it just gets better!
by Dorothy L. Hill
---
Back to

Contents Page
Jazz Now Interactive

Copyright Jazz Now, August 2002 issue, all rights reserved
jazzinfo@jazznow.com