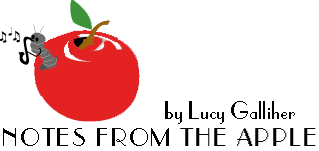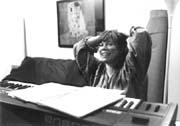 July 2002 in New York City was a wonderful month to hear and see free outdoor concerts. Central Park's SummerStage presented a concert by David Sanchez and Dave Brubeck sharing a bill. In addition, Riverside Park was host to the 38th year of Jazzmobile at Grantís Tomb (see related articles in September '99 and September '00 editions). Featured artists this year included the Cedar Walton Quartet, the Frank Wess Quintet and the Winard Harper Sextet, each on a different evening.
David Sanchez and Dave Brubeck at Central Park's SummerStage. David Sanchez had an unusual instrumentation for his concert in Central Park, tenor and alto sax for the front line, and the rhythm section was made up of bass, drums and percussion, there was no chordal instrument such as piano or guitar. Sanchez' first tenor solo of the evening was reminiscent of Coltrane. The tune was an up-beat swing, and Sanchez ran through the changes with lots of emotion. The percussionist and drummer set up distinct Carribean and Afro-Cuban polyrhythms, while the two saxophonists wailed on top. The only musician I recognized other than David was John Benitez on bass. He was a striking figure on stage, a big man wearing a yellow tunic with a multi-colored pattern. He seemed completely relaxed, yet held together the entire band with a remarkable sense of rhythm. David Sanchez and crew are exquisite performers, and they had the audience clamoring for more.
Dave Brubeck came on stage next, and got a huge applause when he started playing some stride Blues piano. Brubeck's fans go back for decades. It's amazing how his audience continues to grow. On this July night his band consisted of: Bobby Militello on alto and flute, Brubeck on piano, Michael Moore on bass and Randy Jones on drums.
I like the way Brubeck manages to balance the conceptual with the technical. He uses all kinds of interesting devices at the piano: trading triplets with two hands, playing right hand runs with left hand punches, and throwing in sensitive passing chords, just to name a few.
Bobby Militello can really swing! He wowed the audience on his alto, tearing it up on a blues. Later in the set he brought out his flute and played a Japanese-based tune. While Brubeck set up some ideas using a scale on piano that sounded like the Japanese Koto, Militello pulled out all the stops, by using such devices as flutter-tonguing and singing while playing!
Jazzmobile at Grantís Tomb.
Jazzmobile's bandstand is a quaint old wagon with room enough for an upright piano and a set of drums, which is towed from site to site. The sound system doesn't always work perfectly, but David Bailey of Jazzmobile always announces, "We're not giving your money back," which is a joke, since the concerts are free to the public. The main thing is, the musicians get paid, and everyone has a grand time, bringing their own chairs and refreshments.
Cedar Walton's group included himself on piano, Javon Jackson on tenor sax, David Williams on bass and Kenny Washington (the 'Jazz Maniac' from WBGO-FM) on drums. They started off with a blues, followed by "Little Sunflower," which was played with a relaxed, Latin feel. The ballad "Dear Ruth," an original by Cedar, was dedicated to his mother and has some interesting changes. A set of descending chords led into a nice interlude that show's Cedar's incredible imagination. His playing has a sense of humor, immaculate technique and always swings. Kenny the drummer was right there with him. Every time Cedar wanted to change up the rhythm, Kenny anticipated it and played a perfect complement to the pianist. The two of them continued to comp incredibly well together behind the soloists.
Unfortunately, I had my own gig to play at the Garage restaurant in the West Village, so I left while the band was playing a shuffle blues, walking with the groove. One thing I would like to mention is the way the people really "got into" the music at these concerts. Adults and children were dancing, dogs were allowed, and the crowd was generally upbeat. One has a sense of camaraderie; even the NY fire department parked their truck at one point, and the guys were snapping their fingers.
The following week Frank Wess, who is now 80 years young, sprightly and full of life, was holding court. His band consisted of: himself on tenor and flute, Scott Winfield on trombone, Michael Weiss on piano, David Williams on bass, and Brian Grice on drums. Frank took the first solo on flute on a tune called "What Went Wrong?" Absolutely nothing on this tune, his playing was inspirational and relaxing, and the other musicians followed suit. Next was an up-tempo swing called "Backfire," where Frank showed his expertise, running riffs through the cycle of fifths. That tune was based on "rhythm changes," a particular set of chord changes that stems from Gershwin's "I Got Rhythm."
"Izcate," a Latin tune played at a medium tempo, had a nice groove set up by the bass and drums. A haunting melody made its entrance, played by trombone and piano, followed by a fluid solo on the flute. Frank Wess gets a breathy, enchanting tone on his flute. Later, David Williams got a chance to shine on "Dancing Bull," a bebop tune that was played with the head doubled on tenor and bass. They finished with Cedar Waltonís fabulous tune "Firm Roots," leaving everyone with a high-energy feeling.
Continuing through the season, Jazzmobile and Central Park Summerstage are wonderful events for Jazz and music lovers to enjoy in New York City. See you next month for more Notes from the Apple!
by Lucy Galliher
---
Back to

Contents Page
Jazz Now Interactive

Copyright Jazz Now, August 2002 issue, all rights reserved
jazzinfo@jazznow.com