Stanford Jazz Festival
Teddy Edwards Quartet at Campbell Recital Hall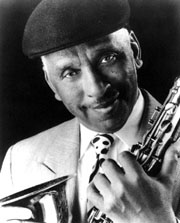 Stanford University, Stanford, California
July 7, 2002 marked a rare San Francisco Bay Area appearance by Teddy Edwards, one of the great masters of the modern tenor saxophone. Edwards was accompanied by a local rhythm section that included the pianist Matt Clark, the bassist Michael Zisman, and the drummer Vince Lateano. In this program based on originals and familiar standards, the intellectual distance between Edwards and the appointed rhythm section became apparent as the evening progressed.
Like Dexter Gordon, Edwards' highly melodic or horizontal style contrasts the vertical tendencies of the late Coleman Hawkins. Make no mistake about it: the maestro was in great form. Huge torrents of ideas emerged on the underlying chord changes without any apparent effort, and as naturally as speech. The near-capacity audience was astonished by the powerful up-tempo opening piece, "Sunday". "You Came to Me From Out of Nowhere" revealed the saxophone's beautifully defined upper and lower registers. The classic tune, "Sunset Eyes", with its contrasting bridge or "channel", was even more impressive.
Like many groups in this region, the rhythm section attempted to capture the essence of the early-1960s piano trio sound, which was pioneered by such African-American innovators as Sonny Clark, Wynton Kelly, Ahmad Jamal, and others. However, if the primary thrust of the rhythm section was to capture the feel or essence of an era--witness the multiple harmonic references on "Green Dolphin Street", "So What", "Bags' Groove", among others--the rhythmic domain should never be a secondary or tertiary consideration.
There are expectations associated with this music. The groove or rhythmic "pocket" is arguably the most important consideration in Jazz. It transcends familiar melodies and diatonic chord sequences. It can also literally make or break a group. This trio's tendency to play on top of the beat was its shortcoming, and suggests inattention to groove-oriented drummers like the late Billy Higgins, who was Edwards' colleague.
We look forward to Edwards' return with a different rhythm section.
by James D. Armstrong, Jr.
Editor, Music in Transition
---
On July 13, 2002, Stanford Jazz Festival presented one of the youngest and one of the oldest Jazz pianists on the scene.
The younger pianist was the seventeen-year old Taylor Eigsti. Literature from the festival says that he opened for David Benoit at age eight, performed for President Clinton at fourteen and subbed for Marian McPartland at sixteen. He is a phenomenon. He was accompanied by Josh Thuston-Millgrim on bass and Jason Lewis on drums on this date. They played well together, conscious of each other's playing, and ideas. Eigsti shows his technique with fiery and explosive runs on Monk's "Rhythming." His left hand can run as fast as his right. However, his slower ballad, though sensitive, lack excitement. There is a lot of potential. It will be interesting to watch his development and progress. He has a long road in front of him. I hope that he'd utilize the opportunity that has been presented to him, and continue to grow.
On the other hand, the eighty-four year old Hank Jones can show you what experience can bring. His humility caused him to be a little embarrassed when the audience gave him a standing ovation when he entered the stage. He seems to be in good health and humor. He was gracious, signing autographs during break instead of resting until one of the volunteers excused him from the line of fans who started to form by the stage.
He announced his tunes and their authors, which I always appreciate. He used more of the lower register of the piano to bring lush sounding chords and warmth to his playing. It seemed so easy. That evening, Jones was joined by two very impressive musicians: Darryl Hall on bass and Dennis Mackrel on drums.
"Walking" by Miles was swinging, contributed to the swing was the walking bass. Mackrel's drum solo on this piece offered a very soft walking beat on the bass drum while he improvised with tricky syncopation on top, and never let you forget the feeling of walking.
"Stella by Starlight" was played very fast when Jones showed off his melodious right hand, indented with cliché.
The evening went on with smoother and better with pieces like "Lonely Moments" by Mary Lou Williams, "Interlude" by J. J. Johnson, and "Poka Dots and Moon Beam," etc. The group was tight, the bass was fluid. Jones offered a melodic sequence that was gentle and delicate, and the pattern was echoed by the bass. When the improvisation followed, they seemed to try to out do each other. The drums were always gentle, unobtrusive. MacKrel would never overpowered the other instruments, and played the tunes on his drums, not just keeping time. Dennis Mackrel showed us what is meant by "less is more." There was a piece when they traded fours, and Mackrel barely touched his drums but by a few stroke within those four measures. However, it all fit. It was all there, showing us that ones doesn't have to have large volume of notes to show off one's drumming skill. Actually, to do it with less notes, but extreme sensitivity of the music, shows daring and creativity. Haybert Houston, our publisher, fell in love with Dennis Mackrel's playing that night, and I got to experience one of our legends and one of our torch bearers from the younger generation live. We thank Stanford Jazz Festival for the presentation.
by Stella Cheung Houston
---
July 27, 2002 we went back to Stanford to catch the Dena DeRose Group. We heard Dena the first time at the Plush Room, San Francisco, where she performed show tunes with Bill Henderson and Eric Comstock. We were impressed and decided to support her again.
Dena sings and plays the piano. She has her own style of playing and singing. Occasionally she would scat in unison with her right hand's improvisation. Her tones are accurate, and her words are clear. Her piano playing is fluid and sometimes humorous. She is not flamboyant but she show her skills as a well-trained and well-studied pianist. She also performed some of her own tunes, like "Iris," "Remembering Ray" for Ray Brown, and "Marian's Mood" for Marian McPartland.
Dena can well accompany herself without any other persons backing her up. In fact, I enjoyed "the Nearness of You" when she did just that. It was pleasurable to listen to her clear voice and articulate playing. Everything was under her own control without her worrying about the rest of the group catching her mood and her subtleties. I felt that drummer, Akira Tana, was too loud for the combo. At one piece I couldn't even hear the piano. He is skillful but not at this kind of setting. The bass drum was used too much for my taste.
However, Michael Zisman, who also played bass for Dena at the Plush Room gig, accompanied her beautifully this evening, with outstanding solos, especially on "Remembering Ray." It seems that we run into Michael often lately. After the Plush Room show, we saw him again at Jazz at Pearl's in San Francisco, playing with James Williams before this event. Well, he is good, in an early developing way, and hopefully will grow to be better. I am glad to hear that he is also one of the faculty for the Stanford Jazz Workshop this year. I am sure we'll hear more from him again.

by Stella C. Houston
---
Back to

Contents Page
Jazz Now Interactive

Copyright Jazz Now, August 2002 issue, all rights reserved
jazzinfo@jazznow.com