For Fred by Sterling D. Plumpp
On Thursday, July 3 at the Mississippi Valley Blues Festival in Devenport, Iowa, I, (Jimmy Jones), asked Sterling Plumpp to compose a poem for Fred Anderson. On Saturday, July 5, immediately prior to Fred's set, Sterling Plumpp spoke from the Tent stage about the remarkable musicianship of Fred Anderson and also about the great things Fred was doing at the Velvet Lounge to help young and older musicians better themselves.
Sterling then read this poem to Fred and the Tent audience: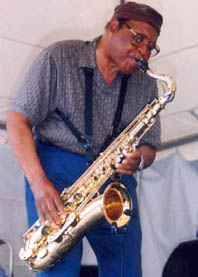 Fred/Born where a riff comes.
Conquers with/Its alms. Deep
in throes/of Babylon. He takes
art/out of pawn. Be-Bopper/Original
after/Bird gone. He seeks cosmos/inside
his horn. Travels beyond/Forbidden
suns unseen. He riffs away cataracts/Till
vision is/clean. He/Be-Bop purple hazes.
To lead/Dreams from mazes.
He/Lip
reeds/Eternity riffing rounds
midnight/Riffing round
Midnight/Rounds
Midnight.
Fred/Spirit of improvisation's
times/Inventions is the mountain
He/Alawys climbs. With axe/Hallelujahs
in his/Alms. He riffs/Balm of Gilead
to tame/Storms.
Be-Boppers/Come.
Be-Boppers/Go.
Fred/Has riffs
to show/Off rites.
Or/Turn on lights.
Or/Exhibit his axe's
flights.
Hallelujah/Halleluja.
Hallelujah/Halleluja.
Hallelujah/The morn
Hallelujah/Rising from
A/Velvet horn.
Rising up/From a velvet
horn/Rising up
when Fred's/Riffs
are born/When Fred's
riffs are/Born rising
rising
rising
rising
rising.
--Sterling D. Plumpp
---
Back to

Contents Page
Jazz Now Interactive

Copyright Jazz Now, August 2003 issue, all rights reserved
jazzinfo@jazznow.com