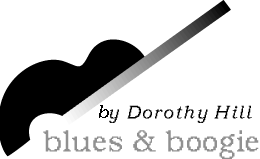 Monterey Bay Blues Festival
The nineteenth annual Monterey Bay Blues Festival featured a mixed bag of music - emphasis on straight-ahead blues and soul on the Main Stage and heavy on rhythm and blues and funk on the outer two stages. The Main Stage mixed the old-timers with several bright contenders. Overall, it was a mellow weekend with not many sparks and everyone remarked on the ability to get from stage to stage without difficulty due to what appeared to be a lessened attendance.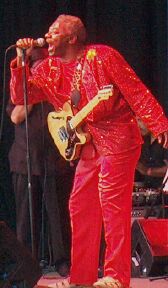 The festivities on the Friday night opened with Alvon (photo at right) in his first main stage appearance although he has long been a festival favorite on the outer stages. A showman at heart, Alvon was very visible in a bright red sequin suit. Alvon's selections covered a range of blues standards and soul tunes on vocals and guitar along with his outstanding band which included drummer, Alvin Sykes, saxophonist, Herman Wilson and Dr. Blues on harmonica. The set became a revue with the addition of three lively dancers and other vocalists joining, most notably Beverly Watson and Duane Thompson. This upbeat start to the weekend ahead ended appropriately with a rousing rendition of "Love and Happiness."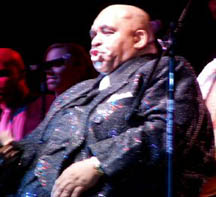 Solomon Burke put on what everyone agreed was the highlight performance of the festival. Sitting on his throne, resplendent in a glittery suit, Burke lived up to the title most often used to describe him, "The King of Rock and Soul." His moving rendering of the title cut from his latest CD, "Don't Give Up On Me," was testimony to the essence of soul displayed by this unique musical legend. Throwing dozens of red roses from the stage to women in the audience, Burke worked through a medley of tunes including "Stand By Me," "I Almost Lost My Mind," and "I Can't Stop Loving You Now." Burke's exquisite performance was almost two hours long and the women were lined up in droves in front of the stage. Burke proved that he is still in top form vocally and he had the audience swooning and grooving.
Saturday afternoon's showstopper performance was provided by Keb' Mo' with an excellent band backing him. Keb' Mo's prowess as a traditional acoustic guitarist and vocalist is well established and it was wonderful to see him in this setting. He displayed a good dose of humor on the tune "Shave Yo" Legs' and delved into deep blues on the tune, "Dangerous Mood." Picking up the National Steel guitar and accompanied only by drums, Keb' Mo' was riveting on the tune "Am I Wrong." Ending on a rousing note, the renowned bassist, Reggie McBride's solo emphasized the driving drums and Keb' Mo's soulful interpretation of "Teardrops From My Eyes" was passionately forceful.
Kep Mo' (left) and Clarence Carter (right)

| | |
| --- | --- |
| | |
Who cannot love Clarence Carter? He is just an amazing performer who has been doing the same mixture of tunes--combining the sexual and spiritual in a humorous manner which makes it all just good fun. His lewd chuckle is legendary but his deep baritone vocals are solid soul and his guitar phrasing is solid blues. Carter's set was heavy with his standard repertoire, including "Patches" and "Slip Away." He paid tribute to Ray Charles with "What'd I Say." Of course, he did "Strokin'!" Preaching about the pursuit of love and the sport of cheating, Carter is the ultimate!
Bobby "Blue" Bland is the master of deep soul ballads and his show on Saturday evening provided some satisfying moments. Bland opened with his rendition of his 1963 hit tune "That's The Way Love Is." With his exquisite vocal control, Bland worked his way through some of his greatest hits including the bluesy "Further On Up the Road" and the Jazz-influenced "St. James Infirmary." Seated on a stool, Bland was a commanding figure and reinforced his stature as the virtuoso interpreter of silky smooth delivery punctuated by deliberate tempo changes and an occasional guttural sob.
Little Milton Campbell (left), Etta James (center), Joyce Lawson (right)

| | | |
| --- | --- | --- |
| | | |
Little Milton Campbell is the personification of blues and his show on this evening was representative of that genre. His horn-driven band was led by guitarist Paul Gomez. Combining his soulful vocal style and considerable skill as a guitarist, Little Milton performed the slow blues tune "Just One Moment" from his "Guitar Man" CD. A Little Milton show would not be complete without "Annie Mae's Café." Closing out his set, Little Milton instructed the audience to clap and sing along on what he has dubbed as the National Anthem, "The Blues Is Alright." Although a Little Milton show is predictable, his intense immersion in his craft is enthralling and contagious. Little Milton has remained true to the blues with his unique style and seeing him on stage at Monterey this year was a joy.
Etta James looked gorgeous! Her tremendous weight loss has evidently led to a more mellow attitude which was enchanting. James still displayed the sassy tough vocal style for which she is renowned throughout her set. Her version of "I'd Rather Go Blind" was intensely rendered. James transcended the genres with a tremendous rousing medley of Otis Redding tunes. James remains the definitive matriarch of rhythm and blues.
On the Garden Stage, two superb acts were not to be missed. Blues diva Joyce Lawson put on an energetic performance that captured the audience. Lawson has one of the finest soul vocal deliveries around which earned her the title "The Lady with the Golden Voice." Her rendition of "Going Back To My Husband" demonstrated her emotional phrasing. The lady also played a mean organ solo on "Tin Pan Alley." Lawson is a dynamo and was one of the festival highlights. Another soul favorite is Jackie Payne who crooned and caressed the audience with his formidable partner Steve Edmonson assisting on his sizzling guitar. Always stylishly dressed, Payne's sensuous delivery of good downhome blues and soul standards was just the ticket this evening.
Sunday's opening program on the Main Stage featured the Gospel Hummingbirds in a show that combined contemporary and traditional gospel with urban rhythm and blues. Their delivery of falsetto vocals was outstanding. Gospel music was also presented on the Presidentís Stage by the five female vocalists known as The Stars of Glory. They delivered a more secular message with their stirring performance which included roaming the audience exhorting them to "lift up the name of Jesus."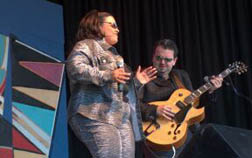 Teeny Tucker (photo at left with Sean Carney) was "the people's choice"--her performance at the Garden Stage last year created a buzz resulting in her elevation to the Main Stage this year. She and her sidekick, Sean Carney, are two bright contenders on the scene. Carney's guitar skills and exhibitionist playing style are a perfect foil for Tucker's magnificent voice. Her influence is obviously Etta James but she has a style of delivery which is uniquely Teeny Tucker. As the daughter of the late blues musician Tommy Tucker, her instincts are inbred and are reflected in her songwriting. She talked about going to a garage sale and then writing a song which she performed called "Buy Two And Get One For Free." "Show Me A Sign" had great tempo changes and Tucker's inventive way with words was delightful on this catchy tune. This rollicking set was magnificent and when the organ player, John Popovich, and sax player, Gene Walker, got in the mix, it was sensational. Tucker slowed it down on the tune "Damn Your Eyes" in a dramatic vocal performance that lent originality to her version. This creative group certainly gave one of the better performances of the festival.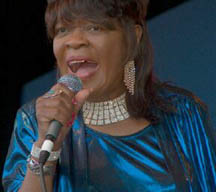 The Queen of the Blues, Koko Taylor (photo at right) was fashionably bluesy with her ears dripping with rhinestones. Her vocal rendition of "Come To Mama" was intense and she proved she can still belt out "Wang Dang Doodle" which also featured a great solo by guitarist, Rico McFarland. She related to the audience that she had recently been on life support during a three-month hospitalization. Other than a slight hand quiver, Taylor displayed none of the effects, going on to honor the crowd with an exquisite display of searing, raw Chicago blues as only she can deliver. Although Taylor has been inducted into the Blues Hall of Fame, received one Grammy and nineteen W. C. Handy Awards, she was emotionally touched by the award as Monterey Bay Blues Artist of the Year.
Several shows deserving special mention were on the outer stages. Gregory Rose created quite stir on his first visit to Monterey on the Garden Stage. His soul vocal style was engaging and he possesses a charismatic stage presence. One of my favorite performers, Finis Tasby, put on a great show at the President's Stage. Tasby is about as close as one can get in comparison to the singing style of Lowell Fulson. Tasby is not flashy but his timing and phrasing of lyrics is interesting and solid. His longtime cohort, Jan Garfinkle, managed to get in some monstrous boogie licks on keyboards. But, folks, best of all was the great Sonny Rhodes who closed out the festival on the Garden Stage. It may be getting redundant to regular readers of this column but Rhodes is, in my opinion, one of the most underappreciated bluesmen on the planet. Rhodes was backed up by his longtime drummer, Theo Brown, and bassist, Anthony Mitchell, along with others including Leon Blue on organ and the horns of Carl Green and John Middleton. This dynamite show of hard-driving blues intensely rendered by the gruff vocals and scorching guitar of Rhodes was the topper.
Monterey Bay Blues Festival is always a party atmosphere and this year was no exception---we look forward to next year which will be a major occasion as the festival celebrates its twentieth year of presenting quality music focused on the blues.
article and photos by Dorothy L. Hill
---
Jazz Now Interactive August 2004 Vol 14 No. 4 - Table of Contents
Copy right: Jazz Now, August 2004 Vol 14 No. 4
Your comment: jazznow@sbcglobal.net