James Williams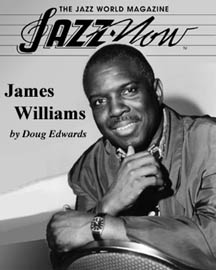 James Williams, pianist, leading performer, arranger, composer, Director of Jazz Studies at William Patterson University in Wayne, N.J. and a resident of Brooklyn, New York, died July 20, 2004, at age 53 of cancer of the liver. James was a wonderful young man and a friend of ours.
James was the cover subject of the last print edition of Jazz Now on the Volume 9, Number 10, March 2000 issue.
Ben Ratliff of the New York Times wrote the obituary article in the July 21, 2004 New York Times and it can be seen at: www.nytimes.com/2004/07/21/obituaries.
There is a James Williams Memorial Scholarship Fund at Williams Patterson University. You may participate by sending your check to:
The James Williams Memorial Scholarship
Williams Patterson University Foundation
Hobart Manor
300 ompton Road
Wayne, NJ 07470
Contact: Joanne Nigrelli
e-mail: nigrellij@wpunj.edu
973 720 2332
---
Jazz Now Interactive August 2004 Vol 14 No. 4 - Table of Contents
Copy right: Jazz Now, August 2004 Vol 14 No. 4
Your comment: jazznow@sbcglobal.net