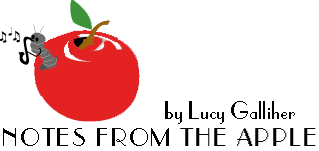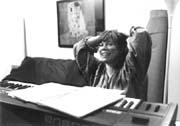 Gloria Cooper at Helen's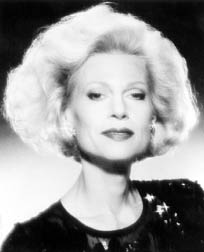 I went to Helen's one evening in July to catch Gloria Cooper's show in their cabaret room. Gloria was on piano and vocals, Michael Howell on guitar, Tim Givens on bass and Vince Cherico on drums. Helen's is a new place in town to perform, and to listen to live music (it used to be called "Judy's"). They have a front room that is a piano lounge and a restaurant, with a huge and elegant cabaret room in the back. Located in the Chelsea district of Manhattan, it's a great hangout in which one can relax, eat, drink and sing.
The first tune of Gloria's set was "Out of This World," played with a Latin feel that alternated with swing. The atmosphere was comfortable, and Gloria seemed completely at ease singing the tune while playing piano, then scatting over the Latin groove, interspersing piano fills.
"What a Difference a Day Made" was next. This was interpreted as a slow swing with a mellow two-beat feel. During her piano solo, Gloria went into some rolling chords with both hands, building up a tremolo, after which she released the tension with a single descending line.
"East of the Sun" contained nice phrasing and good intonation by Gloria. This was done with a 6/8 feel, and Michael played a beautiful guitar solo that had the audience bursting into applause. Count Basie's "Shiny Stockings" followed, and this time the guitar solo led into an arrangement of the original shout chorus, as done by the Basie band.
Other songs in the set included ones from her recent book, "Sing Jazz" (reviewed by me in the June edition of Jazz Now): Bertha Hope's "You Know Who" great lyrics and interpretation by Gloria of this straight-ahead swing; a rousing rendition of Tommy Turrentine's "Big Brown Eyes," and Higgins/D'Ambrosio's "Just a Dream," with more of Gloria scatting, and Vince adding chimes at the appropriate moment. Altogether, Gloria's show was well conceived and executed, an enjoyable evening.
Editor: Gloria Cooper's CD "Day by Day" is available at Jazz Now Direct CD Store.
---
David "Fathead" Newman at Jazzmobile Concert
Grant's Tomb. On summer nights, you're guaranteed to have a good time hearing free live Jazz in the New York City Parks. On July 21st, I went to Grant's Tomb to one of the annual Jazzmobile events. (See "Notes from the Apple" for more - Sept. 2000, Sept. 2002). The members of the band were: David "Fathead" Newman on tenor, alto and flute; John Hicks, piano; Monty Croft, vibes; John Menegon, bass and Rudy Pachau, drums.
As I walked up the street, the band was already smoking on their first number. By the time I found a place to sit amongst all hip listeners with their fold-up chairs, they were starting their second tune. This was Clifford Brown's "Delilah," and Newman was swinging it on flute. He had a relaxed, easy manner, and on flute he exhibited trills, tremolos and breathy phrases. John Hicks accompanied him superbly.
During the vibes solo, unfortunately the sound went off in the speakers. A groan went out amongst the audience, but the musicians continued playing, and the situation was remedied shortly. For a minute or two, I looked around at the crowd - a mixed group of people with hats, provisions, kids, fold-up chairs and the occasional dog or bicycle - enjoying Jazz outdoors on a beautiful summer evening.
'Ain't Misbehavin'" was next. Done much slower than usual, it was perfect for the hot and humid sunset. Newman's bluesy big tone on tenor was reminiscent of Dexter Gordon. This time both the pianist and vibraphonist got to stretch out on their solos.
"Hard Times" was a tune introduced to Newman by Ray Charles, who was influential in launching his career. He picked up the alto sax for this number, which was a funky blues. Instead of being the stereotyped tenor player who doubles on other wind instruments, Newman was able to bring out each instrument's true essence: in this case the alto had a bluesy flavor.
Hank Mobley's "This I Dig of You" was played next. This is a song from Newman's newest CD Song for the New Man (on High Note Records). I liked the vibes solo by Croft - he had a great grasp of the harmonic changes, demonstrating them with four mallets. The energy rubbed off on Hicks, whose flying fingers made playing Jazz piano look easy.
Newman announced that the rhythm section would play the title cut from his last CD, "The Gift," a composition by John Hicks. Here, the audience had more of a chance to experience what the bassist and drummer were doing. They were setting a perfect background of a 12-bar Blues, over which Hicks expertly soloed.
The last tune, "A Night in Tunisia" was very upbeat, and sounded great with the vibes doubling the tenor sax on the head. I thoroughly enjoyed hearing David "Fathead" Newman's group, and encourage readers to delve into his music.
by Lucy Galliher
---
Jazz Now Interactive August 2004 Vol 14 No. 4 - Table of Contents
Copy right: Jazz Now, August 2004 Vol 14 No. 4
Your comment: jazznow@sbcglobal.net