John Handy in Iridium, New York
Between July 15 and 18, 2004 we were in New York. First thing we did was to go to the Iridium in New York City to catch some Jazz. The Iridium is underground. The place is dark, but on the ceiling there was a tremendous amount of lighting equipment pointing to the stage, which is raised just a little bit for better viewing. The Iridium has a cover charge, as well as a $10 drink or food charge minimum.
There were two groups there that night, the Henry Grimes Trio, with Henry Grimes on bass, Andrew Cyrille on drums, Perry Robinson on clarinet and Bennie Maupin on reeds. One of them was a special guest, because they make a quartet and not a trio. Their sound was progressive and the bass was booming, I could feel it under my seat.
The group we came to see was the John Handy 40th anniversary of the group who played at the Monterey Jazz Festival in 1965. The group comprised of John Handy on alto, Michael White on violin, Terry Clarke on drums, Don Thompson on bass and Jerry Hahn on guitar. I heard that it was a dynamite group and made an impression on the Jazz world in 1965, unfortunately I wasn't there. In 1965, I didn't even know what Jazz was. As John Handy joked, in 1965, the group played sitting down, and they were complaining. Now, they play sitting down because they have to.
I have no yard stick to compare between the performance in 1965 and now, but what I heard this evening in July of 2004 was fantastic. John Handy's alto was sweet, melodious, but once in a while he'd give you a few high notes for effect and tension. Michael White smartly dressed in his white vest and white pants, but contrasting red shirt, red shoes and red cap presented smooth improvisations to the pieces they played. Jerry Hahn is a skillful on his guitar and presented fantastic solos tonight. On "If Only We Know," Handy's horn was sultry, mellow and melodious. He showed off his skill in technique and creativity. The bass solo was romantic which ended with a supportive ostinato bass line for the very bluesy guitar solo. The group and the audience were swinging into the music now, building and getting stronger. Violin was then added, gradually building up in intensity like "Bolero." Handy roused it up some more before they brought it all back down to that sultry melody and what seemed to be a sad and melancholy theme. The piece brought on thunderous approval from the audience.
The group ended the set with a piece which John wrote for his son "Dancy, Dancy." John's son is now in his 40s.
Lucy Galliher at Helen's
On the 16th, we went to Helen's in lower Manhattan (169 8th Avenue) to catch our New York editor, Lucy Galliher at work. She plays solo piano for the dinner crowd there. In order for us to see Lucy while she played, we had to sit at the bar area. There is another room with a small stage at the back where they can accommodate a small group of musicians. Lucy told us that Dr. Gloria Cooper plays there with a group sometimes. (See Notes from the Apple in this edition.)
Lucy played on a well tuned and good sounding piano. Her left hand supporting her right with fluid bass lines and swinging rhythms. She plays mostly standards that evening: "Young and Foolish," "Green Dolphin Street," "I Don't Know What Time It was," "I Can Write A Book," "Georgia," "Star Eyes," "I Hear Music When I Look at You," "Misty," etc. Lucy has good ears, and can play whatever is in her head. She can even carry on a conversation while she plays. We enjoyed her playing very much. There was a gentleman at the bar who announced how appreciative he was to be able to hear nice live music at Helen's, and how much he enjoyed Lucy's playing.
We had a short, but very enjoyable time in New York City. We even found out that there is a Harlem Jazz Museum in Harlem, which is not yet built, but they produce concerts there at the office at times. I hope we can return and see some more of the city and enjoy more of her sights some other time.
Editor: Lucy Galliher's CD Springboard is available at Jazz Now Direct CD Store.
---
Café Van Kleef
There is a new club in town! Right downtown Oakland! It is called Café Van Kleef, between 16th and 17th Street on Telegraph. Proprietor, Peter Van Kleef has the heart to have the funkiest Jazz club in the middle of Oakland.
It is a long room. The bar is at the entrance, then tables on two sides and the stage is a high platform at the back, very small, very cramp, right before the bathrooms. "Contemporary" paintings line the walls. Shelves everywhere, filled every inch with "stuff" like an antique store. There are statues, large ones, and chandelier, unlit and hung from the ceiling. Small lamps on all tables with painted shades in style of some 1950s art by the look the figures on them. Ceramic Buddas were glued onto napkin holders and already dead flowers in stale water were left on the tables.
However, the room was filled with people this evening, young and old, and with the different ethnic groups that is reflective of Oakland. We were glad to see that. Peter is a jolly fella, ready to greet all his patrons with a big smile and a slap on the back. Upon our Dutch friend's, Doutje, inquiry, he disclosed that he is also Dutch, and the club has been there since the last part of 2003.
Saxophonist, Hal Stein "hipped" us to the place. He was playing there that evening with Vince Wallace, also tenor, Chris Amberger on bass, Mitch Marcus on piano, and Jason Slota on drums. We couldn't see Jason Slota all night, due to the fact that he was packed to the very back of the stage. Mitch Marcus is a young man, compare to the rest of them. We have heard Chris Amberger, Hal Stein, and Vince Wallace many a time. Vince Wallace was actually the first professional musician who played in our living room many years back with Ron Crotty, who was the bassist for the earlier trio of Dave Brubeck. Stein, Wallace and Amberger are seasoned veterans at their trade, who produced strong, mature improvisations and fluid solos. Amberger's lively bass lines kept the swing, way beyond what the drummer could offer. They played standards, "Bye-bye Blackbird,""The Man I Love," " I Remember April," "Now Is the Time," "Blue Dolphin Street," etc. Pianist, Jason Slota, actually interjected avant garde style piano solos which seemed out of place for these very standard tunes.
However, we enjoyed the outing and were happy to meet Peter Van Kleef. He is a brave soul and we will return to support him.
---
The Sweets Ballroom
We also found out that every last Friday of the month, the Big Belly Big Band plays dance music at the historic Sweets Ballroom in downtown Oakland, California. On Friday July 30, we went to check it out. They had a fish-fry there that evening, and the big stage was crowded with musicians. The dance floor is practically anywhere where there is no table and chairs. I would say the turn-out was good. $12 for the music alone and additional $8 if you want food. Drinks extra. The facility provides a room for those who like to dance. Khalil Shaheed seems to be one of the leaders of the Big Belly Blues Band. Their usual vocalist is George Hubbard whom we know. However, we were sorry to hear that George is not able to sing and was ill.
The band provided foot-stomping music for the dances, more toward the blues and rock genre than Jazz. There were people in the audiance of different ages and race. Some just listened and clapped to the beat and others who just stepped to the music. There was a couple who looked professional and could glide gracefully around the floor. However, all seemed to have a good time, and we were impressed with the turnout.
---
The Marcus Shelby Jazz Orchestra at the African American Museum and Library in Oakland
We have heard that they restored the Carnegie Library in downtown Oakland to be the African American Museum and Library, but hadn't taken the time to visit. When we were approached by a few young people when we were at the Café Van Kleef's (see above) that the Marcus Shelby Jazz Orchestra was going to present the "Port Chicago: Ballet Suite for Jazz Orchestra," we just couldn't pass up the opportunity.
Before explaining what the "Port Chicago" event is all about, I have to show you, our readers, the ceiling of the African American Museum and Library (see photo at left). However, I am not able to access any information about the building itself, information like when the building was built, and process of renovation or the date it was restored. The stone building is all cleaned up on the outside, and as you can see, the inside is impressive. The inside of the entrance is inlaid with beautiful wood. A curved banister takes you upstairs where the concert was held this last day of July. The walls and ceiling all exquisitely restored. There are exhibits from African American artists and poets in display right now.
This evening event was sponsored by the Equal Justice Society and the African American Museum and Library at Oakland. The Equal Justice Society is "a national organization of scholars, advocates and concerned individuals advancing innovative legal strategies and public policy for enduring social change" according to the flyer that was put out.
If I may paraphrase from the flyer, Port Chicago is a naval site, in Contra Costa County in the East Bay, where a devastating explosion occurred in July 1944, during World War II. More than 300 men were killed and 400 others injured. They were mostly African American assigned to load ammunition onto ships. When 258 of the sailors protested about the working condition, and would not go back to work, the Navy called it mutiny, and 50 of those servicemen were convicted.
Thurgood Marshall, who was NAACP Legal Defence's special counsel at the time, investigated the case, and charged that the Navy used these young sailors as scapegoats for the conditions allowed at the base. He filed an appeal brief on the sailors behalf, highlighting the racial discrimination at the bass. The Navy judge rejected the case, but the event led to desegregation in our armed force.
Even though the imprisoned sailors were released after the war, their mutiny convictions were never overturned.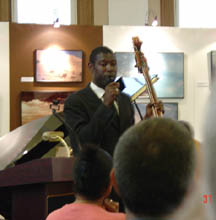 Marcus Shelby (photo at right) worked with Dr. Robert L. Allen, the author of The Port Chicago Mutiny, and created this 15 sections piece of music, to be set in ballet, to be dedicated to those who perished and those who survived the Port Chicago explosion. The music was innovative. It is straight-ahead Jazz, blend with a big band sound. The drummer was fantastic, using his drums to depict the explosion, and adding African drums and dance beats. The work was between the European classical idiom and Jazz, and African sound. It depict the sailors, their work, their lives, their off-base activities, like coming to Oakland to enjoy the night life at the time, the explosions, the judgment, and the hope that they can one day be exonarated. It was very enjoyable, and I can't wait for it to be presented as a ballet.
The attendance was bigger than expected. Extra chairs had to be moved into the room. And again, the mixture of people is impressive. There were children, teenagers, as well as the older generation. Quite a representation of the diversity of Oakland in the room, I am happy to say.
I am glad we went to the event, which introduced me to the Library, and Marcus Shelby and his music. We'll be looking forward to other outings with both the place and the person.
by Stella Cheung Houston
---
Jazz Now Interactive August 2004 Vol 14 No. 4 - Table of Contents
Copy right: Jazz Now, August 2004 Vol 14 No. 4
Your comment: jazznow@sbcglobal.net