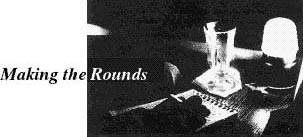 Portfest 2005 Jazz Comes Home to West Oakland
by Nina Hodgson
It was a beautiful day in the neighborhood where Jazz first flourished in Oakland when Portfest, a World Music and Jazz Festival took over the Port of Oakland's Middle Harbor Park at the end of Seventh Street. July 30, 2005, was the day: perfect weather, immaculate lawns, fresh breezes, children frolicking in the sun all against a backdrop of the San Francisco skyline and the gantry cranes and cargo containers of Oakland's working port.
Khalil Shaheed's Oaktown Jazz Workshop led off the festival. Khalil did not play in this group as he usually does. As the organizer of this event, he must have been busy elsewhere, but somehow Khalil always gets the best out of these young musicians, nurturing the stars of the future.
Dave Ellis, himself a product of the Berkeley High Jazz Ensemble from a few years back, provided a goal to shoot for. His group started out mellow and sensuous, and then became more heard-edged, always perfectly in tune with the day.
However, Kenny Garrett disappointed me a bit. This was high-energy, outdoors Kenny, not at all as subtle and interactive as he was when I heard him at Yoshi's last year.
The Mo' Rockin' Project served as the world music portion of the festival, and to my ears proved to be the most intriguing. Opening with Yassir Charly's oud solo, the set was co-led by Khalil Shaheed on trumpet and African talking drum and featured Moroccan music against a rockish beat laid down by a traditional Jazz rhythm section. Don't ask me how, but it worked.
At sunset, the star attraction, Hugh Masekela, came on. The signature South African beat and signature brightness of Hugh's trumpet lit up the park. Although the anti-Apartheid lyrics are now blessedly a bit archaic, their message of joy and freedom swept over the park as the crowd danced joyfully in the waning sun
A few minor quibbles: lack of publicity, confusion over transportation (the festival provided a shuttle, and AC Transit's 13 line serves the park on weekends, but neither of these facts was mentioned anywhere), and lawn chairs were allowed (but this policy was not announced). But all of this will be corrected next year, I hope, at the Second Annual.
Thank you Khalil. Thank you Oakland.
<![if !supportEmptyParas]> <![endif]>
By Nina J. Hodgson
---
Back to: August 2005 Vol. 15 No. 4 Table of Contents
Comments: mailto:jazznow@sbcglobal.net