The Twenty-First Annual Mississippi Valley Blues Festival
Photos and article by Jimmie Jones
The Twenty-First Annual Mississippi Valley Blues Festival was held in downtown Davenport, Iowa's Le Claire Park alongside the Mississippi River on July 1, 2 , and 3, 2005. The Rhythm City Casino Riverboat is to the immediate east, and John McDonald Stadium and Centennial Bridge are to the immediate west. The festival consisted of thirty-one blues-related acts performed on two stages, eight free adult workshops, six Blueskool workshops for children, and a photo exhibit. Tickets for each day cost $15; the adult workshops and photo exhibit were free.
The festival began on Friday and was highlighted by the bluesy performances of Music Makers guitarist, harmonica player, and singer Beverly "Guitar" Watson on the Tent Stage and the always colorful Lil' Ed and the Blues Imperials on the Bandshell.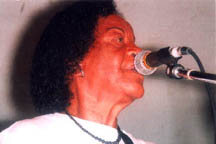 Beverly "Guitar"Watson
Saturday included some of today's finest blues stars. On the Bandshell were the comeback lady singer of the year, Koko Taylor-influenced Norma Jean Brusso; guitarist Carl Weathersby; one of the kings of soul blues, Mel Waiters; and keyboardist Marcia Ball.
| | |
| --- | --- |
| Norma Jean Brusso | The Victory Travelers |
Saturday on the Tent Stage began with Chicago gospel group, the Victory Travelers, consisting of five singers and a hard-swinging rhythm section that had the audience on its feet and clapping in time the entire set.
Alabama's Willie King and his Liberaters performed the blues on guitar and vocals like no one else I've heard. Magic Slim and the Teardrops with special guest John Primes closed the Tent Stage as the Victory Travelers began it with some hard-swinging downhome blues.
| | |
| --- | --- |
| Mel Waiters | Magic Slim |
| | |
| --- | --- |
| Willie King | John Primes |
On Sunday at the Bandshell I missed two top blues acts and newcomer of the year, blues singer Sharrie Williams and the Wiseguys and veteran blues guitarist Phillip Walker. I was disappointed in the contemporary pop sounding music of Ike Turner after the heavy downhome blues I heard on his CD.
Saturday on the Tent Stage began with one of the most heartwarming sets I've ever witnessed. The Mississippi Valley Blues Society had been trying to bring seventy-eight-year-old blues legend R. L. Burnside to the festival for several years in order to present him with the River Road Lifetime Achievement Award, but he always declined because of illness. R. L. has had two heart bypass operations and is confined to a wheelchair.
This year it was decided to have Daniel Burnside, one of R. L.'s children, and his grandchildren who live in the Quad Cities, perform a set at the festival and give the award to Daniel for his father. However, within a week or two of the festival, permission was given by R. L. and family to allow blues society member Hal Reed, a blues musician with Mississippi ties, to drive down to Holly Springs in his van, pick up R. L., and bring him to Davenport so he could receive the award in person.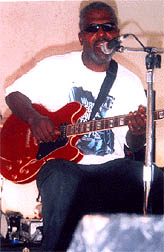 Daniel Burnside
During Daniel Burnside's set, R. L.'s children and grandchildren kept coming up all through the set to hug R. L. sitting in his wheelchair as photographers took hundreds of photos. At the conclusion of Daniel's set, Hal Reed somehow managed to get R. L. and his wheelchair up on the Tent Stage for blues poet and educator Dr. Sterling Plumpp to read a poem written for R. L., Davenport Mayor Brooks to give R. L. the key to the city, and blues society president Bon Covemather to present R. L. with the River Road Lifetime Achievement Award. After Daniel placed the microphone in front of R. L., family members gathered around him. About all R. L. could say was, "Well, well, well!!!"
R. L. Burnside and Family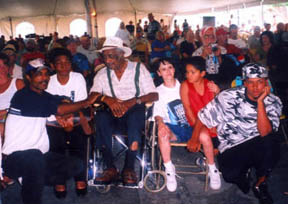 Multireedist and instrument inventor Douglas Ewart conducted a Blueskool workshop Sunday afternoon during which he taught students how to make and perform shakers. Douglas invited his students to perform with his Inventions Ensemble on the Tent Stage that evening, and three of them showed up and performed on both shakers and harmonicas. Top highlight for me at the festival was Inventions highly talented vocalist Dee Alexander dazzling the audience with a new way of singing the blues!
| | |
| --- | --- |
| Douglas Ewart at performance | Douglas Ewart and his Blueskool |
| Dee Alexander | Gaye Adegbabola |
One of the top features of this blues festival every year is the free after-the-fest jam each evening held at the festival hotel. Festival volunteers have always been successful in getting visiting musicians to sit in and jam. I made the Sunday night session long enough to catch Safire's Gaye Adegbabola backed by musicians from several festival bands perform on vocals and harmonica for a set, which included a slow blues that was really down. After I left, many other festival musicians performed including singer Sharrie Williams with her entire band.
by Jimmie Jones
---
Back to: Jazz Now Interactive August 2005 Vol. 15 No. 4 - Table of Contents
Comments: mailto:jazznow@sbcglobal.net