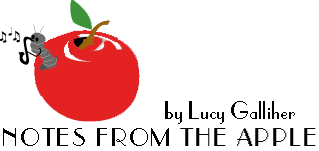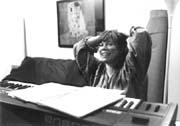 It's been a long, hot summer in New York City, but Jazz has helped to cool things off. Outdoor concerts have been plentiful, and the club scene is still going strong, despite the fact that a lot of musicians travel to Europe, Japan and other places during the summer months. I'd like to tell you about a few more concerts I went to in August: Barry Harris at Birdland, Mike LeDonne at Grant's Tomb and Jimmy Cobb's Mob at the Charlie Parker Festival, Tompkins Square.
Barry Harris/Charles Davis Quintet at Birdland. The members of the group were: Barry Harris, piano; Charles Davis, tenor sax; Roni Ben-Hur, guitar; Paul West, bass and Leroy Williams, drums. Birdland is a spacious nightclub, with a horseshoe-shaped bar, red velvet drapes on stage, and multiple tables for dining elegantly.
I started taking notes in the middle of the first set, during a take off on "Cherokee," called "Land of Dreams." Barry has a huge amount of sensitivity at the piano. Beginning the piece with a soft and gentle introduction, he suddenly became more percussive, setting the tempo for the band to enter on an up-tempo swing. His phrasing and sense of timing is impeccable. After playing the head, my attention turned to Charles Davis, who is solid as a rock on tenor. Better known for his work on baritone sax, Davis is completely fluent on tenor and easily ran through the changes of "Cherokee." After Barry's idea-rich flowing piano solo, Williams topped it off with a melodic drum solo.
"Dizzy Dizzy" was a Barry Harris original. Barry mentioned that the tune was played by both Kenny Dorham and Lonnie Hilliard, but unfortunately was never recorded. It has a beboppy flavor, and was played in a relaxed Latin style. The guitarist, Roni Ben-Hur, took the lead line, while Davis underscored the tenor line. I loved the way Leroy Williams and Paul West backed them up; there was a big smile on Leroy's face.
Barry's most famous tune amongst those who know him, "Nascimento," was well received, with the entire audience joining in, singing, clapping and humming along. Barry's expertise as a teacher always comes into play here. He coaches a chorus of singers weekly, and they often join him on gigs. It was too bad his choristers weren't here to add to this particular evening. However, some in attendance have been students of his, and it was really nice to see the audience participation.
Mike LeDonne Quintet at Jazzmobile. One of the most exciting concerts this summer at Grant's Tomb was this particular group. The personnel consisted of: Mike LeDonne, piano; Jimmy Heath, tenor sax; Jim Rotundi, trumpet; Ira Coleman, bass and Kenny Washington, drums.
As I walked up the street towards the bandstand, the group was sizzling on an up-tempo bebop tune. This was followed by the beautiful ballad "You've Changed," featuring saxophonist Jimmy Heath. He used his incredible sense of swing and great range on tenor to gain momentum on the tune. After awhile, it was only natural for the drummer to go into a double-time feel. LeDonne added a touch of the blues on his piano solo. He developed his solo with great chops, exploring new ways to express himself while keeping within the Jazz tradition.
Jim Rotundi took the first solo on "Little Sunflower," inventing phrases that used incredible gymnastics on the trumpet. LeDonne, perhaps inspired by Rotundi's imagination, began his chorus simply, using repetitive motifs, sixths, and dotted quarter note figures. The next chorus was filled with 32nd note runs. He pulled out all the stops, leaving everyone breathless.
"Rhythmning," "SKJ" and "Bags' Groove" rounded out the set. As readers are probably aware, Mike LeDonne spent a lot of time playing with Milt Jackson, and some of Milt's family members were at this event. "SKJ" was a blues written for Sandy Jackson, Milt's wife.
Jimmy Cobb's Mob at the Charlie Parker Festival. This year, the 10th annual Charlie Parker Festival was at two venues, Marcus Garvey Park in Harlem, and Tompkins Square Park in the East Village. The Harlem Festival was on a rainy Saturday, and I ventured out for a minute, but it was not nearly as nice of a day as Sunday in Tompkins Square. Phil Schaap, "WKCR-FM's Ornithologist-in-Residence," was the Master of Ceremonies. Among the host of musicians, the group I decided to spotlight was Cobbís Mob, featuring Jimmy Cobb on drums, Richard Wyands, piano, Dennis Irwin on bass and Peter Bernstein on guitar.
Editor: Jimmy Cobb's Mob is available at Jazz Now Direct.
There was a great attitude and atmosphere at this festival. A lot of folks were milling around, reading or talking, but most of the die-hard Jazz fans were paying attention, and everyone was enjoying the beautiful day. The band started off with a couple of show tunes, the latter of which was "Love Walked In." Bernstein played the head on guitar, and right off the bat it was obvious that this guy could really groove. His solo developed beautifully, bringing everyone to a higher level. Irwin's bass solo was clean, melodic and understandable. He has a great tone as well.
I enjoyed the way Wyands played the keyboard. The pianist has an extraordinary sense of phrasing. And then, of course, we got a chance to hear Cobb stretch out on the drums. On an extended solo, he kept the hi-hat going while "cookin'" on the tom-toms and snare, adding in some fancy cymbal-work at the end.
In a fitting tribute to Bird, Jimmy Cobb's Mob finished off the set with "Bluebird," a blues in E-flat that had the audience snapping their fingers. This is how the groove got underway for an entire afternoon and evening of live Jazz. Other performers for the festival included Earl May, Hank Jones, Winard Harper, Greg Osby and Charles McPherson, as well as Phil Schaap's tribute to Ray Brown.
by Lucy Galliher
---
Back to

Contents Page
Jazz Now Interactive

Copyright Jazz Now, September 2002 issue, all rights reserved
jazzinfo@jazznow.com