Stanford Jazz Festival
Jimmy Heath Sextet, August 3, 2002
Jimmy Heath, small, thin, strutted to the stage with a big smile on his face. He came with his brother, Tootie, on drums, Rufus Reid on bass, Harold Mabern on piano, Jim Rotondi on trumpet and fluegel horn, and Andrew Speight on alto. A big and smooth sound came from Jimmy's tenor. It was sweet and elegant. When he step aside for the others to solo, he tapped to the music, and danced around with a grin on his face. The tone was beautiful from the fluegel horn and the alto was trying to keep up. "A Sound for Sore Ears," Jimmy said, was his original.
Tootie gave a clickety-clack on his drums when they played "On the Trail," cleverly depicting the donkeys on the trail while the bass descends from the high to the low register of the instrument as if descending from the mountains. The muted trumpet delivered the melody, doubling in time. It was a nice solo. Tootie smiled, trotted with the drums while the piano echoed the bass with short riffs.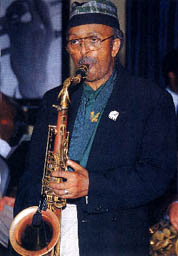 "Easy Living" featured Andrew Speight, originally from Australia, playing the alto. Speight was energetic in his playing. He was visibly awed by the company he kept, but was able to deliver smooth sounding melodies without piercing tone or syrupy interludes like "you know who." His technique was impeccable. Trumpet came in to battle, getting more intense as it goes. Piano chording behind, adding to the trumpet's fiery run. Jimmy (photo at left) came in with his tenor, equally fast but calmer, with less urgency. The alto picked up the intensity again with the drums hurrying it on. The bass walking relentlessly. Then all instruments came in with a slow down and ended the piece with a bang on the drums.
They played other pieces like "Winter Sleeve," "Round About Midnight," "Straight No Chaser," "Bag's Groove," too numerous to remember. When all six players play together, they have a big band sound. The trumpeter and the altoist, the younger players among the giants, were impressive and up to speed. They each got to play a ballad to demonstrate their skills, which they did beautifully.
The one that surprised and impress me a lot was Harold Mabern. A big man, sat with his back toward me all night, is a master at his instrument. Sometimes you can hear Garner, or Garland in his playing. His left hand is as proficient as his right, chording, running, improvising. When he accompanied a solo, he was still putting in his ideas, a cliche here and there, or he actually played against the soloist with counter melodies, swinging hard in the meantime.
It was a wonderful evening. We salute Stanford for putting the group together.
by Stella Cheung Houston
---
August 9, 2002, Rufus Reid (photo below) and the Sanford Jazz Workshop All-Stars
It was a performance by the teachers, and many of the students of all ages was in the audience, they spent a week learning from the masters, minus one (I'll explain later).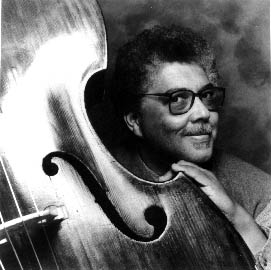 They were able to squeeze in about two pieces per performer, with Rufus being the bassist and anchor for all. Those who performed were Harold Mabern and David Hazeltine, on piano. Mabern was great, and I expressed my feeling toward his playing in my previous review, last month, when he played with Jimmy and Tootie Heath. Jimmy granted another performance this evening as well, but Tootie didn't play. Trumpeters Jim Rotondi and Andrew Speight returned. Dena DeRose sang and played another piece (I reviewed her performance last month).
Joe Farnsworth backed the players on drums most of the evening and Sylvia Cuenca played a few pieces in the middle. Neither one's playing stood out in my memory too well, except the fact the Sylvia Cuenca is a lady drummer.
Mundell Lowe, an elderly guitarist, whom our publisher had heard of, but never knew that he played straight ahead Jazz, didn't show us hardly any of his Jazz skills. Haybert, though, was pleased to hear Herb Geller (alto), whom he couldn't remember having heard live before. He blasted us with strong, rich and melodious line, unlike his appearance of frailty. His sound was like brush stroke, fat and rounded, but tapered at the end for beautiful phrasing.
It was interesting to watch Jovin Santos Neto's feet under the piano bench. Since that was what we could see from where we were, along with his back. He stomped his feet, crossed and uncrossed them to the music that he was playing. The more excited he got, the harder he stomped. It was a show of its own, and of course, completely distracted me from his playing.
George Coleman swaggered onto the stage as if he was a rock concert star. He had this self-importance attitude that he carried. He had a big fat sound from his tenor, though, but rather brassy at the higher register. Eric Alexander was another impressive tenor tonight. Came to find out that we have eight of his CDs in our library. Also added this evening, was Steve Davis on trombone who joined in in a few of the pieces.
The one person whom I couldn't see being included in this caliber of players was Madeline Eastman. As soon as she attempted to scat, she was out of tune. She can't scat, she can't improvise on the theme. What she did, didn't work! It was embarrassing to hear her try. Why is she in workshops teaching? What is she teaching the others? Ask Mary Stalling to teach. Ask Denise Perrier, Bobbie Norris, Jackie Ryan, Morning Nichols and Brenda Boykin to teach. It could be that I don't understand what she is doing. Of the wonderful collection of musicians at the Stanford Festival, this was the major disappointment.
It was a long and exhaustive evening, but we enjoyed most of it, and thank you, Stanford, for putting a fantastic program together.
by Stella Cheung Houston
---
Back to

Contents Page
Jazz Now Interactive

Copyright Jazz Now, September 2002 issue, all rights reserved
jazzinfo@jazznow.com