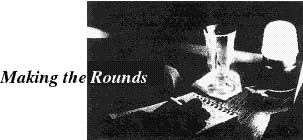 Wanda Stafford with Si Perkoff and Max Perkoff at the Nazareth House in San Rafael, California. These excellent musicians donate their time and talent to Bread & Roses, the organization, founded by Mimi Fariña (JN March 1998) in 1974, that brings entertainment to people confined in institutions.
The show was hosted by Mary Alice Kirincic, a volunteer for Bread & Roses. Ms. Kirincic stated that for the last 23 years Bread & Roses has been bringing performers to this elderly convalescent facility.
Wanda Stafford's selection of songs for this gig was delivered very tastefully, accompanied by Si Perkoff on piano and Max Perkoff on trombone, to about fifty very attentive people. Wanda said she choose these particular songs because she felt that the audience would be familiar with the tunes and lyrics. "Honeysuckle Rose," "Summertime," "I Don't Know Why", were sung by Wanda. Si Perkoff sang "Moonlight in Vermont," and explained that it was patterned after a Japanese Haiku three line poem. Wanda had the audience sing along on "I Can't Give You Anything but Love," "It had to be You," "Look Down That Lonesome Road," "You Made Me Love You." Max Perkoff trombone solo was beautifully haunting on the last piece.
by Haybert K. Houston
---
Back to

Contents Page
Jazz Now Interactive

Copyright Jazz Now, September 2002 issue, all rights reserved
jazzinfo@jazznow.com