Mississippi Valley Blues Festival
photos by Jimmie Jones
We had a little excitement at our eighteenth annual Mississippi Valley Blues Festival held right along the Mississippi river at Le Claire Park in down town Davenport, Iowa July 4 - 6 , 2002. ABC broadcast Lonnie Brooks live to eight million people during a three hour special program hosted by Peter Jennings in New York. Our blues festival was one of twelve sites featured on this program.

The Iowa City Jazz Festival was held July 5 - 7, 2002 and I was able to catch the Sunday, July 7 portion which I did mainly to catch Malachi Thompson (photo at left)and his Free Bop band featuring Billy Harper (photo below).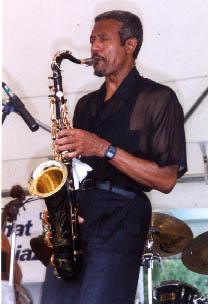 I got a surprise in the headliner set, Lavay Smith (photo below left)and her Red Hot Skillet Lickers. I only had a chance to talk to three of the eight musicians and all three were friends The Jazz Professor, Bill Bell.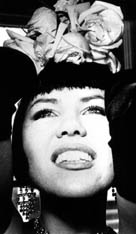 Young Dayne Sean Stevens who just graduated from Berklee was not only a student of Bill's but was highly appreciative of what he learned from Bill. Tenor saxist Howard Wiley also studied under Bill.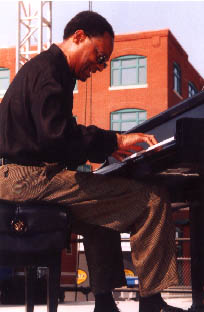 Ramsey Lewis (photo at right)and his trio performed at the John Deere Commons in Moline the afternoon of June 29. It was all good.
By Jimmie Jones
---
Back to

Contents Page
Jazz Now Interactive

Copyright Jazz Now, September 2002 issue, all rights reserved
jazzinfo@jazznow.com