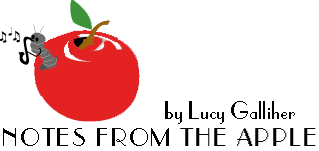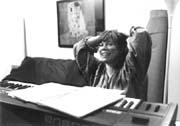 Every New Yorker needs to get away once in awhile, and this month was my chance to enjoy the Jazz scene in New Orleans. Alive and well, New Orleans is also the birthplace of Louis Armstrong. A longtime resident of New York, Armstrong's House in Corona, Queens is scheduled to open as a museum this fall. The Armstrong Archives are currently in a large collection at Queens College.
The middle of the summer can get pretty hot, especially in the "Big Easy," New Orleans, Louisiana. Fast becoming a regular French Quarter Festival, the Third Annual Louis Armstrong "Satchmo" Summerfest took place at the Old U.S. Mint, in the Esplanade by the Mississippi River, from July 31 - August 4, 2003.
International Hotel
I stayed at the International Hotel, which was fabulous and in a great location. Situated only two blocks from the French Quarter, this boutique hotel stands out from a number of hotels that have sprung up in the area around Canal Street. From morning to evening, the hotel service was impeccable. The rooms were cozy, with king-sized beds and original photographs of Jazz musicians on the wall, along with a selection of Jazz CDs! One could find a sophisticated clientele at the Loa Bar, right next to the beautifully renovated lobby.
French Quarter
Many of the restaurants in the French Quarter have been owned and operated by the same families for years. Anywhere a person chooses to eat in New Orleans can be quite an experience. At Café du Monde, one can hear local Jazz musicians while eating beignets (a type of sugar-covered donut). Antoine's Restaurant had a delicious shrimp salad with avocado as a lunch special, topped off with a baked Alaska. This particular restaurant has a magnificent wine cellar, and they are responsible for the discovery of "Oysters Rockefeller."
As everyone knows, Satchmo signed a lot of his letters "Red Beans and Ricely yours." Interestingly, the on-site vendors at the Summerfest served food based on this theme. The Gumbo Shop had wild pecan rice & red bean salad, and the Praline Connection served red beans & rice, and mustard greens with stewed chicken. Many restaurants also offered some of Satchmo's favorite foods. A few of these were: Dickie Brennan's Steakhouse, Broussards, the Hard Rock Café and the Royal Café. There was great shopping in the French Quarter and surroundings. With antique stores and art galleries galore, there were some unusual items to be found.
The "Satchmo" Summerfest
Tad Jones, the Jazz historian and writer who discovered Armstrong's real birthdate (August 4, 1901), was at the seminars to talk about the history of New Orleans, and to give some insight on Louis' childhood. I decided to go on a bus tour that Jones was presenting, to show where Louis grew up.
The bus tour covered four basic areas of Louis Armstrong's life: the place where he was born, the area where he grew up in the "red light" district, the spot where he was arrested at age 11, and the Waif's Home, where he was sent for 18 months in detention. Louis got his first musical education there, learning to read and write music, to play the trumpet and to be in a band.
I took some notes:
The first stop was at South Rampart Street/Poydras. This area was used for shopping back around the turn of the century. There was a large African-American community in that neighborhood all the way up to the 1940's. Saloons, dancehalls and nightclubs proliferated, of which many were owned by Jews. The Karnofsky family's tailoring business was there, and they also owned a Jazz record store; there was a voodoo shop, a drugstore and the Iroquois Theater, which was a nickelodeon and vaudeville theater. Black people were allowed to patronize places such as this, but had to sit in the balcony. People such as Jelly Roll Morton and Sidney Bechet would play at the saloons around here. The buildings are still standing, and one can imagine the pawnshops, clubhouses for fellowships, shops, saloons, etc.
Louis hung out in this neighborhood as a kid, and mingled with Italians, Jews and people of color. He got arrested on the corner of Perdido and Rampart Sts. on New Years' Eve, 1912. The story goes like this: 50,000 people were reveling on New Year's Eve, 1912. There were brass bands playing, and people were drinking and carrying on. Louis had a singing group, and they were out on the streets, panhandling for money. Juveniles were forbidden to make money by panhandling, and what's more, Louis had a gun and was shooting it into the air. The police thought he was shooting at someone across the street, and they arrested him and sent him to the Waif's Home for 18 months.
This was not his first arrest, and no one was there to stand up for him at court. His mother was an alcoholic and a prostitute, and his father didn't live with them. But this didn't hinder Louis' musical development: his incarceration at the Waif's home is what gave him the tools for his entire musical career.
We next went to where the "red light," or "Storyville" district was. In 2003, it's directly across the street from City Hall. One has to picture the houses of gambling and prostitution, because now it's a beautiful green park. Next to this was the House of Detention, and Chinatown was right around the corner. It was easy to obtain illicit drugs such as opium and marijuana. The latter was legal in New Orleans until 1924.
Louis lived near the corner of Franklin and Gravier until 1922. He played with King Oliver in some of the neighborhood venues. For instance, there was an African-American owned building (that still stands), where the Knights of Pythias had rooftop dances. Other organizations in the neighborhood were the Elk's Club, the Odd Fellows and a number of unions.
Our next stop on the bus tour was 723 Jane Alley, where Louis Armstrong was born. The house was demolished in 1964, but there is a plaque commemorating the spot. His parents, Willie and Mary Albert are acknowledged on the plaque. Tad Jones said he thought that if Louis had stayed in this house, where his grandmother lived, that he might not have gotten into so much trouble as a child.
The Waif's Home was a little further out of town, near the Holt Cemetery (where Buddy Bolden and a number of Jazz greats were buried). It was originally built as a French orphanage, but the city took it over, and turned it into a juvenile home. Louis learned to read music here, and started playing instruments. He first played alto sax, then drums, then bugle, cornet and trumpet, and the rest is history!
Nightlife in New Orleans
I was very pleasantly surprised to find that there are as many nightclubs in New Orleans as there are in New York! The main ones are in the French Quarter, particularly on Bourbon St., Decatur St. and Frenchman. However, one can find music in all areas of New Orleans; I particularly liked the relaxed Maple Leaf Bar, where everyone stood to watch the John Vidacovich Trio perform. I'd like to review his band at another time.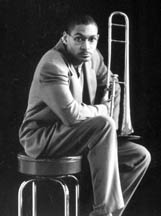 Trumpteter Kermit Ruffins was performing at venues all over town. Harold and Alvin Battiste were conducting the Summer Jazz Camp, with New York-based Barry Harris hired as artist-in-residence. There was a "Satchmo Club Strut" night, where for $20 people could be admitted to 15 different clubs. Some of the performers were Henry Butler at Café Brasil, Delfeayo Marsalis (photo below) at Snug Harbor, and Ravi Coltrane at both nightclubs. The highlight of the festival was a concert that featured Ellis Marsalis and the renowned vocalist Patti Austin, under the leadership of Irvin Mayfiel's New Orleans Jazz Orchestra.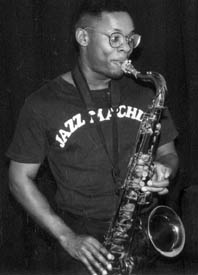 Singer Betty Shirley
I went to dinner one night with a top-notch singer named Betty Shirley (photo below), at Arnaud's Restaurant in New Orleans. Situated on Bienville and Bourbon Street, the pedestrians outside could hear the music through speakers. Betty was asked to sit in with the band. Pretty soon the place was filled up, as Betty sang her heart out on "Take the 'A' Train." We enjoyed hearing the local musicians: Paul Turnipseed on guitar and vocals, Tommy Alfortish on sax, and Al Arthur on bass. The food was scrumptious, and altogether it was a great evening.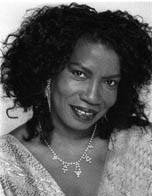 Betty Shirley is a fantastic Jazz vocalist. Her new album, Betty Shirley Sings with the Chuck Chaplin Trio, evokes the essence of New Orleans. Recorded in 2002, her CD is straight-ahead Jazz, rather than Dixieland, but with a variety of styles. Her songs are alive, mixing vocalizing, talking and scatting into a wonderful blend of colors. Chuck Chaplin is a talented pianist, who contributed some very creative arrangements to Bettyís CD.
First, there's "The Night Has a Thousand Eyes." After a sparkling intro Betty sings the head, exuding positive energy and wisdom. Next is "Our Love Is Here To Stay," where Chuck adds great passing chords and an inspiring piano solo. The ballad "No Detour Ahead" shows the depths of Betty's feelings, filling the imagination with fantasy. I also enjoyed hearing a floating 6/8 version of "Falling in Love with Love," "Star Eyes" with Betty tearing it up on a scat solo, and the sultry "Love for Sale."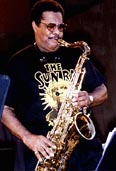 Barry Harris. As mentioned above, Barry Harris was teaching at the Summer Jazz Camp in New Orleans. When I got back to New York later in August, I made sure to see his band perform live at Birdland. He's got a new CD out, entitled "Live in New York," which was recorded last year. Consistently, he's had Charles Davis (photo at left) on tenor sax, Roni Ben-Hur on guitar, Paul West on bass and Leroy Williams on drums. (See Jazz Now "Notes from the Apple" from September 2002 for last year's review.)
Altogether, my visit to New Orleans was a success, and I hope to go back again for another festival. In the meantime, look for more "Notes from the Apple" next month.
by Lucy Galliher
Editor:
Jazz takes to the best places on this planet.
---
Back to

Contents Page
Jazz Now Interactive

Copyright Jazz Now, September 2003 issue, all rights reserved
jazzinfo@jazznow.com