NAIRN International JAZZ FESTIVAL 2003
The 14th Annual Jazz Festival held at Nairn in Inverness-shire, Scotland, ran for a week starting the 3rd of August at a unique Highland venue where the old world gets the opportunity to meet with the new.
On the night of April 15th, 1746, just a few hundred yards from the Jazz venue, the Jacobite army, led by Bonnie Prince Charlie entered the outskirts of Nairn to launch a surprise attack on the royalist forces of George II, who were billeting in Nairn. However, they had left it too late, the alarm was raised and the Jacobites retreated 15 miles back to Culloden, near Inverness. The next day the last pitched battle on British soil took place; the Jacobite army was slaughtered and the Highlands of Scotland changed forever. Many of the captured Highlanders were sent in prison ships to America; who knows, perhaps some of their descendants are playing here this week
Some old friends are sadly no longer with us. Ruby Braff, the first musician ever to be engaged at this festival gave his last-ever public performance here last year. His well-known curmudgeonly behavior both inflamed and delighted in equal measure. An conversation overheard last year went like this:
(1st middle-aged man) "Thought what he said about the Beatles was a bit much."
(2nd middle-aged man) "Yes, bit over the top, I must say."
"Rather a poor show, actually."
"Absolutely."
Who would ever have thought that British Jazz enthusiasts would still be able to speak like RAF pilots?
Ruby Braff's profoundly beautiful cornet playing will be greatly missed.
KEN PEPLOWSKI QUARTET
Ken Peplowski, tenor Saxophone, clarinet; Ben Aranov, piano; Dave Green, bass; Steve Brown, drums; guest artist; Jesse Davis, alto saxophone.
Sunday, 3rd of August
A warm evening, a full house, concert style set up and atmosphere; clapping after solos of course, but no dancing or shouting, a whoop or a whistle is deemed acceptable at the end of a piece. The audience does not get any younger, well dressed, middle aged and upwardly mobile. I spotted one person who might have been under twenty.
There is always a sense of anticipation as the musicians take to the stage; plenty of smiling, hand shaking and backslapping to go round. Both the audience and the musicians have good will going in abundance; they all know what they want from the evening. Without more ado they are straight into "Secret Love"; tenor and alto saxophone combining with some fluid running. Nothing strenuous to start the week; it was to be an evening of standards. An interesting dimension of a live performance is to watch the chemistry between the players; do they actually like each other, the handing over of a solo, the gentle support given to a quieter instrument. Russian pianist Ben Aranov straining, crane-like to pick up the beat as Peplowski's generous back shields him from the action. Peplowski on the tenor sax has a sweet round tone, gurgling with pleasure and projecting himself with some dazzling runs; he is matched by Jesse Davis on the more astringent alto. There are some electrifying moments as the two players trade fours with a dynamic vigor. It is when Ken picks up the clarinet that things change, his playing shades the tenor sax, mellifluous, melting runs, exciting and inventive, he gives his all. Ken has a warm and easy way with an audience, wisecracking comes as second nature; I cannot remember how many times he said it was great to be back, so often that even I was beginning to believe him. Tunes like "Wrap Your Troubles In Dreams", "Don't Blame Me", "Paper Moon", and a grandstand finish with Lester Young's "Lester Leaps In". For an encore Ken winkled out Daryl Sherman from the back of the hall to sing "Beginning To See The Light".
The evening left you feeling warm and good. What more could you ask for to start the week?
JAY LEONHART TRIO WITH KEN PEPLOWSKI
Ken Peplowski (photo at right), saxophone and clarinet; Jay Leonhart (photo at left), bass; Joe Cohn, guitar; Ted Rosenthal, piano; Steve Brown, drums.
Monday, 4th August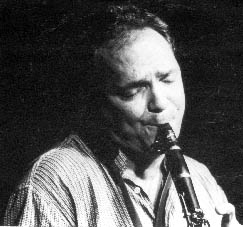 The playing of Joe Cohn on guitar and Ted Rosenthal on piano quickly impressed in their sparkling solo work; this was a great evening session with Ken Peplowski fronting and again showing what a great entertainer he is. Apart from British drummer Steve Brown the all-American line up mixed and matched with great effect; a piano solo from Ted Rosenthal on "Gone With The Wind" was both technically excellent and melodically satisfying; a student of the Manhattan School of Music, he is a stylish player with plenty of ideas in his armory. Jay Leonhart is an elegant bass player; ranging more than most over his instrument. A fine lyricist, he performs his songs almost in a monologue style, accompanying himself with the bass. A Benny Goodman number "Between The Devil And The Deep Blue Sea" gave Peplowski a chance to swing on the clarinet, playing some deliciously intricate patterns with flair. A duet with the piano on Cole Porter's "All The Things You Are" was both hot and sympathetic, Rosenthal scampered over the keys in frenetic delight. An outstanding evening, provided by musicians in top form.
DARYL SHERMAN
Daryl Sherman, piano and vocals; Jay Leonhart, bass; Joe Cohn, guitar.
Tuesday, 5th August
We are in a heat wave here and it is getting hotter; must be in the 80s tonight as we are packed into a smallish room in a very intimate setting, in fact we are just about breathing down Daryl's neck; she is probably used to this, playing the lounges of New York. It is clear that she has a very detailed knowledge of the standard song book and she takes the time to relate delicious morsels of information about the great and the good in the music world. Daryl must be a comforting haven for those who find bebop a little strong for their temperament; purring here way through "Bewitched, Bothered And Bewildered", her delight is of the dulcet variety; she is also no slouch on the piano. Backed by those fine musicians Jay Leonhart and Joe Cohn the evening is secure, entertaining and.restful. This evening she was favoring Richard Rodgers; collaborations with both Hammerstein and Hart were used, she also sang some Cole Porter, and she did not have it all her own way. The knowledgeable audience had plenty of obscure titles up their sleeve that they wanted to hear; and, digging deep, she obliged. "Swing Time In Honolulu", and "Arthur Murray Taught Me Dancing In A Hurry" were two of the odd, but entertaining tunes. Jay Leonhart performed one of his own songs: "Uncle Jim", which, if not in style but certainly content, brought back the memory of the great British king of monologue, Stanley Holloway; though Jay told me he had never heard of him.
BRIAN KELLOCK plays FATS WALLER
Wednesday, 6th August (lunchtime session)
Brian Kellock's stature continues to grow; the Scottish pianist is among the best names around. From stride to swing to ragtime he enveloped the piano with the Waller sound. "Ain't Misbehavin'", "Honeysuckle Rose", "Sweet and Slow", "After You've Gone", "Tea For Two", and of course "Handful Of Keys", doubling the tempo halfway through on the latter. Unlike Thomas Waller, though, he did not sit down and pull the piano towards him; something Waller did at the London Palladium in 1938 (I have a witness). This was really a tale of two halves, on the second set he was joined by his Quintet, attempting to recreate the outrageous humor of Waller, apart from a couple of good numbers sung by vocalist Freddy King, "Solitude " and "The Joint Is Jumpin'", the group were more quirky than outrageous. Their ad-libbing procedures need more rehearsal if they are to work properly, but the main problem is that Kellock is head and shoulders above everyone else, which engendered an uneasy sense of juxtaposition. How long can Scotland hang on to him?
JUNIOR MANCE TRIO
Junior Mance, piano; Andrew Cleyndert; Steve Brown, drums, guest artist, Jesse Davis, alto saxophone.
Wednesday, 6th August (evening)
Starting with "Falling In Love With Love". The Chicago born player, now in his seventy-sixth year, hit the groove straight away with his usual British duo of Andrew Cleyndert on bass and drummer Steve Brown. Playing mostly second line standards, he gave a powerful performance; though he seems to make over use of the tremolo effect in just about all of his pieces. His favorite technique is to orientate towards the soulful bluesy type ballad, usually starting with a long piano introduction. He played a beautiful slow rendering of the Thelonious Monk classic "Blue Monk", and Ellington's "Single Petal Of A Rose" was equally classy. Both bass and drums kept their end up well when it came to their solo turns and Mance invited his one time pupil, Jesse Davis, up to finish the set with some hard bop, "I am very proud of this boy," he said.
WYCLIFFE GORDON AND ERIC REED - WE
Wycliffe Gordon, trombone; Eric Reed, piano.
Thursday, 7th August.
A mist has rolled in from the sea, keeping temperatures down to the 70s.
The Nairn Festival has presented a lot of good Jazz pianists over the years; there has been, Monty Alexander, Benny Green, Ray Bryant, Gene Harris, Oliver Jones, Kenny Drew Jr., Bill Charlap and Ralph Sutton; this year it is Junior Mance, and for the first time Eric Reed in the company of Wycliffe Gordon.
These two stars of the Wynton Marsalis Lincoln Centre Jazz Orchestra and septet combos also enjoy a close personal relationship, and they opened with a rendition of the Lord's Prayer; considering their backgrounds, I thought we were in for an afternoon of hymn and gospel music; far from it. A joyful, light-hearted set was in store with them both in good form; playing many of their pieces from the CD "We" (reviewed by Jazz Now in September 2002).[STELLA MAKE A LINK TO THE SEPT. 2002 EDITION] "It don't Mean A Thing If It Ain't Got That Swing", was next up. Reed has a light style, flowing and tricky, there is a lot of interplay between him and his partner, and they seem to try to throw each other with breathtaking rhythmic stunts; Gordon, who likes to stretch boundaries, fluttered and growled and plunge muted for every effect possible. He can play (though he does not seem to very often) a soft straight tone when required; J. J. Johnson's "Lament", for example. These guys play from the heart, and in the slower numbers there is a missionary feel to their music. On "Tea For Two", (seems to be the year for every one to play it) Reed modulated through every key possible, an exciting pianist, one is never sure where he is heading next.
WARREN VACHE ALL STAR SEPTET
For the second set of the afternoon, we had an outstanding collection of players: Warren Vache, flugelhorn; Jesse Davis, alto saxophone; John Allred, trombone; Joe Cohn, guitar; Brian Kellock, piano; Jay Leonhart, bass; Joe Ascoine, drums.
Warren Vache, a traveling mercenary of the horn always seems to ride into town and muscle in on anything that is going. A good job too, humorous and forceful, he is one of the best in the world to shape and craft a delicate solo; I have never heard him lower his standards to even play something ordinary. Jesse Davis shows that he can play a decent ballad, and the mellow trombone of John Allred is always a delight. There was the elegant bass playing of Jay Leonhart, the guitar mastery of Joe Cohn, and the piano of Brian Kellock showed us in whose company he really belongs, all contributed to an exciting set. A few of the things they played where, "Look For The Silver Lining", "Day By Day". "It's in F for those of you that do not have perfect pitch," Vache said. Benny Carter's "When Lights Are Low".
HEAD TO HEAD; WYCLIFFE GORDON AND JOHN ALLRED.
Wycliffe Gordon, trombone; John Allred, trombone; Ted Rosenthal, piano; Andrew Cleyndert, bass; Joe Ascoine, drums.
Friday, 8th August
A fascinating pairing of these two great musicians on these seemingly clumsy, noble instruments, but also a master class in just what can be done. Starting with "If I Had You" played with sweetness of tone; then into "The Preacher", a joyful romp into the funky harmonic upbeat. This was followed by Hoagy Carmichael's "Skylark", which offered us smooth, delicate vibrato. Through "Beginning To See The Light", and "It's All Right With Me". In "West End Blues", they both shared Armstrong's famous opening riff, a sumptuous indulgence this one, with a finely spaced solo by Ted Rosenthal on piano. Ellington's "Cotton Tail" blistered; Joe Ascoigne, a superior drummer at the best of times, seemed to have more than the regulation number of arms. An unusual and entertaining set.
THE GULLY LOW JAZZ BAND
Jon Erik Kelso, cornet, Wycliffe Gordon, trombone; Dan Block, clarinet; Mark Shane, piano; David Ostwald, tuba/leader; Joe Ascione, drums. Guests: Warren Vache, cornet, John Allred, trombone.
Friday, 8th August
This Dixieland outfit from New York are back for the third year running and are becoming firm favorites at this festival. We have moved out of town a short distance to be the guests of The Royal Highland Fusiliers at Fort George. A Fort built after the rebellion of 1745 to keep the Highlands quiet, mentioned at the beginning of this report; still a base for the regular army, though a shot has never been fired in anger. A large marquee had been erected for the performance. The first half was to be a celebration of the centenary of Bix Beiderbecke; opening with "China Boy" and "Because My Baby Don't Mean Maybe Now". Keeping the old style alive, this solid, cohesive ensemble hits the groove immediately. They are unusual in that the leader, David Ostwald, is the least well known; giving us nice, fat sounds on the tuba but rarely taking a solo. Jon Erik Kelso is a hot, lively trumpet player, Dan Block is melodic on both clarinet and saxophone, Wycliffe Gordon managed to sound like Mugsy Spanier when plunge muting. On one occasion he majestically conjured up the ghost of Jack Teagarden, although there were also times when he had trouble with the discipline of sticking to the correct harmonic structure of a Dixie style; but pianist Mark Shane was a master at it. A friend remarked that he found great comfort in a pianist whose hands stayed in the correct half of the piano! On through "Singing The Blues", "Clarinet Marmalade", "Georgia On My Mind", "Thou Swell", "Melancholy Baby" and "Royal Garden Blues".
In the second set they were joined by Warren Vache and John Allred; we now had a fantastic brass section, fronted by two trumpets and two trombones; they played music of "The World's Greatest Jazz Band", who had the same line up, starting with "S' Wonderful". This band had some bite, a brass wall of sound; David Ostwald said that he was biased towards brass; I must agree with him, reeds cannot match the sparkling brilliance that brass can give. Dan Block though, could still be heard contributing greatly to the color; an unusual position to be in, the Jazz world seems dominated by the saxophone these days. "Basin Street Blues", "Lady Be Good", "Creole Love Call". Eric Reed popped in to guest on piano on "Cotton Tail", then "When Day Is Done", played with soulful power, each instrument crafting a beautiful solo; and going out with all guns blazing in "Lover Come Back To Me". An evening of exaltation.
THE GULLY LOW JAZZ BAND ­ BREAK OUT!
Saturday, 9th August.
The temperature is back into the 80s. "Don't they have any air conditioning," mumbles Jon Erik Kelso. "It doesn't get this hot," says David Ostwald (he is a lawyer, and is thus to be believed).
The Gully Low split themselves into different combos (the name is from an old blues played by Louis Armstrong), giving individuals the chance to show their mettle; Mark Shane on piano proved what an excellent Dixieland player he is, with the late Benny Carter's "Blue Interlude" and "Ripples", grounding a solid bass line and a tuneful right hand. Wycliffe Gordon attacked "Ain't Misbehavin'" with plunger mute and a good singing voice. "Mood Indigo" is another vehicle perfect for his temerity taking style; fluttering as deep as possible before squeezing so high he matched the piccolo. The superb drumming of Joe Ascoigne featured in "I've Got Rhythm", and then Dan Block gave us "Solitude". The full band finished up with such stalwarts as "Home", "Lullaby Of Birdland" and "The World Is Waiting For The Sunrise". For an encore, in a perfectly straight and harmonic style they finished with "Auld Lang Syne". Causing some confusion in the audience, some of which wished to take to their feet and hold hands in the traditional manner for this ultimate of all flag-wavers.
The old and new acquaintances will never be forgotten, and we certainly hope that the musicians will return to offer us another week of top Jazz.
Ferdinand Maylin
---
Back to

Contents Page
Jazz Now Interactive

Copyright Jazz Now, September 2003 issue, all rights reserved
jazzinfo@jazznow.com