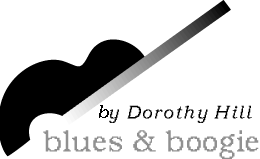 Blues Festivals
Summer is the time for outdoor festivals and there have been several outstanding ones featuring many of the best local performers and nationally known artists.
Hayward/Russell City Blues Festival has become one of the better locally produced events thanks to the Bay Area Blues Society and producers Ronnie Stewart and Paula Smith. Held in front of Hayward City Hall, this two-day celebration was focused on bringing back the music for which Russell City was famous.
| | |
| --- | --- |
| Birdlegg | Ruth Davis and Carol Fran |
Birdlegg and Tight Fit Blues Band started the festivities off with their Oakland based sound. Birdlegg's harmonica playing is relentlessly bluesy and his high energy performances are legendary. On this occasion, he covered some Jimmy Reed tunes and ended with his composition, "San Pablo Avenue." Boogie Woogie Women in Blues revue included Oakland's Beverly Stovall on keyboards and Carmen Getit on guitar. Carol Fran, the Louisiana queen of boogie, on keyboards and Ruth Davies on standup bass completed the revue with a touching performance which included a tribute to Fran's late husband, Texas blues guitarist Clarence Holliman. Other outstanding performers on Saturday included the absolutely wonderful 76 year-old Texas Johnny Brown who performed the previous evening at a local club. When he played his guitar and sang, the years melted away. Walter "Wolfman" Washington closed out the Saturday show with an incredibly eclectic performance with his raucous guitar styling and smooth vocals.
| | |
| --- | --- |
| Walter "Wolfman" Washington | Sherman Robertson |
On Sunday, the gospel group Endurance opened the show with their secular performance. The music of Russell City was featured in the performances of the Russell City Memorial Blues Band comprised of artists who began their careers in that city as youngsters, Jimmy Mamou, Billy Dunn and Big Bob Deance. Mamou's sizzling guitar and charismatic personality was well displayed on this day and Billy Dunn came down into the audience singing as he lingered on a blanket in front! Sherman Robertson, who hails from Houston, Texas, was one of the outstanding acts in a highly anticipated visit to this area. Robertson's guitar styling was uniquely passionate and his vocals were impressive. His stage presence is magnetic and a duet with guitarist Ronnie Stewart was a rollicking exhibition of electric blues. Craig Horton's band delivered a good dose of Chicago style blues and featured Myles Silveira, the very young son of drummer Scott Silveira, on percussion in a surprisingly great performance. This kid is going places! Headliner, Lucky Peterson, closed out the show playing his red hot guitar and rough vocalizing taking it into the audience to thrill his many fans.
Fire On The Mountain Blues Festival was a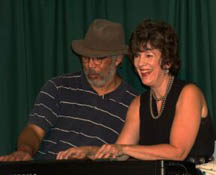 one-day event in the Gold Country town of Sonora and was a hot affair both in temperature and music. Fortunately, there were two air-conditioned rooms, one featuring workshops and the other a huge stage on which a constant string of acts performed all day. The lawn stage was ringed with misting stations which were popular destinations. The workshops offered an opportunity for artists to interact with the audience in a question and answer session and demonstrate their techniques in an intimate setting. The wonderful boogie pianist Caroline Dahl was delightful in her workshop session and performed her composition "Payday Blues." She invited Shad Harris (photo at right), who until his recent stroke was the drummer with the Tommy Castro Band, to join her in a wonderful duet. Lil' Ed Williams (photo below), whose uncle was the legendary bluesman J. B. Hutto, and Dave Melton (Mama's Boys) participated in the Chicago Style Slide Guitar workshop. This excellent presentation included some dynamite duo playing and lengthy discussion and demonstration of the different types of slide devices.
| | |
| --- | --- |
| Lil' Ed Williams | Daniel Castro |
Daniel Castro's performance on the Sierra Stage was a rocking display by this engaging guitarist/vocalist. His soaring guitar and soulful vocals were outstanding especially when performing original tunes. Ralph Woodson is a native of Berkeley and his Jimi Hendrix influenced performance increased the temperature in the air-conditioned room especially when playing with the guitar behind his head.
The outstanding act of the day was Lil' Ed and The Blues Imperials featuring Lil' Ed Williams on slide guitar and vocals, Mike Garrett on rhythm guitar, James "Pookie" Young on bass and Kelly Littleton on drums. This band has been together for many years (the guitarist has been with Ed for twenty years) and it is tight. Lil' Ed in his sequin shirt and with his infectious smile wowed the audience with his deft slide guitar and manic stage presence. This was a show-stopper of a show which went from Chicago blues to country-western to funky, rocking blues.
This festival exceeded my expectations with its laidback atmosphere, good music and lack of pretension.
---
In the Clubs
The exceptional Texas Johnny Brown performed at Biscuits & Blues in what was undoubtedly the best blues show I have seen in many moons! Brown is an exceedingly prolific songwriter and composed the tune "Two Steps From The Blues" which Bobby "Blue" Bland has made famous. Brown's deliberate guitar phrasing and soulful vocals were evident on his slow blues tune "There Goes The Blues." His vocals soared on the tune "Your House, Your Home." This was a memorable evening of great blues by a legendary performer and a treat for newly won fans in the Bay Area who are anticipating his return soon.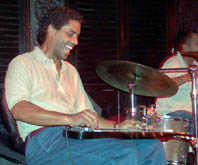 Kenny Neal (photo at left), the Baton Rouge, Louisiana native, returned to Biscuits & Blues with his swamp blues and a taste of funky blues. His guitar style is energetic phrasing and his rough vocal style were well demonstrated on "Blues Fallin' Down Like Rain." He did a touching version of "Amazing Grace" which he dedicated to his ailing father, the legendary bluesman Raful Neal. Kenny's band includes his brothers Frederick on keyboards and Darnell on bass and is a true family affair.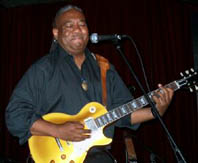 Michael Hill's (photo at right) Blues Mob brought their New York electric brand of blues to the Boom Boom Room with a trio which included Hill on guitar and vocals, Michael Griot on bass and Bill McClellan on drums and vocals. Hill is an eloquent storyteller and adventurous performer with his sizzling electric guitar styling and powerhouse vocalizing. His opening tune, "Heart of New York," contained uplifting lyrics relating to 9/11 and interesting time changes. Hill's tune "New York State of Mind" demonstrated his originality with dazzling guitar and socially relevant lyrics. On the second set, Hill switched to acoustic guitar and it was an amazing round trip from Chicago to Kansas City and back. Hill is a contemporary bluesman who showed great conviction in this outstanding show.
by Dorothy L. Hill
---
Jazz Now Interactive September 2004 Vol 14 No. 5 - Table of Contents
Copy right: Jazz Now, September 2004 Vol 14 No. 5
Your comment: jazznow@sbcglobal.net