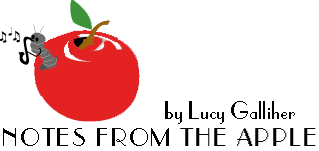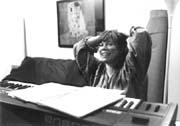 August 2004 - A Jazz Walking Tour in Harlem. I took a walking tour of Harlem with Paul Blair, the editor of Hot House Magazine (the definitive magazine to find out what's happening Jazz-wise in the Big Apple). Blair sponsors Jazz-oriented walks in different parts of New York City.
We began the tour at the Audubon Ballroom, most famous as the place where Malcolm X was assassinated. The facade is still there, but no longer is Jazz played in this location (the last place was several years back, called the Audubon Grill). Blair took us next to homes where Count Basie (555 Edgecombe), Duke Ellington (935 St. Nicholas), Billy Strayhorn (315 Convent Ave.), Coleman Hawkins and Louis Jordan lived, to name a few. St. Nicks Pub, a popular hangout in Harlem, used to be Luckey Roberts' place, called "Luckey's Rendezvous." And we also saw where Mary Lou Williams lived and a plaque dedicated to Ella Fitzgerald in front of the old Savoy Ballroom.
There is so much more to learn in this city of Jazz, the Big Apple! Some folks really delve into their interests, and Paul Blair is one knowledgeable cat. People can get in touch with Paul Blair through Hot House Magazine- his organization is called Swing Streets.
Paul Blair tells the following story in his own words:
"Forgive my enthusiasm, please. But since moving to Brooklyn from Jakarta (Indonesia) six years ago, New York has become my hobby as well as my home. Finally, I've had the opportunity to locate and visit all the historic Jazz addresses I've read about for years. After months of research in old phone books, photo archives and musician's union membership directories - plus lots of taped conversations with Jazz players and other locals with long memories - I began leading Jazz-loving friends on walks through various Manhattan neighborhoods. Soon, I'd passed the test necessary to secure an official New York tourguide (license), built myself a website, laid out seven different itineraries and began offering Jazz-focused guided walks through Midtown and the Villages, as well as four others in various areas of Harlem. As a first-time entrepreneur, I've had to assemble a mailing list, establish ties with the appropriate news media and figure out how best to use the Internet to get the word out on my little home-grown enterprise."
Thanks, Paul. I'll keep spreading the word about your Jazz-focused walking tours.
---
The Heath Brothers at Iridium. Jimmy Heath was everywhere in New York this month: the Iridium, Jazzmobile, and the Charlie Parker Festival. At the elegant and sophisticated club Iridium, on 51st and Broadway downstairs, were Jimmy on tenor, Percy Heath on bass, and Albert "Tootie" Heath on drums. The fourth "Heath Brother" was Jeb Patton on piano. (See a related article from April 2002- Jazz Now "Notes From the Apple.")
| | |
| --- | --- |
| Tootie Heath | Jimmy Heath |
They started out the set with "Soul Eyes" by the late Mal Waldron. It was written as a ballad, but they played it as an up-tempo swing. Jimmy's a master at creating a solo, getting more intricate as he develops his ideas - using patterns, quotes, jokes and phrases. The rapport is so natural between the brothers that when they made comments to each other on stage, the audience members felt like they were in the Heath family living room. Jimmy acts as the spokesman, enjoying every minute of the concert.
"Is That So?" was a Jimmy Heath original, played as an easy swing. The first solo went to the pianist, who sounded like he has been studying Red Garland solos. His left hand set a strong swinging comping rhythm, behind his right hand's single note licks and flourishes. He structured his solo well and played cleanly. Jimmy Heath countered with a soft smooth sound, building up the dynamics and intellectual interest.
Miles' "Gingerbread Boy" began with an incredibly fast drum introduction. Tootie showed off his entire kit, and when the hip head came around, he played the fills with only his drumsticks! After the tenor solo, the entire band went into a break, and there was just solo piano! For several choruses, Jeb held down the piano chair at an extremely fast tempo. Right on the money, the band jumped back in, and it was no surprise that a great drum solo was to follow!
One could hear every note played by the tenor and bass on ìLover Man,î a duet between Jimmy and Percy. On the second chorus, the tune became more like a blues. Jimmy Heath is one of the Masters of Jazz, a living legend. He has coached his piano player Jeb Patton to be top notch, as well. These guys are performing everywhere this summer. I had the opportunity to hear Jeb at Jazzmobile several times again - appearing with Jimmy, also accompanying Winard Harper, and with Jimmy leading a smokin' septet at the Charlie Parker festival.
"Yardbird Suite" was a feature for Percy on the cello. His new album (A Love Song, on Daddy Jazz Records) is a delight, and shows off more of Percy's impeccable chops. "Daydream" by Strayhorn was played as a waltz. What imagination in interpretation! Jimmy played soprano sax on this one, just as superbly as his glowing tenor.
---
Jazzmobile - Cedar Walton. In last month's "Notes" column in Jazz Now, I wrote about the great concerts Jazzmobile puts on at Grant's Tomb. One evening I had the pleasure of hearing Cedar Walton's band. It contained: himself on piano; Javon Jackson, tenor sax; Paul West, bass; Joe Farnsworth, drums, and Ray Mantilla on congas. First up was "Softly, as in a Morning Sunrise," followed by a Jazz waltz that was based on an extended form of the Blues. Mantilla's congas were featured on Freddie Hubbard's "Little Sunflower," and I loved the way the tenor player soared over the smooth transitions from 6/8 to 4/4 and vice versa.
Cedar reharmonized the chord structure in his introduction to "St. Thomas" in such a magnificent way, that it was a surprise when the rhythm section set a party mood with the familiar song by Sonny Rollins. Duke Ellington's "In a Sentimental Mood" was a feature for Javon on tenor, and provided a beautiful painted canvas for some great background coloring by Cedar. And what a great way to end the set, with Thelonious Monk's "Rhythmning," a lively number that had the audience standing.
---
Mark Murphy at Birdland. Mark Murphy's band consisted of himself on vocals, Misha Piatigorsky on piano, bassist John Benitez, drummer Obed Calbaire and percussionist Gilad. Spending an evening at Birdland is always exciting. One has a choice of sitting at the bar, or eating in luxury among the white tablecloths of this world-renowned Jazz club. It's possible to mingle with people from all over the world, and simultaneously rub elbows with famous Jazz musicians.
As if on cue, they started the set with Murphy's most famous rendition of Oliver Nelson's tune, "Stolen Moments." Wearing a gold jacket, he brightened up the room with his expert scatting and repartee with the audience. Benitez played a great bass solo on this variation of a minor blues, with warmth and feeling.
The beautiful balled "Say it Isn't So" contrasted Murphy's gravelly voice with a soft piano accompaniment. Incidentally, Murphy has great mic technique, which was evident during this ballad. On the second chorus, the rest of the band entered with a slow swing, while Mark played around with the words and the melody. One more tempo change occurred naturally: a vamp at the end in 6/8, and on the last note Mark sang a perfect octave jump up into his falsetto.
The rest of the set was made up of Bossa-novas, samba beats and other Latin rhythms. Jobim's "If You Never Come to Me," "Dindi," and "Desafinado" were the ones I liked most. Each piece was full of dynamics, chances for each musician to solo, and expressed beautifully by Murphy. The percussionist and drummer played off of each other, sending that intensity out through the audience. Itís easy to understand how Mark Murphy has won Grammys and many other awards during his distinguished career. He has over forty-six recordings listed on his website!
That's it for "Notes from the Apple"- see you next month!
---
Jazz Now Interactive September 2004 Vol 14 No. 5 - Table of Contents
Copy right: Jazz Now, September 2004 Vol 14 No. 5
Your comment: jazznow@sbcglobal.net