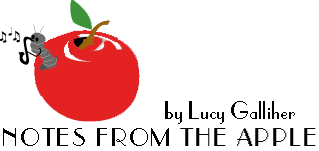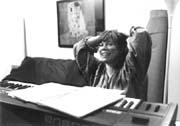 JC Hopkins Biggish Band at Makor
JC Hopkins's new CD is entitled Underneath a Brooklyn Moon. They appeared at Makor, a large performance space on stylish West Sixty-Seventh Street, which also has a cafe. Makor is in the Steinhardt building (part of the Ninety-Second Street Y), and they serve fresh fish, wine, and beer.
The biggish band of JC Hopkins appeared at numerous venues in the summer. On the evening that I went to Makor, stellar musicians James Zollar and Cleave Guyton were featured on trumpet and alto, respectively. Cleave also conducted, taking cues from pianist JC. The first piece was "Thelonious," followed by JC singing "I Want to be Slim," telling the story of Slim Gaillard. Vincent Chancey sounded great on French horn, a welcome addition to a Jazz ensemble. Chuck MacKinnon took a long, exciting solo on trumpet. The guys were all using plunger mutes on their trumpets, which was a lot of fun.
Queen Esther was brought up to the stage on the next number, a blues. Here the following musicians were featured: Rebecca Buxton on bari, Dave Detweiller on tenor, and J. Walter Hawkes on trombone.
The next tune was entitled "Small Town." The music was feisty, with each soloist sounding like they couldn't wait to jump in. The multitalented Flip Barnes sang and played trumpet on "Small Town" and sang a duet with Esther on the title cut of the CD.
Other band members on the CD and doing the live performance were: Liberty Ellman, guitar; Warren Smith, vibes; Hilliard Green, bass (live); Catherine Popper, bass (CD) and Sunny Jain, drums.
---
An Evening at Smoke, featuring drummer Jimmy Cobb's Mob
Jimmy Cobb's Mob included: himself on traps, Peter Bernstein on guitar, Richard Wyands on piano, and Peter Washington on bass. On a warm August night, it was pleasantly surprising to see Smoke at full capacity in order to hear some cool Jazz. They turned the piano around and put it in the corner, so that everyone could see the maestro on drums. Peter Bernstein acted as music director, playing a custom-made dark wooden guitar that was the same color as Washington's bass.
Cobb started out the set with a syncopated Latin rhythm (an Art Blakey tune), Bernstein jumped in on the groove, played the head and took the first solo. After the initial chorus, Cobb kicked in the swing feel. Bernstein extended the music above and beyond what was written; he showed full command of his instrument. Wyands soloed next, smooth as silk on the ivories, playing quotes and licks. When he started getting more percussive, the bass and drums listened and came down in volume. During Washington's immaculate bass solo, Wyands filled sparsely with an octave here, a chord there, all in good taste.
The standard "Love Walked In" was interpreted as an easy swing, but with Cobb at the drums, there was a driving rhythm behind it. This time the pianist stretched out, first playing thirds, then bigger chords, tasty runs and swinging ideas. Bernstein followed on guitar, relaxed at first, then built up the tension. When the trading fours began, all eyes were on Cobb as he easily switched grips on his sticks while soloing. The tune ended with a hip-sounding downward chromatic movement.
Tadd Dameron's tune, "Delilah" has an ostinato bass line in a Latin feel. Washington played a tasty solo on bass, and the audience kept quiet too. The beautiful ballad "Stairway to the Stars" was a perfect follow-up for "Delilah." It's not played that often, but I really enjoyed the intro Wyands played on piano. He set it up for the guitarist to take the melody once again. Bernstein's solo was clear and crisp, very emotional. The pianist had a delicate feel in comparison, playing with a bluesy quality, but understated most of the time.
"This I Dig of You," written by Hank Mobley, seems to be a favorite song amongst Jazz musicians. It has an A section with a pedal point on bass, and the sixteen-bar B section goes through a chord cycle. Bernstein pulled out all the stops on this tune, playing slides, bebop licks, suspensions, and other guitar tricks.
Cobb's Mob ended the set with a groove blues, and Cobb finally spoke into the mic to introduce the musicians. Not that he's shy, but the music spoke for itself.
That's it for this month's Notes from the Apple.

by Lucy Galliher
---
Jazz Now Interactive August 2005 Vol 15 No. 5 - Table of Contents
Comments: please e-mail to jazznow@sbcglobal.net