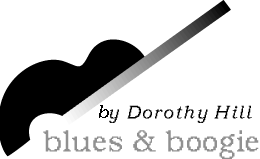 R.I.P Little Milton Campbell
One of the greatest blues artists who ever graced a stage has gone on to greener pastures. Milton Campbell passed away in Memphis on August 4, 2005, after suffering a stroke. Campbell was an innovator who ignited the blues world with his explorations into gospel and soul. His widely covered rendition of "The Blues Is Alright" has become a blues anthem. We will all miss this gentleman who left us with a rich musical legacy to cherish.
---
Louisiana Red
It is a rare treat for Louisiana Red (aka Iverson Minter) to come to town, and the blues fans were there to welcome him back to Biscuits & Blues. He divides his time between Germany and the United States, and visits to the West Coast are infrequent.
One of my favorite acoustic artists, guitarist/vocalist Chris Cotton opened up the show with a wonderful country-influenced set accompanied by Robi Bean on drums and Vance Ehlers on bass.
Louisiana Red opened with "Red's Dream," a slow blues with a personal narrative which he poured out with emotional soul. He then got the audience involved in clapping along with an a cappella rendition of a Staple Singers tune.
In honor of Robert Nighthawk, Louisiana Red covered a tune entitled "When My Mama Was Living," which featured vocals as sweet as butter. Changing pace, he lit into an upbeat "I'm Louisiana Red" with personalized lyrics set to the melody of "You Don't Love Me."
He covered two tunes from his new CD, No Turn on Red. The first was a Mississippi Fred McDowell tune "You Got to Move," a slow, stunning exercise on slide guitar with gritty vocals. The second, "September 11th Blues," was mournfully soulful.
He delighted the audience with a highly comical tune with politically incorrect lyrics related to "with my pistol in your mouth!" In closing, he covered the Arthur Crudup tune "Mean Ol' Frisco" on National Steel guitar with a fingerpicking style and country-influenced vocals.
Louisiana Red remains one of the most inventive and prolific storytellers in the blues, and his tightly controlled guitar styling was amazing to behold on this evening.
---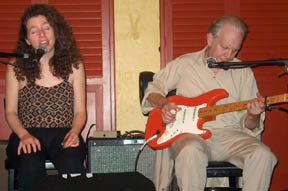 Annie Raines and Paul Rishell
Annie Raines and Paul Rishell presented their duo act at Biscuits & Blues on a recent evening with an appealing show that concentrated on their roots blues style. Raines has a lovely sweet voice and is an exceptional harmonica player who has absorbed the Chicago blues and developed her own style of delivery. Rishell's melodic guitar interpretations are a perfect foil for the interplay between these two artists.
Channeling the ghost of Ma Rainey on "Black Eye Blues," Raines performed a delightful vocal rendition and also played proficiently on electric mandolin. Her turn on the Big Maybelle hit "Candy" demonstrated amazing tone control on chromatic harmonica with Rishell propelling the melody on electric guitar. On "Moving to the Country," Rishell's expressive vocals were accompanied with complex note-bending phrasing on harmonica by Raines.
This was a captivating evening with a duo who encompassed a range of harmonic emotions into an enchanting counterpoint performance.
---
Eli's Mile High Club
Eli's is once again open and doing some blues! Those of us who lamented the loss of this legendary spot are happy to hear that Sam Marshall has bought the club and is now bringing in some blues acts as well as performing with his blues band Marshall's Law on occasion.
On a recent Saturday night, the club presented the Alvin Draper Band in an evening of downhome blues. Preacher was there tap dancing and doing his hair-raising act of contortionist head balancing with a variety of objects. Draper and his band covered a number of soul and blues standards. Draper's gritty vocals and guitar styling and excellent band are well worth checking out.
---
John Lee Hooker Tribute
The late John Lee Hooker was born August 22, 1917, and the Boom Boom Room celebrated his birthday on the twenty-third with a show that featured a number of musicians who played with Hooker's bands over the years.
Rich Kirch, who played rhythm guitar with Hooker for fourteen years, spearheaded the event. Larry Martin who played with Hooker for six years expertly led the drum chores, while Chuck Trujillo and Henry Oden alternated on bass throughout the evening. Bobby Webb on saxophone and Larry on harmonica and vocals (did not get his last name but he also played a number of years with Hooker) rounded out the band for the first set which was a bluesy excursion. They delivered a fine rendition of a Hooker boogie tune that energized the dancers on the crowded floor. An upbeat version of "Dimples" brought the house down. It was a fun evening with many other musician friends coming in to jam and a fitting birthday tribute to Hooker.
---
Michael Burks
Guitarist/vocalist Michael Burks returned to Biscuits & Blues with a blazing show that fused his contemporary guitar styling with blues sensibility. Burks is an intense performer who exhibited an Albert King influence in his guitar styling, and in tribute to his mentor, he soulfully interpreted "I'll Play the Blues for You." His sizzling guitar styling on "Lyin', Sneakin' and Cheatin'" ignited into a frenzy with drummer Chuck "Popcorn" Louden leading the way and really cooking on this tune.
Burks demonstrated a delightful guitar rendering on "Snake Eggs" which featured some chicken scratching. Burks possesses a commanding baritone that was vividly evidenced on his rendering of "I Smell Smoke." This was an evening of hard-hitting blues that satisfied!
| | |
| --- | --- |
| Michael Burk | Chuck "Popcorn" Louden |
---
Craig Horton/Rusty Zinn
I finally made a trip to Redwood City to check out the Little Fox venue featuring two acts with the Craig Horton Band opening up and then Rusty Zinn with a new band.
Horton's tight aggregation included Henry Oden on bass, Steve Gannon on rhythm guitar, and Steve Willis on keyboards. Craig Horton is a deep blues performer with a gutsy vocal delivery and soulful guitar styling. A highlight of his performance was on the tune "That's Her" with an inventive guitar solo.
Rusty Zinn, long associated with the Chicago blues style, is in a new bag now. He is experimenting more with reggae and world music as he demonstrated in his set. His wife, Angila Witherspoon (the daughter of the late Jimmy Witherspoon), is a wonderful vocalist, and she contributed backup on this evening.
Zinn dedicated the love ballad "Falling in Love Again" to his new mother-in-law. Zinn's rendering on "The Real Stuff" featured high-energy pleading vocals and soulful guitar interpretation. The blues was well represented with a performance of the tune "Lucille." Zinn's venture into other musical forms was interesting, and this talented artist can ably transcend any musical boundaries but just hope he keeps the blues in there.
---
Buckwheat Zydeco
The most fun night this month was with Buckwheat Zydeco at Biscuits & Blues!
Stanley Dural, Jr., aka Buckwheat Zydeco, created a nonstop party atmosphere all night long. He possesses an engaging stage manner and incredible musicianship. The band warmed up the sold-out audience with Paul "Lil' Buck" Sinegal on guitar in an expressive rendition of "The Thrill Is Gone." Buckwheat strapped on his accordion and fired it up with a spontaneously exuberant "What You Gonna Do?" with audience call and response. He went down into the Bayou with his hot and spicy southern Louisiana Creole influenced brand of zydeco. Drummer Gerard St. Julien and bassist Lee Allen Zeno along with Buckwheat's son, Reginald Dural, on washboard and background vocals kept the pot stirring.
Celebrating the release of a new CD after eight years, Buckwheat featured a number of tunes from "Jackpot" including the title cut which was a funky double entendre about getting lucky. All during the night, Buckwheat exhorted the audience to clap, sing, and dance.
The highlight of the evening was when Buckwheat took over on the Hammond B-3 (he first gained recognition playing organ as a member of the legendary Clifton Chenier's Red Hot Louisiana Band in the seventies). His percussive phrasing on a Jazz-influenced tribute to Jimmy Smith on "Buck Goes Uptown" was exceptional.
Zydeco is not usually high on my list of musical events but Buckwheat Zydeco in live performance goes to the top!
---
Denise LaSalle
The Sunday Blues & Jazz Club presented a special show featuring the Queen of Southern Soul Blues, Denise LaSalle who is known for her raunchy compositions and sassy performances.
The first set featured an opening band of renowned local musicians including Bobby Webb on saxophone, Billy Dunn on keyboards, and Hollywood and Layce Baker on guitars. Barbara Gainer is an outstanding vocalist and she delivered a great set of downhome blues.
But it was all about the Queen, and Denise LaSalle can righteously claim that title! Her rousing rendition of "Down Home Blues" was followed by trash talking to the ladies which led into her seventies hit "Trapped by a Thing Called Love."
LaSalle's compositions concern the issue of strong women, which was amply covered in the tune "Drop That Zero" (get yourself a hero). Her reworking of "The Thrill Is Gone" was imaginative and a relief to the time-worn B. B. King standard.
The tour de force of the evening was on "Snap, Crackle, and Pop," a response to the male performers who brag about their sexual prowess. LaSalle still has a flair for lyrical phrasing that stands up to the best of the divas, and she made it clear on this evening that she is still the Queen.
Article and photos by Dorothy L. Hill
---
Jazz Now Interactive August 2005 Vol 15 No. 5 - Table of Contents
Comments: please e-mail to jazznow@sbcglobal.net