Tribute and Jam Session in Honor of Haybert K. Houston at Anna's Jazz Island
By Nina J. Hodgson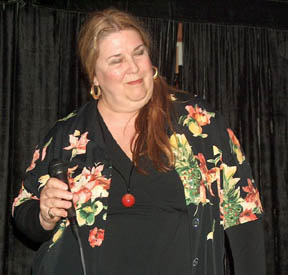 "We're all here cause we love Haybert Houston.
You have showed your heart and your soul.
You have helped make a world full of music
And helped our musicians in numbers untold."
So sang Anna de Leon (photo at left by Dorothy Hill) to the tune of "Summertime" on a Saturday afternoon this August when friends and musicians packed her new club in Berkeley to honor our founder, Haybert Houston.
All afternoon, it was one musician after another paying tribute from the bandstand to a man who has personally seen to it that Bay Area musicians get their due.
Walter Savage, Frank Jackson, and Eric Swinderman started off the set and were later joined by Mark Little, Calvin Keys, Hal Stein, John Handy, E. W. Wainwright, Doug Harrington, Yehudit. Here, I'm just going to stop and save bandwidth by saying that just about everyone now living who has appeared on the cover or in the pages of Jazz Now came and played. Yes, yes, a whole new meaning to the term bandwidth. And be assured that the width of the band on Anna's stage that afternoon was large and deep.
The Order of the Flask presented Haybert with the "BAJABA MAISHA YA KAZI BORA AWARD." The text on the award read as follows:
BAJABA MAISHA YA KAZI BORA AWARD
Presented to
HAYBERT KING HOUSTON
This Award means Good Work for life, or
the Swahili equivalent of Lifetime Achievement.
Haybert King Houston,
for your extraodinary achievements, your life-long dedication to excellence and accomplishments, setting an example for all to follow, maintaining the African tradition of family and community, loving and guiding your four children, three grandchildren and three great grandchildren... As Fellows of the Order of the Flask, we acknoledge your Life's Work.
Your historical accomplishment as the first African American Publisher/Editor-in-Chief of a print edition of a Jazz magazine in 1991, Jazz Now, and its continuing existence as Jazz Now Interactive on the World Wide Web by itself would justify this award. Your broadcast version of Jazz Now (KKUP 91.5 FM), which you open with "Stella by Starlight," mirrors your devotion to the Star of your life and continues to serve the community regarding America's only original art form. We, the ORDER, are pleased to present you this award on behalf of the larger community you so faithfully continue to represent.
YOU ARE LEGEND

The Order of the Flask

Doug Edwards-Producer/Host

Ear Thyme/Jazz Passages/BAJABA Showcase/KPFA

Pete Fallico-Producer/Host

Doodlin' Lounge/Jazz Organ Fellowship

KUSP/KCSM/JazzBeatRadio

Afrikahn Jahmal Dayvs-Producer/Host

Jazzline Radio/TV/KKUP/KPFA/JazzBeatRadio

August/Thirteenth/Two Thousand Five
BAJABA (Bay Area Jazz and Blues Artist)
The day ended with Frank Jackson singing, "Just a Lucky So-and-So," Yes, Haybert, you are, and you earned it.
by Nina J. Hodgson
---
Below are photos of musicians who came to play at Anna's Jazz Island on August 13, 2005 in Haybert K. Houston's Honor
(Black and white photos by Loy Wiese. Color photos by Dorothy Hill)
Editor: I am appreciative and want to thank all the people that put this together, came by and those who sent their love.
Haybert K. Houston, Publisher-Editor-in-Chief,
Jazz Now
---
Jazz Now Interactive August 2005 Vol 15 No. 5 - Table of Contents
Comments: please e-mail to jazznow@sbcglobal.net