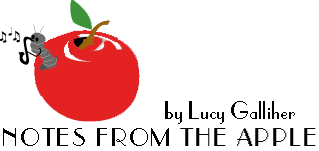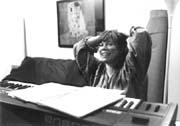 The September, 2002 Verizon Jazz Festival and the Ellington Big Band were two musical events that I experienced this month. The Festival took place at Battery Park, on a beautiful, warm Saturday afternoon. Birdland hosts the Ellington Big Band every Tuesday night, and I had a chance to interview its conductor and bass trombonist, Jack Jeffers.
The Verizon Jazz Festival
The headliner, Al Jarreau, was unable to make it that day, so consequently Dianne Reeves filled in with special guest Russell Malone. Other performers included Michel Camilo, Virginia Mayhew, The Jazz Mandolin Project, Lea DeLaria, and Kenny Garrett.
Lea DeLaria has a new CD out, called Play it Cool. She has a powerful voice, and an amazing capacity to scat-sing. Her set contained a number of tunes, including "Corner Pocket" and "Lullaby of Birdland." She was backed up by a quartet - sax, piano, bass and drums. I liked her sense of humor and her talent. The band sounded very well-rehearsed, and I especially enjoyed Gil Goldsteinís solos on piano.
Kenny Garrett was the next act to come to the stage. His tenor playing, schooled in the lessons of Coltrane, was exquisite. Again, I was impressed with the pianist, whose name is Vernel Brown. The first couple of tunes, "Two Down and One Across" and "Giant Steps," were tributes to the aforementioned master, and you could almost hear Trane & McCoy wailing away. Later in the set, the drummer and bassist got into a pop-funk groove, and Garrett had the audience clapping their hands and singing a riff.
Dianne Reeves and her trio started their set with a Johnny Mathis tune, "Until the 12th of Never." She has a beautiful tone to her voice and good stage presence. Reeves makes up interesting arrangements of standard songs, later she redid "That's All" in a resemblance to Betty Carter, and it keeps the audience on their toes.
The rhythm section began "Endangered Species" with a funky beat and a groovin' bass. This is a tune with deep and sensitive lyrics. To quote from Ms. Reeves: "I am an endangered species, and I sing the victim's song. I am an artist, and I know where I belong." The pianist responded with interesting fills that were made up of rhythmic comping, big chords and long runs.
Reeves brought up Russell Malone to play guitar for the rest of the set. My favorite moment was during the quiet ballad "Embraceable You," when the rapport between the musicians was electric, and for a moment I felt suspended in time.
---
Interview with Jack Jeffers, Conductor of Ellington Big Band
Jack began playing bass trombone with the Ellington Big Band when Mercer Ellington (Duke's son) was conducting it: "They were rehearsing at SIR rehearsal studios about 10 years ago, and I subbed, and I wound up being an added member of the band for the next few months. About 5 years ago, the guy who was playing bass trombone left, and I got a call to play with Paul Ellington, Mercer's son. Paul plays piano, and he's the heir to the Ellington legacy, the music, the fame and the money." They trade off weeks conducting, Paul does one week, Jack the next.
Marshall McConnell and Brad Leali are on alto sax; Patience Higgins, Craig Rivers are on tenor, and the bari player is Robert Eldridge. Trumpet players are Junior Vega, Chris Albert (in the jazz chair), Reggie Pittman, and Don McIntosh. The trombonists are Stafford Hunter, Benny Powell and Jeffers. The pianist is Kuni Mikami, Bryce Sebastien is on bass, and Warren Smith takes on the drums.
Besides playing trombone, Benny Powell is the singer of the Ellington Orchestra. "I heard Benny singing with his own group in a park two summers ago, and he immediately became the vocalist in my band. He's a natural musician, so whatever he does, comes out music, Jeffers told me. I especially enjoyed hearing Benny sing "Don't You Know I Care, or Dont You Care to Know?" and am looking forward to another visit to Birdland to catch a duet with Jack on "Squeeze Me."
Jack does some arranging for the band, and also plays in several other big bands: his own, George Gee's, and Chico O'Farrill's group which also performs once a week (on Sundays), at Birdland. He arranged the tune "Satin Doll" in 6/8 that features the 3 trombones, "What am I Here For?" that features the trumpets, and "In a Sentimental Mood" in a æ time signature.
"Passion Flower," which I heard and thought highly of, sparked my interest. I was wondering how he orchestrated such a lovely sound. He told me he doesn't have unison doublings (i.e., the same note) if it's just one family of instruments, e.g., the sax section only. He said, "If you're having all the instruments play (the entire ensemble), you can't avoid doubling. The reason why is because there are 13 horns, and there are only 12 notes in the scale! In "Passion Flower," there are a lot of half-step intervals between voices. They're extensions of the basic chord structure."
"We have something called our "Swee' Pea Suite," named for Billy Strayhorn, whose nickname was "Swee' Pea," and we start that with Warren Smith's arrangement of "U.M.M.G." (Upper Manhattan Medical Group), followed by "Lush Life" and my arrangement of "Take the A Train." "U.M.M.G." was named for Arthur Logan, who was Strayhorn's and Duke's physician. He was the first black physician to form a medical association in New York, and that was the name of his group. Logan was not only Dukeís physician, but a personal friend as well." He traveled with Ellington all over the world. (See the book on Billy Strayhorn, Lush Life, by David Hajdu)
I asked Jack how he starts an arrangement. He answered, "I have an outline in my head before I put anything down electronically (he uses a computer software program called "Sibelius"). For example, I decide I'm going to have the saxophones play the melody in the first 8 or the first two 8's, with the brass playing fills. Generally, I have the first chorus mapped out in my head before I sit down. It varies. Sometimes I have pretty much the whole thing planned out, other times I discover things as I go along. It's a lot like improvising: you start out with an idea of what you want to do in the first chorus, and what you do there suggests what you're going to do in the other choruses."
"It feels great (leading the Duke Ellington Orchestra). That's the music that I grew up listening to, and Duke really defined writing for a big band. I've always wanted to be a writer, and once I started playing in big bands, I always wanted to be a writer for a big band. I have a weekly forum, or a bi-weekly forum, at least."
Jack started out as a tenor trombonist, but switched over to bass trombone many years ago. He also plays tuba. "I was playing with Clark Terry back in the mid-60s, and I did a show out at Jones Beach on bass trombone. There was a tuba player named Toby Hanks in the band, and he sounded so beautiful that I wanted to do that, too. I started playing tuba, and I started playing bass trombone parts on tuba in Clark's band. Chico O'Farrill used to come in to hear the band, he wrote a piece for the Clark Terry band with a written tuba part, instead of a bass trombone part. As a matter of fact, he wrote an entire suite called "Three Afro-Cuban Moods," that the Chico OíFarrill band still plays. When Chico's band started rehearsing for this run at Birdland, going on 5 years now, I opened the book and the first thing I saw was that sheet of music with my handwriting on it, from thirty years ago!"
Jack Jeffers is a very fine musician, and it was a privilege to interview him. I hope to follow up at some point with more information about his life as a musician and conductor.
by Lucy Galliher,
East Coast Editor
---
Back to

Contents Page
Jazz Now Interactive

Copyright Jazz Now, September 2002 issue, all rights reserved
jazzinfo@jazznow.com