The 24th Annual Chicago Jazz Festival
Article and photos by Jimmie Jones
For the 24th consecutive year a free Chicago Jazz Festival was held outdoors in Grant Park on Labor Day weekend, August 29 to September 1, 2002. The evening prior to the festival, a Jazz pub-crawl sponsored by the Jazz Institute of Chicago provided fans bus transportation to fourteen Chicago clubs where live Jazz was performed at a cost of $20 ($17 in advance).
I arrived in Chicago on Thursday, August 29 following a 190 mile drive from my Quad Cities' home in time to attend a discussion/performance session entitled, "Frankiphones and Silver Cycles: African American's and Electronic Music in Chicago." The session was held by three members at the Association for the Advancement of Creative Musicians, founder Phil Cohran, second generation member George Lewis (photo below left) and third generation member Jeff Parker (photo below center.) The session began with George Lewis talking about his experimental work with computer music. Phil Cohran talked about getting involved with electronic music after being inspired by Run Ra's use of electronic instruments. Jeff Parker discussed his electronic experiments with guitar. After the discussion, each musician performed a short set; Phil Cohran on African harp and Frankiphone (a type of African thumb piano), followed by Jeff Parker on electric guitar and finally George Lewis performing solo trombone backed by computer piano music, after which he was joined by alto saxophonist Roscoe Mitchell. (photo below right)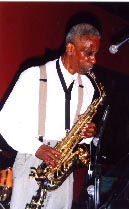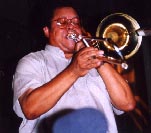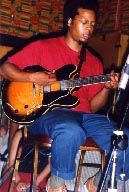 Tenor and soprano saxophonist, David Sanchez (photo below left), opened up the festival at the Petrillo Music Shell at 6:00 P.M. with a quintet of Latin American musicians. Sanchez was followed by pianist and singer Patricia Barber, with Michael Anapol on bass and a highly talented, young, Neal Alger on guitar. Thursdays headlines was a tribute to the ailing legendary band leader and drummer Chico Hamilton by former sidemen Larry Coryell (photo below center) and Black Arthur Blythe (photo below right.) Backed by bassist Mark Egan and drummer Paul Wertico, both Coryell on guitar and Blythe on alto sax took some great solos. Black Arthur blew me away on a blues tune the group performed.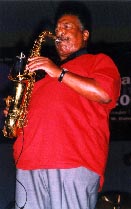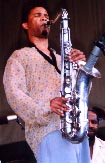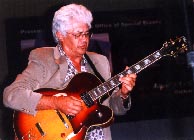 Thursday after the festival I made it to the Velvet Lounge Club to catch a local quartet led by young trumpet player Curtis Blanchard. Saxophonist, George Coleman, was in the audience just hanging out.
Friday's festival began with a tribute to Bill Holman at the Petrillo Music Shell, featuring the Chicago Jazz Ensemble, under the direction of Bill Holman. All of the tunes were arranged by Holman over the past forty plus years, including Holman compositions for Stan Kenton and Buddy Rich and a couple of Thelonious Monk compositions. Holman's arrangements featured fine solos by most of the ensemble's eighteen musicians.
Trombonist Ray Anderson's Pocket Brass Band was on of Anderson's many unusual type bands as far as instruments used, with Lew Soloff on trumpet, Jose Davila on sousaphone and Pheeroan Akloff (photo below) on drums.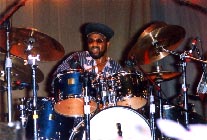 The closer on Friday evening was the Ahmad Jamal Trio with special gust George Colman. Miles Davis all time favorite pianist Jamal began the set with his trio performing songs recently recorded as well as some of his best known recordings, such as "Poinciana" and "But Not for Me." Saxophonist Coleman joined Jamal for the last half of the set. James Cammack was on bass and Idris Muhammad was on drums.
After the fest, I headed back to the Velvet Lounge to catch the last part of the first set by young saxophonist Jarrard Harris and his quartet. Jarrard is another talented Chicago Jazz musician who Fred Anderson (photo below left) gives a chance to play by letting him have a gig at the Velvet Lounge. After the set, saxophonist Douglas Ewart gave me a ride to the Hot House in time to catch the second set of saxophonist Edward Wilkerson's Eight Bold Souls. Jazz combos very seldom stay together for more than a few years. The Modern Jazz Quartet lasted forty-three years and the Art Ensemble of Chicago stayed together for thirty-seven. The Eight Bold Souls are going on seventeen years with most of the same original outstanding musicians still in the band. The "Souls" include, in addition to Wilkerson, Mwata Bowden on baritone sax and clarinet, Jsaiah Jackson on trombone, Robert Griffin on trumpet, Naomi Millender on cello, John Powell on tuba, Harrison Bankhead on bass and Dushon Mosely on drums.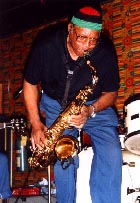 Early Saturday morning I missed some fine music at Grant Park in order to catch a rehearsal of the Canadian N.O.W. Orchestra directed by George Lewis at the Hot House. Music performed at the rehearsal was to be heard at the festival Sunday evening and will be discussed later in this article. Among festival sets I missed the "saxophone summit" featuring saxophonists Eric Schneider, Ari Brown (photo below,) Duke Payne and Mwata Bowden, pianist Ken Chancy, bassist Harrison Bankhead and drummer Dushon Mosely's workshop on "The Art of Soloing" at the Jazz and Heritage Family Stage.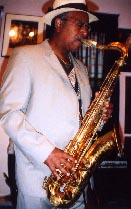 One of the most enjoyable sets for me performed at the festival was the opener for the Petrillo Music Shell at 5:00 P.M., a duo performance of alto saxophonist Oliver Lake (photo below left) and pianist Mal Waldron (photo below right.) Except for a brief rehearsal that morning, the two had never performed together before. Among the tunes performed were two well known Mal Waldron compositions, "Fire Waltz" and "Soul Eyes." "Fire Waltz" was recorded by Oliver Lake's early idol Eric Dolphy o his "Live at the Five Spot" album and Oliver proceeded to literally eat Waldron's song up, evoking sparks and fire. On "Soul Eyes," Oliver showed ho he could play a beautiful ballad with soul. The legendary Mal Waldron showed why, both as an accompanist and soloist, he was always on call in the past with Billie Holiday, John Coltrane, Eric Dolphy, Charlie Minus and Archie Shepp.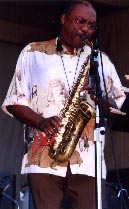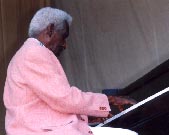 Saturday's second music shell set was led by saxophonist Jimmy Heath (photo below left) who directed the Chicago Jazz Orchestra performing his arrangements of mostly his compositions, including his most famous "Gingerbread Boy." New star vocalist Carla Cook (photo below right) performed mostly songs from her two CD;s and showed Jazz lovers that there are still some good Jazz singers living.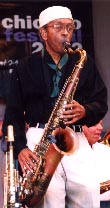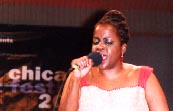 Saturday's headliner was tenor and soprano saxophonist Wayne Shorter (photo below left) and his quartet with Danilo Perez on piano, John Patitucci (photo below right) on bass and Brian Blade on drums. One of today's top composers, Shorter performed tunes from his new CD "Footprint," the title tune, his most famous composition.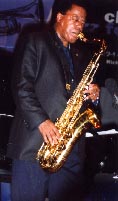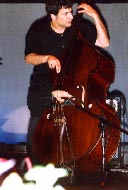 Back to the Velvet Lounge again to catch a special set led by club owner, tenor saxophonist Fred Anderson, featuring fellow tenor saxophonist from New Orleans, Edward "Kidd" Jordan (photo below left.) The two saxophone giants performed like the veterans they have been for years, sparked by tremendous backing from drummer Hamid Drake, guitarist Jeff Parker and bassists Malachi Favors Maghostut (photo below right) and Tatsu Aoki before a standing room only crowd. After the set, i made it to the Hot House more more time to catch saxophonist and flutist Roscoe Mitchell, leading a band consisting of an unnamed trumpet player and pianist, Harrison Bankhead on bass and Vincent Davis on drums.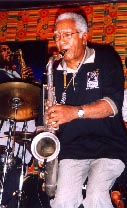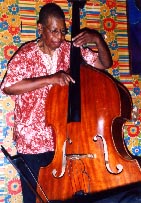 At ten o'clock sharp Sunday morning, I was sitting on the front row of a small room of the Jazz Record Mart, two cup cakes on a plate in my lap, a glass of orange juice in my left hand, drummer Hamid Drake in front of me on my right, bassist Tatsu Aoki on my left and seventy-three year old Fred Anderson holding his tenor sax in front of me. What proceeded for the next ten to fifteen minutes was musically something out of this world. Hamid began a brief instruction with his drums and Fred took him on with his saxophone at an up-tempo pace. Shades of Elvin Jones and John Coltrane, Hamid began to feed Fred like no other drummer can and Fred followed through with his tenor saxophone like he has been doing for over seventy years when Hamid was just a teenager. Finally when Fred had had enough, tenor saxophonist Ari Brown stepped up to the microphone and took his turn. Ari was followed by Ernest Khabeer Dawkins and finally trumpeter Malachi Thompson (photo below) who closed the set. Except for bassist Tatsu Aoki, all of these great musicians are both AACM members and Delmark recording artists.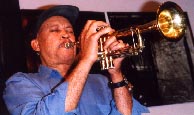 Ernest Dawkins, who is the current AACM chairman, was kind enough to give me a ride to Grant Park where I caught a couple of members by the young at heart tenor saxophonist, Franz Jackson (photo below), he will be celebrating his 90th birthday, November 1, 2002) who was performing with Andy's Windy City All Stars on the Jackson Stage.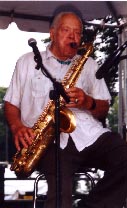 I then walked a couple hundred yards to the Jazz and Heritage Family stage where pianist Danilo Perez was conducting a workshop entitled: "Clare: Following the Best." Danilo discussed how Jazz and Afro-Latin music interact while demonstrating on the piano. His interaction with the huge audience was one of the best I've seen based on the many questions asked and the positive answers that resulted.

Danilo was followed by Jazz pianist Jodie Christian (photo at right,) who conducted a workshop on the history of bebop music. Jodie began by talking about how back in the early forties young pioneers Charlie Parker, Dizzy Gillespie, Kenny Clark, Thelonious Monk, and Bud Powell, bored with the rhythms of swing music, began developing the now bebop music. Included with Jodie's discussions were demonstrations on the piano. Jodie had his bassist and drummer explain and demonstrate how the style of bebop was developed on their instruments. After the conclusion of the workshop, the great saxophonist Roscoe Mitchell told Jodie that the pianist gave the best explanation of bebop music he had ever heard.

Vocalist Maggie Brown (photo at left) performed the closing set on the Jackson Stage on Sunday. Her band included pianist Miguel de la Cerna, guitarist Herb Waker, bassist Harrison Bankhead and drummer Kobie Watkins. Her repertoire included songs she had performed with Abbey Lincoln and her father Oscar Brown, Jr. Maggie displayed in her singing a highly original style and her knowledge of Jazz of the past. Maggie is just another one of many Chicago Jazz artists with little recognition because as Jazz writer, Gene Lee has said," You can't drive them out of Chicago."
Sunday's Petrillo Music Shell began with a celebration of the legendary and greatly under-rated tenor saxophonist Von Freeman's (photo below) 80th birthday (October 3, 1922). The festival T-shirt features a beautiful portrait of Von. Following an award ceremony presented by festival coordinator, Jennifer Washington, Jazz Institute of Chicago Executive Director Lauren Deutsch and JIT director Steve Saltzman, Von performed with his long time pianist John Young, bassist Dan Anderson and drummer Mike Raynor. After a couple of numbers, Von was joined by another under-rated Chicago tenor saxophonist, eighty-one year old Eddie Johnson.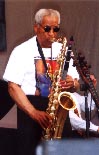 Sunday's second set at the music shell consisted of a performance by the Canadian N.O.W. Orchestra, directed by trombonist, composer, and arranger, George Lewis with special guests tenor saxophonist, Fred Anderson, trumpeter Bill Brimfield (photo below left,) bassoonist James Johnson and saxophonist Roscoe Mitchell. The set's highlight was a Fred Anderson composition, "Saxtoon," arranged by the then young George Lewis in the seventies and recorded by the Hamberg (Germany) Radio Band in 1977 featuring Anderson and Brimfield. Most of the remaining tunes were composed and arranged by Lewis. I was especially impressed by the one solo taken by the N.O.W. Orchestra highly talented and very original vocalist Kate Hammett-Vaughn (photo below right) who sings in a very avant garde style, somewhat similar to Patty Waters.


The third music shell set entitled: "Jammin' at the Petrillo" featured young "new stars" including, trumpeter Russell Gunn, trombonist Steve Davis, tenor saxophonists Seamus Blake and Jim Gailloretto, baritone saxophonist Claire Daly, pianist Eric Reed, bassist Barak Mori and drummer Rodney Green. All of the musicians were featured on tunes such as "Up Jumped Spring" by Steve Davis and "Stablemates" by Russell Gunn. Among other tunes played were "'Round Midnight," "Lotus Blossom" and "Isotope." Photo below is: left to right, Eric Reed, Russell Gunn, Jim Gailloreto, Barak Mori, Seamus Blake, Steve James, Claire Daly.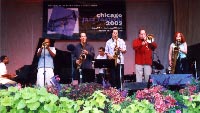 Sunday evening's headliner was the group "Sphere"with pianist Kenny Barron, bassist Buster Williams, drummer Ben Riley and alto saxophonist Gary Bartz (photo below,) plus special guest Phil Woods.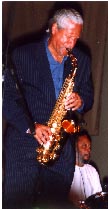 For the fourth straight evening after the fest, I made it to the Velvet Lounge, where again there was an over flowing standing room only crowd. The first set was performed by the same musicians as the previous evening. Tenor saxophonist Kidd Jordan was so inspired by drummer Hamid Drake that he spend half of his solo with his back facing the audience and the bell of his horn practically in Hamid's face! The second set was a regular jam session with such musicians as trumpeter Bill Brimfield, alto saxophonist Ernest Dawkins, clarinetist, Mwata Bowden, tenor saxophonist Seamus Blake (photo below), and violinist Savoire Faire.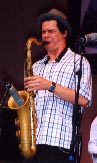 Among the musicians in the audience were Roscoe Mitchell, James John son, most of the Canadian N.O.W. Orchestra and Malachi Thompson and Steve Berry having just completed their Hot House gig.
By Jimmie Jones
---
Back to

Contents Page
Jazz Now Interactive

Copyright Jazz Now, September 2002 issue, all rights reserved
jazzinfo@jazznow.com