The Doug of Edwards: A Jazz Radio Personality playing a Different Music
By Sam Edwards, Co-founder, Friends of Negro Spirituals
On any given Saturday night from 11 PM until 1 AM, he is heard live on Pacifica radio station KPFA, 94.1 FM, in Berkeley, California. The Doug of Edwards (Jazz Now Cover subject May 1994) hosts a weekly two-hour Jazz show. He calls it Ear Tyme (home grown Aural Herbs). He has been producing the program since May of 1980, playing recorded Jazz and employing the radio to bring musicians, poets, and causes to the listening audience. Periodically, turning to his theme music, he punctuates each show with Milt Jackson's Blues for Roberta - a tasty and bluesy Jazz instrumental that he has brought along on the journey.
It soon becomes clear that The Doug of Edwards is a different type of Jazz show personality. What distinguishes him from others is not his use of words like sax-oph-onist, Ear Tyme, or the Audible Art Gallery. It is not even the diversity of music he plays or the signature smooth baritone voice that identifies him. It is true that he occasionally mixes Jazz adapted spirituals of artists such as Archie Shepp, Cyrus Chestnut, and Louis Armstrong and the choral arranged spirituals of The Moses Hogan Singers into his programming. What makes him different is an unusual, unrelenting down home supporting and spotlighting talent and causes along with an ability to create kinship. Photo below by Bob Hershon of Doug interviewing Max Roach.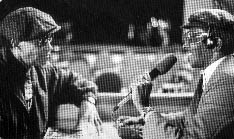 He showcases guests regularly. He shares the time of Ear Tyme with developing or prominent Jazz musicians, poets, and community organizations. Even on short notice, he may feature someone. He sometimes lets aspiring radio announcers host all or part of a show. Put simply, while a Jazzman "from way back," he reaches out to and helps others to become more visible. He makes his audience aware of its treasures.
It was through that community building spirit that the Friends of Negro Spirituals educational organization reached its largest audience. The Doug of Edwards (photo below) hosted the organization's co-founders, Lyvonne Chrisman and Sam Edwards. That was on May 19, 2001, 11 PM-12 midnight. In his welcoming style, he interviewed them, covering topics about the organization and about Negro Spirituals. He played Jazz adaptations of spirituals from the CDs of Ramsey Lewis, Wynton Marsallis, Louis Armstrong, and Archie Shepp and promoted an educational event of the organization.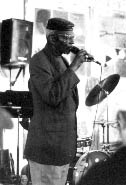 Edwards was an excellent host, listening intelligently and showing genuine interest in learning more about Negro Spirituals. He encouraged the representatives to network with others.
A little research revealed many interesting things about Edwards. A son of Caribbean born parents, he grew up in Harlem during a Jazz Renaissance period. B-bop music, Monk, Donald Bird, and many topflight Jazz and other artists were soaring when he was growing up. Joe Louis, Paul Robeson, Marian Anderson, Wings Over Jordan, and segregated Black communities were reigning. Talented performers were being prized as "credits to the race." In those Harlem days, while his father was listening to Wings Over Jordan singing spirituals over the radio every Sunday morning, the young Doug was listening to Jazz. In those Harlem days, Jazz could be heard everywhere. He developed a lasting interest in that style of music.
At age 17, joining the army, he was introduced to hard core institutional racism. Though stationed in New Jersey, just a few steps over the bridge from Harlem, he was called "boy" by a white officer. White men often called Black men boys back then, and typically, Black personnel in the army were denied many opportunities.
Once discharged, he went to Meridian, Mississippi to participate in the voter registration drive of CORE. He left the civil right movement after several years.
He moved to San Francisco in 1972 and was disappointed about some of the things he found. Jazz was being played regularly, but on only one Jazz radio station. There were only a tiny few African-American Jazz radio personalities, and Jazz was not a very vibrant force in the neighborhoods. Edwards became the changes he wanted to see.
In 1978, he became a Jazz radio personality. He began doing a Jazz program on San Francisco's public radio station, KPOO, 89.5 FM, calling it The Audible Art Gallery. He played Jazz recordings and hosted broadcasts of Jazz musicians performing live in the studio at the station, seeking to create stronger connections between the artists and the community. The performers would be en route to work, playing in local clubs.
Leaving KPOO after two years, he began hosting Ear Tyme on KPFA, and, with regrets, giving up The Audible Art Gallery. Adding the time that he has spent at the two radio stations, he has been broadcasting for around 25 years, all the while connecting talent, causes, and communities.
Though experiencing vision loss caused by glaucoma and cataracts, and assisted in getting around by his guide dog and by his partner, Cindy, he is more active in broadcasting than ever. Three years ago, he initiated a live Jazz program called The BAJABA Showcase, which is aired from the Buriel Clay theatre in the African and African-American Cultural Center, 762 Fulton Street, in San Francisco. His close friend Afrikahn Dayvs of Cupertino's radio station KKUP, 91.5, FM, hosts it on the first Monday night of each month from 8 PM - 10 PM; the concerts are open to the public and are presented in an intimate setting that has excellent acoustics and secure free parking. Edwards, who initially recorded musicians playing in nightclubs and then would rebroadcast the tape performances and interviews with the artists on Ear Tyme, is its executive producer.
He orchestrated and hosted KPFA's broadcast of San Francisco's Hunters Point first town hall meeting on September 29, 2001, giving the community a vital voice. Perhaps no surprise, on November, 5, 2001, Edwards (photo below by Haybert K. Houston) presented a live broadcast of The BAJABA Showcase from 195 Kiska Road in Hunter's Point, featuring the Imani Voices of Praise and Yancy Taylor, the prominent Vibist. Recently, he established and now hosts Jazz Passages on every other Wednesday of the month from 10 AM-12 noon. It exposes the morning audience to Jazz, vital information offered by experts in various fields, and to community relevant issues and events.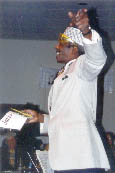 The Doug of Edwards is clearly a unique Jazz show personality, linking talent, causes, and community and making his radio station culturally relevant and accessible to many communities. He executes a great concept, playing a different music. He is like the heritage of spirituals - like Go Down, Moses, or Swing Low, Sweet Chariot, or Wade in de Water, or Walk together, Children. He is selfless, inspirational, and an invaluable public domain personality.
Keeping the Bond with our Enslaved Ancestors and Their Song Visit us at www.dogonvillage.com/negrospirituals/ and sign our guest book and mailing list
E-mail us at sedwards@stanford.edu or fns3@juno.com
By Sam Edwards, Co-founder, Friends of Negro Spirituals
---
Back to

Contents Page
Jazz Now Interactive

Copyright Jazz Now, September 2002 issue, all rights reserved
jazzinfo@jazznow.com