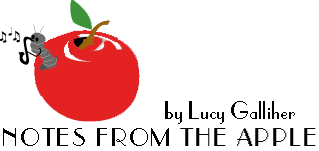 September 2003 - From time to time, I get asked to review new releases of CDs. This month I'd like to tell you about six albums that have recently been released.
---
A Balance of Light
Invisible Music #IM-2031
Guitarist/Composer Mark Kleinhaut, with Bobby Watson, alto sax. Rhythm section is: Jim Lyden, bass and Les Harris, Jr., drums.
An all-original CD, there's plenty of room for Bobby Watson to stretch out. Mark Kleinhaut is no slouch himself; he is a great match for Watson. The first number, entitled "Ferdinand and Isabelle" is one of my favorites. Over a samba beat, the guitar and alto sax play the melody in unison, and it really makes me want to dance!
---
Canyon
Sons of Sound Recordings #SSPCD016.
Pianist Mike Holober, with Wolfgang Muthspiel, guitar, Tim Ries, tenor & soprano sax, Scott Colley, bass and Brian Blade, drums. Produced by Fred Hersch.
I really like the compositions by Mike Holober, seven of which are on this CD. He is a talented pianist, and has organized and arranged the music in an interesting way. Tim Ries is known for his stint with the Rolling Stones, and Scott Colley and Brian Blade are winners of the Down Beat TDWR ("Talent Deserving Wider Recognition") Critics Poll. I enjoyed hearing Wolfgang Muthspiel play last year at the Austrian Cultural Theater (see Notes from the Apple, July 2002), and he shines again within this group of musicians.
---
Acoustic Romance
Sons of Sound #SSPCD017
Gene Bertoncini, guitar, with Akira Tana, drums and Rufus Reid, bass
Gene is a very accomplished musician, and it is a joy to listen to this CD. He starts off on solo guitar with "Edelweiss," playing in a gentle and tender manner. The guitarist segues into a beautiful introduction to "The Shadow of Your Smile," and plays the head once again on solo guitar. Finally, the rhythm section enters. Rufus Reid bows the melody of the intro in a contemplative manner, and after 8 bars Akira Tana kicks the tune into tempo. Reid drops the bow and plays with his usual finesse. The three of them continue to have delightful conversations throughout Gene's CD. The remaining standards on the album are "Girl Talk," "Two for the Road," "Gone with the Wind," "'Round Midnight," "The Summer Knows/What are You Doing the Rest of your Life," "Stella by Starlight," "Emily," and "Invitation."
Bajo Cero
Khaeon Release #KWM200305
Pablo Ziegler (piano) & Quique Sinesi (guitar) with Walter Castro (bandoneon). The bandoneon is an instrument that sounds a lot like an accordion.
This album is filled with impressive music, and fabulous musicianship from all three players. What an unusual combination of instruments for the typical American listener! It is more European sounding, as Ziegler is a classically trained pianist and composer from Argentina. This man has a sense of humor and an inventive imagination. He combines the classical elements with Jazz and Tango, to make for some very intriguing and passionate music.
---
Social Call
Uptown Records #UPCD 27.50.
Charlie Rouse-Red Rodney
Great Album! This is the best of the bunch, as they are all outstanding musicians. The personnel are: Charlie Rouse, tenor sax; Red Rodney, trumpet; Albert Dailey, piano; Cecil McBee, bass, and Kenny Washington, drums.
It is a huge loss that the two leaders and the pianist are no longer with us. I could listen to this CD all day, over and over again. This album comes with a lengthy brochure, and some great photos. Itís been almost 20 years since it was recorded at Rudy Van Gelder's studio, and the history of its making is discussed in the liner notes written by Peter Watrous (original) and Bob Blumenthal (update). Produced by Robert E. Sunenblick, M.D. The CD starts off with a dynamite tune called "Little Chico," written by Rouse. Some of the numbers on the CD are different takes of the same tune: the title cut, "Social Call," by Gigi Gryce is presented in two takes; as is the up-tempo "Half Nelson" by Miles and the Van Heusen standard "Darn That Dream." The latter is a gorgeous arrangement with some great harmonization. All three of the second takes were previously unissued.
---
In the land of Oo-Bla-Dee 1947-1953
Uptown Records, #UPCD 27.49
Allen Eager, tenor saxophonist. From the Symphony Sid Broadcasts and three sessions at Milton Greene's photography studio. A very hip 68-Page brochure with liner notes by Ira Gitler is included. Filled with tons of photographs, this is a real collector's item. Produced by Robert E. Sunenblick, M.D.
This CD is issued on the Flashback Series of Uptown Records, #UPCD 27.49.
Allen Eager was on the scene with Bird, Diz and the rest of the be-boppers. Eager plays a great tenor sax, and there is a lot of variety in this excerpt of Jazz history. People will get a real kick out of listening to this album, as there is top-notch playing from all involved, and I highly recommend it. There are fourteen tunes on the CD, and all of the tracks are previously unreleased. Some of the more familiar numbers are "Out of Nowhere," "Jumpiní with Symphony Sid," "Lullaby in Rhythm," "Fine and Dandy" and "All the Things You Are."
by Lucy Galliher
---
Back to

Contents Page
Jazz Now Interactive

Copyright Jazz Now, October 2003 issue, all rights reserved
jazzinfo@jazznow.com