James Williams' CD Release Party at Jazz at Pearl's
Pearl Chan and Sonny Buxton retired from owning and running Jazz at Pearl's in San Francisco, this year, and sold the establishment to Kim Nalley and her husband, Steve Sheraton. They menaged to arrange for pianist, James Williams, to put on his CD release party at the reopening of Jazz at Pearl's (they kept the venue's name).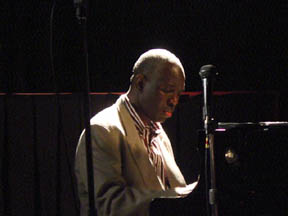 We missed that first date, but managed to get there for the second evening of performance. Williams was accompanied by Kent Bryson, drums and Al Obidensky, bass.

The interior of the club was changed. Photos of Jazz greats were taken off the walls. The club had a fresh coat of paint. Heavy drapes were added over the break walls and windows to cushion the sound and tablecloths cover the tiny cocktail tables. There is a modest $10 cover charge at the door, and thank goodness, there is not a two drink minimum per set anymore, even if you wanted more, the pressure is gone. Columbus street was still busy and it is still extremely difficult to find parking, and lot parking costs a good penny any time, even in the middle of the night in San Francisco.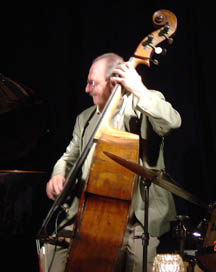 James Williams came to play. He started off with "I Can Write A Book." Followed by "Quiet Night, Quiet Star." Lots of octaves progressions with his right hand. He ran with ease: eighth notes, sixteenth notes, then thirty-second notes, sequencing onward, faster and faster. His technique was incredible, continuously changing. His creativity unleashed with unlimited variations to state his point. Dizzy's "A Night in Tunisia" was in dizzying speed. Williams offered long introductions, and kept one guessing as to which theme would showing up. A solo piano piece starting as if he was rumbling on, then the spirituals showed up, "Wade in the Water." Williams, also like cadenzas before the final end of a piece, further giving free space to improvise. Bass offered solid support. His interaction with the piano was interesting and cohesive. Though drums aptly followed, Bryson got a little too excited and overpowered the bass at times.
| | |
| --- | --- |
| Kent Bryce | Kim Nalley |


During the second set, Kim Nalley sang "The Very Thought of You." Its interlude by Williams drew enthusiastic applause. Nalley didn't seem to like her voice from the microphone and stretched out without it. Lemuel West offered "Time After Time" improvising around individual notes instead of scatting in whole phrases, but he made it swing.

We were told the club was full the night before. It was also quite full during the first set. There was a change of patrons during the second set, though the place was not full. San Francisco needs a good Jazz venue. We wish Kim and Steve Sheraton our best wishes in this adventure.

article and photos by Stella Houston
---
Jennifer Lee at The Edge, Palo Alto, September 21st, 2003

We were unaware, but not surprised that there is a nice venue in Palo Alto, California, called The Edge. It is at the back of a bar and grill of the same name. It would be a shame if Palo Alto, home town of Stanford University did not have a venue for live music. The auditorium, if I can call that, is a big room with wooden floor and a big stage. A very good sound and lighting system. Considering the state of Jazz in this country, this room probably hosts other music and dancing instead of being a full time Jazz venue. Cocktail tables scattered around, not at all crowded. Self-service at the bar.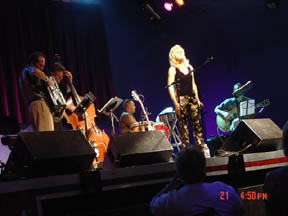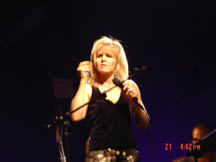 This day, we came to hear Jennifer Lee, also unknown to us before. If she is from the Bay Area, we wondered where she performs. She is a vocalist, prime and foremost, and she is also a guitarist. Her choice of accompanists at this gig was unique: beside Jeff Burenz on guitar and John Hettel on bass, she included Rich Kuhns on accordion, and Tim Gutierez on percussion. The percussion instruments were, a single cymbal, the congas, bongos, and some other instruments like celeste and percussion eggs.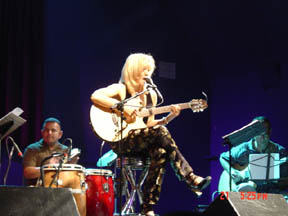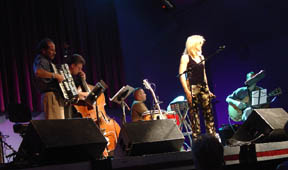 Lee has a warm, clear, alto voice, good articulation and precise tones. You don't hear the slight bend to get to the note like some other singers. To attack the note right dead center sounded easy for her, so she doesn't have to think about it, thus her concentration is on the style, mood, and creativity.

She offered several different styles of music, from straight ahead "Blue Sky," "I'm Old Fashioned," to Jobim's piece "Chega de Saudade" in Portuguese with an new harmonization, to an original piece "Note to My Niece" that she wrote with a waltz time (a very pretty piece). This particular piece has an accordion interlude that was very well presented and reminded me of Toot's whistling. Another original piece was "Jaywalking" by Peter Sprague, the producer of her debut CD of the same name. She also performed a blues tune "Some of My Best Friends are the Blues," showing the full blues swing.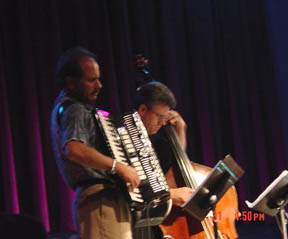 Jennifer accompanists were all accomplished offering an intricate and sensitive background for her to work with. The choice of instruments is refreshing. The balance was perfect. We were pleasantly surprised and delighted to find another talent in our mix. Her CD "Jaywalking" is just as well put together and we enjoy her very much.

article and photos by Stella Cheung Houston

---
Back to

Contents Page
Jazz Now Interactive

Copyright Jazz Now, October 2003 issue, all rights reserved
jazzinfo@jazznow.com