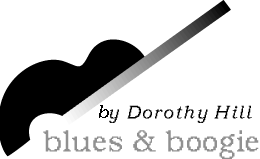 Sonny Rhodes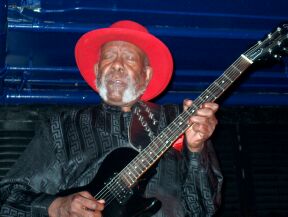 It is always a happy day when Sonny Rhodes comes to town and on his latest visit to the Bay Area, we were fortunate enough to have him appear at two clubs, Biscuits & Blues in San Francisco and Eli's Mile High Club in Oakland. Rhodes has forsaken his longtime trademark turban, switching to a cowboy hat on stage and cuts quite a figure with his flashy outfits. Rhodes is the ultimate master on the lap steel guitar. He opened up the show at Biscuits & Blues with a fierce electric guitar display and testifying vocally on "Blues Is My Religion." Rhodes soon took to the lap steel guitar and kept the audience enthralled with his distinctive style especially effective when he did the slow blues tune, "Since I Met You Baby." On the next evening at Eli's, Rhodes was at home - he worked there for many years when he was a local resident. The dancers were out this evening and it was a fun-filled evening with many old friends showing up such as Carlos Zialcita, harmonica player and vocalist, who joined Rhodes on the tune "Down Home Blues." Rhodes closed out both shows doing an emotional vocal on the tune, "Life's Rainbow," while walking through the audience. Sonny Rhodes is just one of the best bluesmen in the world today and we hear he will be back soon "New Year's Eve" and we can't wait!
Louisiana Red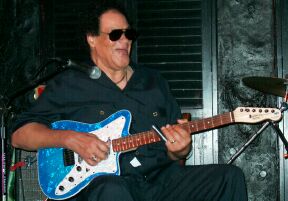 Louisiana Red (Iverson Minter) is one of the unsung heros of many blues fans. His storytelling lyrics reflect a life hard-lived with personal tragedies resulting in a deep well of blues. At his show at Biscuits & Blues, he was in rare form conversing with the audience from the stage and exhibiting some of the most inventive guitar styling one is likely to be privileged to see. Hunching over his guitar, Louisiana Red was an intense figure. His gritty, earthy vocal style was especially effective on the tune "Midnight Rambler." On the tune "Driftin'," his astute Jazz-inflected guitar licks were outstanding. This was a fantastic performance and Louisiana Red seemed to have as much fun as we did!
Howard Tate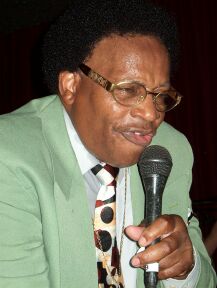 Howard Tate is a soul vocalist who wrote many hit tunes covered by celebrated musicians but, in an all too familiar scenario, fell onto hard times. Now recovered and an ordained minister, Tate is achieving a great deal of fame after an absence of twenty years. At his show at the Boom Boom Room, Tate was ready as ready can be! Now having seen Tate perform several times over the past few years in many settings, I have to say that he gets better every time. His vocal phrasing is phenomenal - deliberate but emotionally exquisite. This evening, Tate's rendition of "Show Me The Man" was deep soul at its best. Everyone does the tune 'Everyday I Have The Blues' but when Tate does it, it sounds fresh and different. Tate covered the tunes "Mama Was Right" and "Sorry Wrong Number." He got funky on an amusing tune entitled "She May Be White (But She Be Funky)." Tate is on a roll and we got to share in the ride on this evening.
Phillip Walker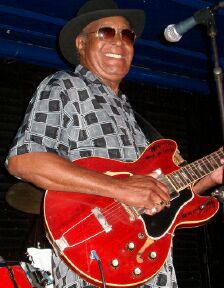 Born in Louisiana, raised in Texas and a Los Angeles resident for many years, Phillip Walker fuses these influences into a style of his own. Walker makes an appearance at Biscuits & Blues fairly regularly, but at his recent show, he was in an unusually playful mood. Longtime band members, Bobby Lester on tenor saxophone, Aaron Tucker on drums and Jimmy ("Broadway") Thomas were assisting him on this evening and opened up the show with a couple of tunes. Lester is an extraordinary sax player with his Jazz-influenced style and his solo on "Honky Tonk" was funky.
Walker did his standard repertoire of tunes including "Tin Pan Alley," "Mary Ann," and "Linda Lu," all the while smiling and shaking his booty on occasion. His solo performance of a slow country blues tune, "Hello Central" was soulful with his raspy vocals and inventive guitar styling. Guitarist/vocalist Mamou was invited to do a couple of numbers and racked up the heat with his sizzling guitar licks on "Sweet Home Chicago." Walker's outstanding performance resulted in the sold-out audience demanding an encore and it was obvious that they still wanted more!
Sacramento Heritage Festival
| | |
| --- | --- |
| Alvin Johnson | Lucky Peterson |
Big Mike Balma, the producer of the Sacramento Heritage Festival has found a great venue at the Horsemen's Club in Sacramento. His recent productions have been outstanding and the latest was no exception. Featuring the wonderful gospel group, Stars of Glory, Alvon Johnson and the Allstars and headliner, Lucky Peterson, this was another in a string of successful concerts.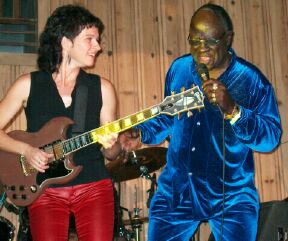 The set with Alvon Johnson and the Allstars was high energy. Alvin Sykes (photo at left with G. G. Amos) who is the regular drummer with the band has a fantastic voice and he stepped out front on this day to show us his stuff on "Dust My Broom." Sykes has an unusually effective falsetto styling and his duet with female guitarist G. G. Amos on "Love Me Baby" was terrific. What can one say about Alvon Johnson except that he is one of the most exuberant performers alive! He plays a sizzling guitar and his rich vocals are laden with humor. Whether it was his call to "all the blues lovers in the house" or his soulful spins or his really raunchy material, Alvon had this audience in the palm of his hand.
Lucky Peterson was late, really late, but a large portion of the audience was determined to stick it out. Peterson was contrite and managed to redeem himself with an outstanding show playing both the Hammond organ and guitar. One of the best features of any Lucky Peterson show is his rhythm guitarist, the fantastic Rico McFarland who has the chops to be a star in his own right. I must say that it was a performance worth the wait.
Vallejo Blues Festival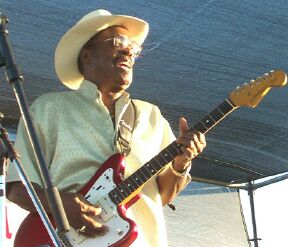 On one of the hottest Saturdays around these parts, a too small audience tried to find some shade where there was none while enjoying some outstanding blues acts. Headliner Chick Willis (photo at right) was backed up by the Caravan of Allstars, featuring guitarist Ronnie Stewart. Willis performed his raunchy hit tune "Stoop Down Baby, Let Your Daddy See" to the delight of the audience. Fortunately, Sunday's weather was a littler more pleasant and the show was hotter. Opening the show, the W. D. Gospel Singers offered religion with a blues flavor. This outstanding gospel group hails from Sacramento and the highlight was Charles Ward's performance on his composition, "Workin' The Road," a slow blues-gospel tune. Outstanding performers of the day included vocalist Beverly Watson (photo below) who always gets the audience in a dancing mood. Fillmore Slim is infamous for his previous lifestyle which allegedly included a stint as a pimp. He is an uncommonly talented bluesman and on this day did mostly a vocal set although he is a dynamite guitar player. Gwen Avery and the Blues Sistas included the gifted guitarist, Pat Wilder, and it was wonderful to see a great group of blueswomen! The highlight of the day was the appearance of Mississippi native, Johnny Rawls. His sweet southern soul sound is unmatched and he has stage presence to burn. Although this day Rawls covered mostly standards, he is an exceptional songwriter. His set was raunchy good fun and especially when he invited some women on stage to boogie with him which got very suggestive! Headliner Lucky Peterson was on time for this gig and again was fantastic.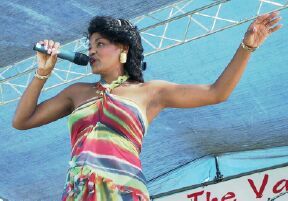 The Vallejo Blues Festival was a hot affair in more ways than one and a pleasurable two-day outing of good blues.
by Dorothy Hill
---
Back to

Contents Page
Jazz Now Interactive

Copyright Jazz Now, October 2003 issue, all rights reserved
jazzinfo@jazznow.com