The 25th Annual Chicago Jazz Festival
by Jimmie Jones
The 25th Annual Chicago Jazz Festival was held again on Labor Day week end, August 28 - 31. In the past the festival was advertised as "...always free outdoors in Grant Parks." But this year 2003, the first day of the festival on Thursday was held at Chicago's Symphony Center with tickets costing from $12 to $60.
Thursday's festival began at 8:00 pm, (hours later than any previous festival starting time) with a set by the Branford Marsalis Quartet performing Branford's compositions. The quartet consisted of Branford on tenor and soprano saxophones, Joey Calderrazzo on piano, Eric Revis on bass and Jeff "Tain" Watts on drums.
The second and final set on Thursday was a tribute to the Art Blakey Jazz Messengers featuring "The Jazz Messengers All Stars" with Terence Blanchard on trumpet, Curtis Fuller on trombone, Bobby Watson on alto sax, Branford Marsalis on tenor sax, Ronnie Mathews (replacing an ailing Cedar Walton) on piano, Peter Washington on bass and Winard Harper filling in for the legendary Art Blakey on drums. The all stars with Terence announcing the tunes opened the set with Bobby Timmons "Moanin'" followed by a Curtis Fuller's composition "Arabia." Benny Golson's popular Jazz standard "Along Came Betty" came next. Terence Blanchard excelled on "'Round Midnight," but was out shown by Bobby Watson, Curtis Fuller and Branford Marsalis on "A Night in Tunisia." "Blues March" was performed as an encore and each member of the All Stars displayed the blues knowledge they learned from Buhainia on this this song!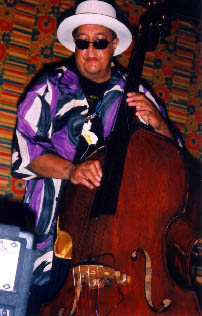 Because the Jazz Messenger's set ended so late I missed a set by drummer Reggis Nicholson's band at the Hot House, but was able to catch a set by saxophonist Andrew Lamb at the Velvet Lounge with Harrison Bankhead (photo at right) on bass and Warren Smith on drums.
The Grant Park portion of the festival featured music on three stages Friday, Saturday and Sunday. Four acts occurred on the Jackson stage, starting at 12:00 noon and ending at 4:00 p.m.. The Petrillo Music Shell included four acts each day beginning at 5:00 p.m. and ending at 9:30 p.m..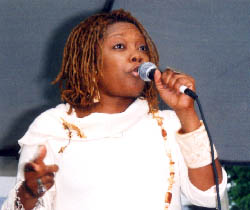 Chicago singer Dee Alexander (photo at left) opened up the Jackson stage on Friday with a highly swinging rhythm section consisting of Miguel de la Cerna on piano, Harrison Bankhead on bass and Leon Joyce on drums. Dee showed that you don't have to sing like Lady Day, Ella or Sarah to be a good Jazz singer and when scatting, she can hold her own with the best of today's singers.
Ms. Alexander was followed by Kalaparush (Maurice McIntyre) and the Light with Jesse Dulman on tuba and Rarish Nomin on drums.
After hearing such highly talented Chicago big bands as the Chicago Jazz Ensemble, the Chicago Jazz Orchestra and Bobby Samalbria's big band at the last two Chicago Jazz Festivals, it was hard to believe that there could be more great Chicago big bands but the Burgess Gardner Big Band proved that they were just as talented when they closed Friday's Jackson Stage with bebop style arrangements performed by highly talented musicians.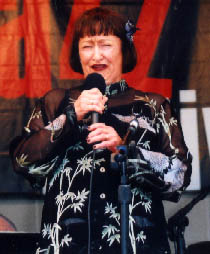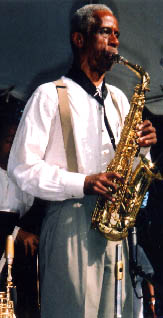 Singer Sheila Jordan (photo at right) backed by the Bradley Williams Trio opened up Friday's Petrillo Music Shell. Sheila now 74, seems to be getting better and better with age! The highlight of the festival for me occurred in the next set performed by the Roscoe Mitchell (photo at left) Big Band. I attended the bands only rehearsal Thursday afternoon at the Hot House and I knew they would be ready. The set consisted of Roscoe's highly creative arrangements of his compositions with plenty of space for solos. In addition to Roscoe on saxophones and flutes, the band consisted of Corey Wilkes, Pharez Whitted and Maurice Brown, trumpets; Steve Berry, Ray Thomas, trombones; Anders Svanoe, alto sax; Rubin Cooper, Ari Brown, tenor sax; Mwata Bowden (photo below at right), baritone sax; Craig Taborn, piano; Jaribu Shahid and Harrison Bankhead, basses; Tani Tabbal, Gerald Cleaver, drums; Vincent Davis, percussion. The set revealed an upcoming Jazz star on the horizon in 22-year-old Maurice Brown who performed one lengthy solo with unbelievable soulful technique.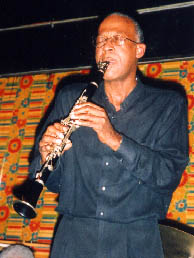 The Petrillo Music Shell headliner on Friday was the poll wining Dave Holland Big Band.
Friday evening after the fest I caught a set by tenor saxophonist Edward Wilkerson's 8 Bold Souls at the Hot House. With one or two exceptions, Edward has been able to keep these same musicians together for close to 20 years. All eight musicians were featured prominently on solos of Edward's compositions. In addition to Edward or tenor sax, Mwata Bowde was on clarinet and baritone sax. Robert Griffin was on trumpet, Isaiah Jackson on trombone, Gerald Powell on tuba, Naomi Millender on cello, Harrison Bankhead on bass and Dushon Mosley on drums.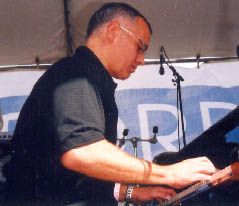 Saturday on the Jackson stage featured a solo piano set by Lawrence Hobgood (photo at left). Hobgood who for years had been musical director for Kurt Elling displayed fantastic shops throughout his set proving that he is another one of Chicago's great pianists along with Willie Pickens, Jodie Christian, John Young, Earma Thompson and many others.
Saturday's headliner for the Jackson Stage was the Roscoe Mitchell Septet with Roscoe on reeds, Corey Wilkes on trumpet, Craig Taborn on piano, Jaribu Shahid and Harrison Bankhead, basses and Tani Tabbal and Vincent Davis on drums.
Music at the Petrillo Music Shell on Saturday began with soprano saxophonist Jane Bunnett and Spirits of Havana. The Canadian artist was followed by Ken Vandermark performed more on baritone sax than his usual tenor during most of the compositions.
The Freddie Cole Quartet was the third Petrillo act on Saturday with Gary Byrd on guitar, Herman Burney on bass, Curtis Byrd on drums and Freddie on piano and vocals. Freddie's singing was more original and less like his brother, Nat, than the previous times I have heard him.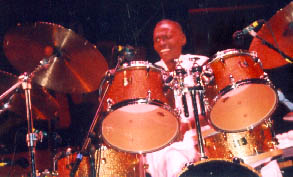 Saturday's Petrillo headliner was the Elvin Jones Jazz Machine which consisted of outstanding musicians all about half Elvin's age. Mark Shim was on alto sax, Delfeayo Marsalis, trombone, Anthony Wonsey, piano and Gerald Cannon bass with legendary Elvin (photo at left) on drums.
On both Saturday and Sunday evenings after the fest, Fred Anderson featured two sets at his Velvet Lounge Club. The first set each evening was performed by a six piece group with Edward "Kidd" Jordan and Fred Anderson on Tenor sax, Hamiet Bluiett on Baritone sax and flute, Jeff Parker on guitar, Harrison Bankhead on bass and Hamid Drake on drums. The second set featured the same musicians who performed on the first set with visiting musicians sitting in. Among them on Saturday were Bill Brimfield and Malachi Thomas on trumpets, Mwata Bowden on Clarinet, Douglas Ewart on Soprano sax, Arthur Taylor on alto sax and Hanah Jon Taylor on tenor sax.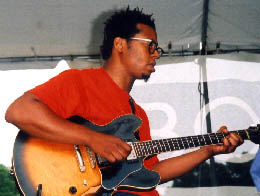 Sunday morning Bob Koester's Jazz Record Mart which has been celebrating it's 50th anniversary featured it's annual festival breakfast brunch with two sets of live Jazz starting at 10:00 am. The first set was very unusual and interesting in that it featured a couple of dixie land musicians, Frank Chase and Bob Neighbor, trumpet and clarinet, backed by a highly swinging bebop rhythm section with Jodie Christian on piano, Larry Gray on bass and Robert Shy on drums. They played the usual songs played by traditional bands until the trumpet player suggested Thelonious Monk's "Blue Monk" that produced some nice blues by all five musicians. The second set was performed by musicians from the Association for the Advancement of Creative Musicians; Fred Anderson, Kalamarush, Malachi Thompson, Jeff Parker (photo above at right), Darius Savage and Isaiah Spensor.
Upon leaving the Jazz Record Mart at noon, I found a light rain that caused me to miss the entire festival on Sunday because I had no way of protecting my photography equipment from the rain.
Despite the rain, the festival went on as scheduled. Groups I hated to miss were Jodie Christian Trio with special guests Ira Sullivan, Brad Good and the Ari Brown Quartet on the Jackson stage Soon to be 91 year old Franz Jackson, Karrin Allyson and the McCoy Tyner Big Band on the Petrillo Music Shell.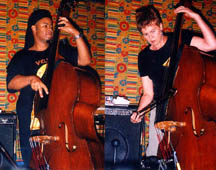 Sunday evening at the Velvet Lounge, Fred Anderson featured the same six piece group as on Saturday on the first set. Among the musicians sitting in on the second set were Ari Brown on tenor sax, Douglas Ewart on soprano sax and flute, Mwata Bowden and Aaron Getsoy on baritone sax with Cecil Savage and Darius Savage (no relations) on bass (photo at left).
by Jimmie Jones
---
Back to

Contents Page
Jazz Now Interactive

Copyright Jazz Now, October 2003 issue, all rights reserved
jazzinfo@jazznow.com