Blues in the City
by Michael Handler
The much-heralded Year of the Blues finally came to San Francisco on September 16th in the form of a Blues Celebration held at the Herbst Theater. The event, co-produced by KQED-TV, NARAS, the San Francisco Blues Festival, and Roy and Gaynell Rogers, was a kick-off for the up-coming seven part Blues series to be aired between September 28 and October 4th, and featured previews of the TV show, along with a panel discussion and yes, some real, down-home Blues. The multimedia event offered a nice balance between talk, film and live music with performances by Roy Rogers and harp man Big Bones in a duet before Bones shook the dust off the hall with a rousing solo piece. Charlie Musselwhite then appeared with Roy and two young players on bass and drums representing the Jazz School in Berkeley, and showing that young and veteran players can mix it up and keep it fresh.
Charlie Musselwhite, Roy Rogers, Big Bones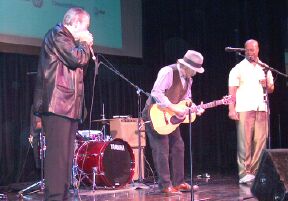 The evening started with a panel with a lot of blues miles on them: Charlie Musselwhite, doing double duty, Zakiya Hooker, Historian Paul Oliver, Ronnie Stewart from the Bay Area Blues Society, SF Blues Festival Producer Tom Mazzolini, and Chris Strachwitz, preserver of the music through his label Arloolie Records. The eclectic bunch was introduced and well moderated by House of Blues/BMP Audio producer Ben Manilla. Besides hearing some wonderful stories and insights from the more elder players, Zakiya Hooker shared some of her experiences living with and being supported by such a venerated Bluesman father (John Lee Hooker), and trying to gain success in this business on her own terms. As most of the audience were avid Blues fans, there was lots of interest in hearing what these artists and historians had to say, and the producers provided a superb forum to allow them all to express themselves.
The evening ended with a 15-minute clip for one of the films to be shown during this weeks' Blues series on KQED-TV. If the of the series lives up to what we saw in this segment, we're all in for a real treat. No TV series has explored the Blues and the musicians who make the music to such a depth, and each hour is an individual film made by the likes of Martin Scorsese, Clint Eastwood, and Wim Wenders. There will be an companion 13 hour radio series to be aired on KALW and KCSM during this time, and of course the Blues Festival itself September 27 and 28th. A full schedule of the film series can be seen at HYPERLINK "http://www.kqed.org" www.kqed.org or better yet HYPERLINK "http://www.pbs.org/theblues/" www.pbs.org/theblues/.
The underlying theme of the evening was to emphasize the importance of the Blues as Americaís art form, but it really all came down to the closing comment by former Muddy Waters drummer Francis Clay about defining the Blues: "It's life". We are the Blues."
by Michael Handler
---
Back to

Contents Page
Jazz Now Interactive

Copyright Jazz Now, October 2003 issue, all rights reserved
jazzinfo@jazznow.com