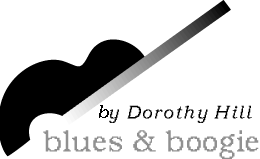 Sunday Blues & Jazz Club Tenth Anniversary Party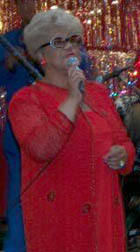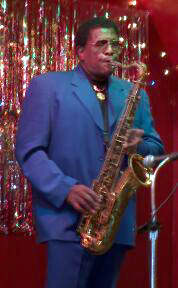 On Sunday, September 5th, the SBJC anniversary celebration brought together a host of performers who have appeared at the club over the past ten years. Sun Reporter columnist, Rochelle Metcalfe (photo at left), acted as Mistress of Ceremony. Billy Dunn (keyboards and vocals), Bobby Webb (tenor saxophone), photo at right, and Michael Skinner (drums and vocals) started off the festivities covering the tunes, "Honky Tonk," "Downhome Blues" and "Mustang Sally." Alvon livened up the show with his funky, intense performance. Vocalists who gave it their all included Mae Jackson with her powerful vocal range well on display, Lisa Carr showing her stuff on a Jazzy "Never Make Your Move Too Soon," Misty Browning doing an expressive version of "You Can Take My Husband," and Jackie Payne (who was the featured artist at the first show ten years ago) with his soulful, sensuous style. It was a wonderful day of good jamming that kept bringing up more and more of the artists who have become part of the "family" over the years. Congratulations are due to Velma Landers and Bob Graham and all the volunteers who have worked hard to provide a wonderful venue for musicians, both local and nationally known acts, in a sophisticated setting where a mature audience can dress to impress and party.
---
E. C. Scott
Vocalist E. C. Scott celebrated her birthday recently at two sold-out shows at Biscuits & Blues. This Oakland, California native has been traveling the world to great acclaim with her irreverent, humorous and earthy performances.
After her band opened the show with several tunes, Scott grabbed our attention by singing from backstage, entering the room and the stage with her take-charge attitude. Scott is a prolific songwriter and with her strong, soulful vocals covered two of her compositions, "You Got The Wrong Number" and "The Other Side Of Me." Her vocal interplay with bass player, Larry Humphrey (photo at left), was engaging. Humphrey is a hard-driving electric bassist who commanded attention with his fierce style and stage presence to match Scott's. With a great horn section which included the wonderful saxophonist Michael Peloquin, the band kept the energy level high. Scott's rendering of the slow blues tune "One Night With You" was soulful. Saxophonist Bobby Webb joined Scott on a rollicking version of "Rock Me." Scott talked trash with the audience, asking how many "loose women" were in the house. When she performed the tune "Stand By Me," her vibrant vocals were magnificent.
The evening was filled with good humor and E. C. Scott had us all in the palm of her hand all the way.
| | |
| --- | --- |
| E. C. Scott | E. C. Scott with Larry Humphrey |
---
Eddie Shaw and the Wolf Gang
Eddie Shaw (photo at right) was the personal manager for Howlin' Wolf for five years and is highly esteemed in the blues world for his delivery of Chicago-style blues. He is also one of the best saxophone players on the scene and he brought his Wolf Gang to Biscuits & Blues in a show which featured three generations of sons following in their father's footsteps. Shaw's son, Vann, is a dynamite guitar player who also fronts his own band when not traveling with his father. Tim Taylor on drums is the son of the late Eddie Taylor and Bobby Dixon is the youngest son of the late and great Willie Dixon. Completing the band was the bassist, Lafayette "Shorty" Gilbert who has been with Shaw for over twenty years.
The show opened with Eddie Shaw doing a Jazz tune with his big fat tone on saxophone smoldering hot and heavy and Vann's guitar sending out cascades of melody. On "I Can't Stop Loving You," Shaw's intense phrasing was enticing. The ultra fast arrangement of "Since I Met You Baby" gave a whole other slant to this blues standard. Shaw's vocal delivery of "Greedy Man" was delightfully raunchy with his rough voice (the Howlin' Wolf influence is obvious). There was a good representation of Chicago blues with Eddie Shaw doing vocals on "Hoochie Coochie Man" and "Got My Mojo Working."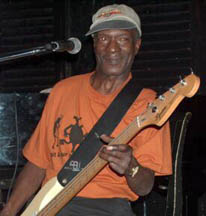 Shorty Gilbert (photo at left) opened up the second set doing a wonderfully traditional blues version of (once again!) "Since I Met You Baby" on vocals and bass. Vann Shaw soloed on "I'll Play The Blues For You" and his fingers were moving so fast that all one could see was motion coupled with the sound of the searing melody.
It was wonderful to have a piano player instead of keyboards and Bobby Dixon proved that he is more than Willie Dixon's little boy - his piano style is exploratory and thoughtful and he knows how to put it into the groove. Tim Taylor's hard drumming style kept the backbeat kicking. This group knows how to deliver an exciting show and they took us on a journey of great music on this evening.
---
Mannish Boys
The Mannish Boys is a new project which features some of Southern California's best blues musicians with the cast fluctuating depending upon other commitments of the players. For instance, Leon Blue, who is the regular pianist, is now on tour with B. B. King and the exceptional guitarist, Kirk Fletcher, was unavailable for the show at Biscuits & Blues and their performance the next day at the San Francisco Blues Festival.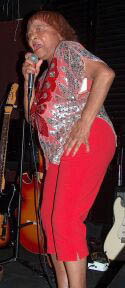 Taking over the guitar position, Frank Goldwasser, aka Paris Slim, cranked it up on the tune "Help Me" behind the harmonica playing of Randy Chortkoff. The show-stoppers were the vocalists. Johnny Dyer caressed the microphone while delivering a bluesy vocal on "Everything's Gonna Be All Right" and Finis Tasby's take on "Mean Old World" was repleat with his soulful phrasing. But Mickey Champion (photo at lert) stole the show! This lady, now in her seventies, has been wowing Southern California audiences for over fifty years but is relatively unknown otherwise due to her fear of flying. On this evening, Champion's sequin outfit was effectively fashionable along with her comfortable bedroom slippers - she is the real deal. Her version of "Dr. Feelgood" revealed a bluesy raspy vocal style which boomed through the room when she roamed through the audience without the aid of a microphone. The audience could not get enough and hopefully we will get the opportunity to see this gritty, pull-no-punches blues veteran again soon!
---
Bobby Rush

The Bobby Rush Revue is one of the most exciting and ribald blues shows one is ever to see as he exhibited at Biscuits & Blues to an enthusiastic and adoring audience. Rush's revue this evening included dancers, Jazzii and Lo (called Sweet Lo), who participated in his comedic sketches with a display of abandon that one has to see to believe! Rush's serious vocal delivery of soulful lyrics is expressive. With a devilish smile and knowing wink, Rush, photo at right, covered the delightfully raunchy tunes "Hen-Pecked" ("I'm not hen-pecked, I just been pecked by the right hen"), "A Man Can Give It (But He Can't Take It)," and "Tough Titty." In the second set, Rush accommodated the insistent requests from the audience to play guitar by covering a Jimmy Reed tune after talking about his experiences substituting for Reed. He has developed a uniquely lyric and melodic style on guitar which was impressively on display this evening.
I can only sum up this show with the refrain used as an introduction and repeated by the audience - Bobby Rush, Bobby Rush, Bobby Rush (pronounced as one three-syllable name)!
by Dorothy L. Hill
---
Jazz Now Interactive October 2004 Vol 14 No. 6 - Table of Contents
Copyright Jazz Now, October 2004 issue, all rights reserved
jazznow@sbcglobal.net Haybert K. Houston, Publisher Editor in Chief, Jazz Now
You can e-mail comments to jazznow@sbcglobal.net