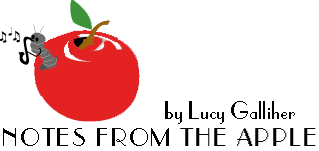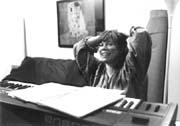 September 2004 - Singers at Sweet Rhythm and the 55 Bar. This month's column is about the featured singers at several clubs in Greenwich Village. There are a number of places where singers can go to jam sessions in New York, as well as sit-in at piano bars. But it is also nice to experience a featured singer with his or her own choice of musicians.
Tessa Souter runs the Vocal Series at Sweet Rhythm. Tessa Souter, a fabulous singer and columnist, has been producing a Jazz Vocal Series at the nightclub Sweet Rhythm since this past April. The series has highlighted such varied people as Kate McGarry, Andy Bey, Chris McNulty, Lauren Kinhan and Jody Sandhaus (who's releasing a new CD titled A Fine Spring Morning). In October, the well-known Jay Clayton will perform, and in November, JD Walter will be at Sweet Rhythm.
On the night I went, Lauren Kinhan was featured. This talented vocalist is one-quarter of the group "New York Voices," and she had the following musicians in her band: Donny McCaslin on sax and flute, Peter Eldridge on piano, Paul Nowinski on bass and Ben Wittman on drums.
Lauren Kinhan's music was original and well-rehearsed. She has a good voice and is unafraid to sing out, while the rhythm section listened and responded as they accompanied her. The first tune (her own composition) had an easy-going Latin feel, and got the band warmed up.
Lauren brought up Donny McCaslin on the second number, a blues-rock piece called "Move Over, Sunshine." Lauren and Donny took center stage, with the soprano sax filling in beautifully with Lauren's alto voice. He took the audience to another level with his sax solo, stretching out and expressing himself on his instrument, with some really hot high notes. Lauren countered with some scatting at the end of the tune, and she traded improvisational ideas with Donny.
The next tune, a change of pace, was a soft ballad, called "As We Live and Breathe." The pianist, Peter Eldridge, began the piece on solo piano. The other instruments entered after Lauren sang the first chorus, and Donny added a nice touch on flute.
Lauren Kinhan showed that she can hold her own in a number of different styles of music, and I look forward to hearing her again soon.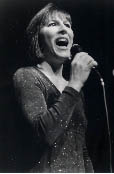 Kendra Shank (photo at left) at the 55 Bar. The 55 Bar has been an institution in the West Village for a long time. Located on Christopher Street (near Seventh Avenue South), they have had a regular slot for vocalists on Friday evenings. One of the regulars at the 55 Bar is the Shirley Horn protégée, Kendra Shank. She was accompanied by guitarist John Hart.
Kendra put some thought into the setting when choosing her accompanist -the 55 Bar does not have a piano, the room is very small, and does not need a large band. This was a more intimate setting, and the guitar suits her voice. I've seen her perform on several different occasions, always with a pianist (either Mark Soskin or Frank Kimbrough) and rhythm section.
Kendra's has an unusual sense of phrasing - perfect for a duet with an improvising guitarist; also perfect for the Jimmy Van Heusen standard, "Like Someone in Love." I enjoyed Kendra's extra variations of the melody. Kendra's confident with the sparseness of the group, and John can "hold his own" with both accompanying and soloing.
"No One Ever Tells You in Time" has interesting lyrics, and sounded like a blues variation with a bridge. It really gets you thinking, and yet leaves something to the imagination. Again, both voice and guitar are pleasing to the ear. Kendra also has great mic technique, pulling it away from her and moving it around for effects. John used electronic boxes, phase shifters, and volume pedals to create atmosphere.
Kendra grabbed the acoustic guitar for the Beatles tune, "Blackbird," and interpreted the tune in the traditional way, a/la Lennon and McCartney. She played rhythm guitar for John"s solo, and interacted in a sensitive manner. The next tune was a ballad, called "Afterglow of our Love." Again playing a steady beat on the guitar, Kendra sang with a gorgeous tone. Itís a sad and sensual tune, with lots of images.
After that, Kendra scatted on an unnamed bossa-nova. John found a way on guitar to complement her, without getting in the way. She used her voice as an instrument here. On his solo, he used the entire range of the guitar, and went into double-time triplets on extensions of the chords.
Kendra stated that Red Mitchell, the bassist, was a great influence. He wrote the lyrics to Mingus" "Goodbye, Porkpie Hat." The first verse was a tribute to Lester Young, and the second to Charles Mingus. The guitar solo started with dissonant intervals, proceeding into blues riffs and slides.
They ended the set with "Black is the Color," a folk song made famous by Joan Baez. The guitar player played a repeated figure under Kendra's voice. This was very effective, as it kind of put Kendra and the audience into a trance. She began improvising on the words, and the modal quality of the piece lent itself to turning the words into scat syllables. The exciting guitar solo that followed had the audience yelling their appreciation! Kendra Shank and John Hart make a wonderful duo.
by Lucy Galliher

---
Jazz Now Interactive October 2004 Vol 14 No. 6 - Table of Contents
Copyright Jazz Now, October 2004 issue, all rights reserved
jazznow@sbcglobal.net Haybert K. Houston, Publisher Editor in Chief, Jazz Now
You can e-mail comments to jazznow@sbcglobal.net