The 26th Annual Chicago Jazz Festival
Article and photos by Jimmie Jones
The 26th Annual Chicago Jazz Festival was held labor Day Weekend September 2 - 5 as it has been in the past.

For the second year in a row, the festival began on Thursday at the Chicago Symphony Center with a charge for attendance. This year the Symphony Center featured Dee Dee Bridgewater and "A Salute to The Thad Jones / Mel Lewis Orchestrated by Jon Faddis, featuring such Jazz giants as Hank Jones, George Mraz, Billy Harper, Cecil Bridgewater, Orbert Davis, Garrett Brown, Earl McIntyre and Jerry Dodgion.

I did not attend the Symphony Center Performance, but I did catch a fine "after the fess set" at Joe Segal's Jazz Showcase led by Ira Sullivan on soprano and tenor saxophones and trumpet, and featuring Frank Wess on tenor saxophone and flute; Willie Pickens on piano, Larry Gary on bass and Robert Shy on drums. I also made it to Fred Anderson's Velvet Lounge to catch a trio led by bassist Paul Steinback with Damian Epinson on piano and Scott Garrigan on drums. Fred met and worked with Steinback in New York earlier this year.

FRANK WESS

The remaining three days of the festival took place as they always have in the past at Grant Park and were free to the public. Performances were held on the Jackson Stage from 12:00 noon until 4:30 pm and the Petrillo Music Stage from 5:00 pm until 9:30 pm. Educational Workshops were held on the Jazz and Heritage Family Stage from 12:00 noon until 4:30 pm.

The first set I caught early Friday afternoon was on the Jackson Stage featuring a duo of pianist John Campbell and one of the all time top saxophone section men, Jerry Dodgion who for this set proved to be quite a capable improviser on both Jazz standards and ballads. Next I caught a workshop at the Jazz and Heritage Stage on the "Art of the Solo" by baritone saxophonist Hamiet Bluiett and trombonist Ray Anderson, both musicians explained how they learned how to improvise with Anderson emphasizing how he learned from his elders while growing up in Chicago. Toshico Akiyoshi closed out the Jackson Stage on Friday with a trio consisting of herself on piano, Peter Washington on bass and Freddie Marshall on drums.

HAMIET BLUIETT
| | |
| --- | --- |
| RAY ANDERSON | TOSHICO AKIYOSHI and PETER WASHINGTON |
IRENE REID

CONRAD HERWIG

On Friday, the Petrillo Music Stage opened up with one of the swingingest and by far the bluesiest set heard at the festival with the guitarist Henry Johnson's "Organ Express" featuring the blind organist Chris Foreman and drummer Greg Rockinham and special guest vocalist Irene Reid who performed sitting in a wheel chair. I had caught Ms. Reid once before at the Chicago Jazz Festival and she showed once again why she is one of the bluesiest Dinah Washington like Jazz Vocalists on the planet.

The second Petrillo set was led by one of today's top young drummers, Winard Harper, with a sextet of young up and coming musicians, Patrick Rickman on trumpet, Brian Horton on saxophones, Jeb Patton on piano, Ameen Saleem on bass and Kevin Jones on percussion. Winard Harper was followed by trombonist Conrad Herwig's Latin Side of Miles band with Jazz Messenger alumni Brian Lynch on trumpet and five outstanding Latin American musicians including Mario Rivera on baritone saxophone and flute, Edsel Gomez on piano, Ruben Rodriguez on bass, Robbie Ameen on drums and Pedro Martinez on congas. The band performed Miles Davis related tunes such as "Solar," "So What," and "Seven Steps to Heaven." The Latin side of Miles band performed again after the fest at the Hot House.

The headliners for the Petrillo stage Friday night was "Celebrating Count Basie's 100th Birthday" (he was born August 21, 1904 in Red Bank, New Jersey.) with a group of Basie veterans called "The Kansas City Seven" with Clark Terry on trumpet and fluegelhorn, Frank Wess on tenor sax and flute, Benny Powell on Trombone, Buddy Defranco on clarinet, George Caldwell on piano. Buddy Catlett on bass and Harold Jones on drums. Frank Foster was suppose to join Frank Wess on tenor sax but he was unable to do so because of a stroke. Foster did speak a few words sitting in a wheel chair o stage. Clark Terry was also sitting in a wheel chair, but his handicap certainly had no effect on his playing ability. As always when one hears two notes played by Clark Terry, one knows it's him! Among Count Basie tunes played were "Lil' Darling," "Jumping at the Woodside," and "One O'clock Jump."
| | |
| --- | --- |
| CLARK TERRY (L) BENNY POWELL (R) | |
After the fest Friday evening, I headed for the velvet lounge to catch two sets of Ernest Khabeer Dawkins and the New Horizon Ensemble with Dawkins on reeds. Steve Berry on trombone, Darius Savage on bass and Isaiah Spencer on drums. The group played a number of tunes from the ensemble's latest CD "Mean Ameen" on Delmark Records named after the late long time member trumpeter Ameen Muhammad, among the tunes was the bluesy Dawkins composition "The Messengers" dedicated to Art Blakey.
| | |
| --- | --- |
| ERNEST KHABEER DAWKINS | EDWARD "KIDD" JORDAN |
Saturday on the Jazz and Heritage Family Stage, I caught the finest job of teaching young Jazz musicians about how to perform in a Jazz Combo in a one hour workshop I've ever witnessed and I've caught more than my share by many great Jazz educators. The workshop was conducted by New Orleans tenor saxophonist and educator Edward "Kidd" Jordan with the assistance of a rhythm section led by pianist Ken Chaney. The students consisted of five of Chicago's very best high school musicians including three saxophonists and two trumpeters. Kidd brought blues related music for the youngsters to work with and had each musician to solo while the remaining musicians performed section work behind the soloist. Kidd gave these kids complete attention during the entire workshop and stopped their playing on occasions for counseling.
I caught two fine Chicago bands at the Jackson Stage on Saturday. The first was the Ryan Cohan Sextet who performed with Kidd Jordan's workshop students in the audience listening attentively. The sextet consisted of leader Cohen on piano, Tito Carillo on trumpet, Greg Fichman and Geof Bradfield on woodwinds, James Gammack on bass and Dana Hall on drums. An Afro Cuban Jazz style band "Crosswind" was Saturday's closer for the Jackson Stage with some of Chicago's top Jazz artists led by percussionist Greg Penn with Corey Wilkes on trumpet, Bill McFarland on trombone, Chris Neal on saxophones, Chris Mahieu on piano, Kurt Schwietz on bass and Charles "Rick" Heath on drums.

I was unable to catch "A 100th Birthday Tribute to Coleman Hawkins" with the Bennie Wallace Nonet. Wallace was followed by "Jammin' at the Petrillo" featuring James Moody and Von Freeman on tenor saxophones, Jon Faddis on trumpet, Ron Perillo on piano, Dennis Carroll on bass and Dana Hall on drums. James Moody sang his famous "Moody's Mood for Love" as he has done every time I have seen him. Each of the horn players was featured on at least one song.

JAMES MOODY

JON FADDIS

ARI BROWN

DEE ALEXANDER
Saturday's headliner at the Petrillo Shell "Orbert Davis' Chicago Jazz Philharmonic" was one of the finest performances ever held at any of Chicago's Jazz Festivals. The festival program stated that the Chicago Jazz Philharmonic consisted of 40 musicians but Jazz Institute Executive Director Lauren Déutsch told me that 55 musicians performed during this set. The headlines included two Orbert Davis compositions performed by the Orbert Davis Quintet with the orchestra featuring solos by Davis and Ari Brown, an Aria from Giacomo Puccini's opera "Tosca" performed by pianist Willie Pickens and the ensemble and vocalist Dee Alexander singing a medley from Ella Fitzgerald's "Songbooks" including "Body and Soul," Embraceable You," and other ballads by the orchestra.
After the fest, I made it back to the Velvet Lounge for two great sets. The first set featured Fred Anderson and Kidd Jordan on tenor sax, Hamiet Bluiett on baritone sax and flute, Jeff Parker on guitar, Harrison Bankhead on bass and Hamid Drake on drums. These six Jazz giants performed creative spontaneous music continuously for one and a half hours before an enthusiastic standing room only crowd. The second set consisted of a jam session and was just as powerful as the first with a large number of top Chicago Jazz musicians standing in line waiting to sit in. Among the ones I knew were Bill Brimfield on trumpet, Arthur Taylor on alto sax, Bill Perry on tenor sax, Douglas Ewart on flute, Aaron Getsug on baritone sax and Avreeayl Ra on drums. Among the musicians I didn't know were three or our tenor saxophonists, three bass players, and couple of drummers and a violinist!
FRED ANDERSON

JEFF PARKER


AVREEAYL RA


HAMID DRAKE

DOUGLAS EWART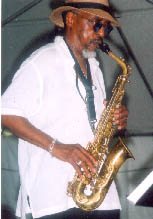 Sunday morning at 10:00 A.M. I was sitting in the front row of a small room (small for a live Jazz performance) with all the seats filled and Jazz fans standing far into the aisles for Bob Koesters arrival Jazz breakfast brunch in the Jazz Record Mart. All of the performers were Delmark Records recording artists. Tenor saxophonist Fred Anderson started things off with Josh Abrams on bass and Isaiah Spencer on drums. After about twenty minutes of Fred Anderson, tenor saxophonists Ari Brown jointed the trio for the last half of the set. The second set was performed by Ernest Dawkins and the New Horizon ensemble with Dawkins on alto and tenor saxophones, Steve Berry on trombone, Darius Savage on bass and Isaiah Spenser on drums.
Leaving the Jazz Record Mart I caught a cab to Grant Park where I caught two workshops at the Jazz and Heritage stage. The first one was "Percussion Discussion" conducted by Avreeayl Ra. Avreeayl demonstrated a number of African instruments by performing them and explaining how each one was made and used. The second workshop entitled "Jazz History" was conducted by Jimmy Ellis (photo at left) with his Quartet. Ellis, who performed on alto and tenor saxophones and bass clarinet focused mostly on performing rather than discussions and featured the fabulous yet little known pianist Earma Thompson, Jimmy Willis on bass and William "Bugs" Cochran on drums.
The Petrillo Music Shell opening act on Sunday was very brief and named "Bass is the Place -- Remembering Malachi Favors Maghostut." It featured four Chicago bass players, Tatsu Aoki, Harrison Bankhead, Yusef Ben Israel and John Whitfield and one drummer, Avreeayl Ra. While in Chicago, I learned of the death of another great Chicago bass player, Bill Yancey who spent three years with Ella Fitzgerald.
Next on the Petrillo stage, tenor saxophonist Fred Anderson brought the same group of musicians who performed the first set the previous night at the Velvet Lounge, except this time they were performing before several thousand fans at Grant Park! Fred began the set backed by Bankhead and Drake, using his big muscles tone with startling melodies to perform chorus after chorus before giving way to his New Orleans tenor sax brother Kidd Jordan. This fiery tenor saxophonist is altogether different from Fred but thoroughly original and unlike no other tenor saxophonists. Next came the best known of the group, baritone saxophonist Hamiet Bluiett with his big full sounds and blues rich riffs. And to make the three saxophonists sound better, they were accompanied by three of the finest on their instruments, Jeff Parkes on guitar, Harrison Bankhead on bass and Hamid Drake on drums.
ROSWELL RUDD


DON BYRON

The next Petrillo set I caught Sunday at the Petrillo Stage was "the Monksieland Band Honoring Steve Lacy" featuring Roswell Rudd on trombone, Don Byron on clarinet, Dave Douglas on trumpet, Jean-Jacques Avenel on bass and John Betsch on drums. Avenel and Betsch were life long members of Steve Lacy's band. As the title of the set indicated, the group performed only Thelonious Monk's compositions which Steve Lacy often performed, especially when he collaborated with the late pianist Mal Waldron.

The headlines for Sunday's Petrillo Shell and the final act of the festival was "Toshico Akiyoshi and the Chicago Jazz Orchestra." Toshico and the orchestra performed Toshico compositions and arrangements formerly performed by Toshico's Big Band.
Sunday night after the fest at the Velvet Lounge was a special time for me. Fred Anderson helped celebrate my 80th birthday with two huge cakes more than enough for the entire standing room only audience and musicians. The first set was performed by the same group as on the first set Saturday night. The second set was a jam session with another long line of musicians waiting to sit in. Among the more impressive musicians to sit in were the outstanding young 21-year-old alto saxophonist Greg Ward, one of todays top Jazz flutists, Nicole Mitchell, who always finds something new to play, Galesburg vocalist Semenya McCord who upset the hip audience with her rendition of John Coltran's "A Love Supreme" ably backed by Jeff Parker on guitar, Cecile Savage on bass, four horn players and a drummer and finally by one of the best blues harmonica players, Billy Branch, who wowed the crowd with some down home swinging blues.
photos and article by Jimmy Jones
---
Jazz Now Interactive October 2004 Vol 14 No. 6 - Table of Contents