A Pictorial of the Newport 2004 Jazz Festival
by photographer Mars Breslow

I arrived at Boston's Logan Airport on Monday afternoon following a weekend enjoying the stellar performances of the legendary musicians who graced the stages at the 50th anniversary of the Newport Jazz Festival.
| | | |
| --- | --- | --- |
| Bill Charlap | Bill Cosby | Dave Brubeck |
| Dave Douglas | Herbie Hancock | James Moody |
| John Faddis | Lee Konitz and Roy Hargrove | McCoy Tyner |
At Logan I spent the nearly three hour wait for my 3:45 P.M. flight back to San Francisco reading and listening to CDs. When I have the liberty to listen to Jazz uninterrupted (as airports and the aircraft award those opportunities), I get deeply into the music of my choice recordings and block out the outside world. I placed Herbie Hancock's Maiden Voyage into my Walkman at a normal sound volume when I was interrupted by a screeching voice on the airport's public address system so, I removed the headphones to listen to vocal chords which replicated scratching your nail on a blackboard. The message did not apply to me so I resumed listening to one of my favorite recordings. I decided to turn up the Walkman's volume on number 9 to block out any superfluous airport chatter including the public address system. Hancock's "Little One" began to play as George Coleman blew his gorgeous melancholy solo which although I've heard many times before, totally enraptured my soul. I could faintly feel outside forces were trying to disrupt my ecstasy but the music persevered.When the song ended I glanced at my watch which read 3:49pm and the terminal was empty. I ran up to the counter where the woman with the screeching voice stood and was informed about my name being called out on the PA system several times after everyone else boarded the aircraft.
| | | |
| --- | --- | --- |
| Dave Holland | Diane Reeves | Harry Cornick, Jr. |
| Jazon Moran | Ken Peplowski | Ornette Coleman |
I was able to receive a standby ticket on the last flight of the day to SFO but the attendant said there were 158 seats which were overbooked with166 tickets sold. I moved up two gates and waited anxiously for the 6:10pm flight to arrive when I noticed a face from the past. The fellow I worked with at Lockheed Martin several years ago recognized me as well and we began to chat when a knockout well dressed woman asked if anyone was occupying the seat next to me. My former co-worker went back to sit with his family as I started to converse with the lady in blue. Her story began with her wallet being pickpocketed in the ladies room at Logan. She lost $800 in cash, credit cards and her airline ticket. She also had a standby ticket on the same flight I was hoping to board. As we became increasingly chummy, I began to think yummy and inquired what she would do if she was not called on standby. The lady in blue explained that without money or credit cards she would have to sleep at the airport and take the morning flight to San Francisco where she would transfer to a flight to Portland. I told her if I did not get on standby I was going to book a hotel room near the airport and also take a next day morning flight. At that point, and looking deeper into her cleavage, I invited her to share the room (bed) with me and she replied affirmatively.
The boarding attendant for the late 6:10pm flight commenced to call out passengers who did not check in and, when not one answered the plea to board she sang out three choruses of Mars Breslow. What would you do?
| | | |
| --- | --- | --- |
| Peter Washington | Ravi Coltrane | Ron Carter |
And now the festival.
Although there were preliminary events on the August 11th and 12th, Harry Cornick Jr. kicked off the 50th anniversary of the Newport Jazz Festival at the International Tennis Hall of Fame on Friday the 13th. It began to drizzle a half hour prior to his big band "Only You" Tour performance by 8:00pm and ceased long enough for the photographers to shoot the first two songs when the rains came again for the remainder of the concert. Nonetheless, Cornick's appeal to the well seasoned as well as youthful attendees was his ability to swing singing and playing the piano on old standards as well as improvising on contemporary pop tunes. Dancing teenage girls took over the front rows displacing their toney elders who fled for cover from the storm. Harry's appeal to the young lovlies reminded me of the Beatles forty years ago. The young ladies may have been more exposed to Cornick's television appearances than his music but Harry had them hopping.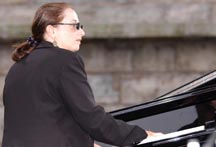 (Rene Rosnes)
A break in the weather on Saturday, August 14th featured groups lead by Dave Brubeck,, Dianne Reeves , Branford Marsalis , Ravi Coltrane , Jamie Cullum , Lew Tabackin , McCoy Tyner , The Ron Carter Trio with Russell Malone and Mulgrew Miller. The Jon Faddis Jazz Orchestra saluted the music of Charlie Parker and Dizzy Gillespie, Monk's Dream was lead by Barry Harris, and the Newport All Stars featured James Moody, Howard Alden, Cedar Walton, Lewis Nash, Ken Peplowski , Randy Sandke , and Peter Washington. There were also solo performances by Chico Hamilton, Marion McPartland, Peter Martin, Mulgrew Miller, Renee Rosnes, Hilton Ruiz, and Kenny Drew Jr..
| | | |
| --- | --- | --- |
| Roswell Rudd | Wallace Roney | Wayne Shorter |
Sunday's performances culminated with another list of the créme de la créme of the Jazz world including the Heath Brothers, Lee Konitz with Roy Hargrove, Dave Douglas with Roswell Rudd, Regina Carter, Doug Wamble, Peter Cincotti, Geri Allen with Wallace Roney, and piano solos by Uri Caine, Bill Charlap, and Jason Moran. The Jazz Messengers lead by Cedar Walton, Bill Cosby's Cos of Good Music, the Mingus Big Band, and the Lincoln Center Jazz Orchestra were followed by the Ornette Coleman Quartet.
Herbie Hancock, Wayne Shorter, Dave Holland, and Brian Blade were an appropriate choice to close the 50th anniversary of the Newport Jazz Festival. For it was in 1965 when Hancock, Shorter, Ron Carter, Tony Williams and Miles Davis performed in that famous quintet thirty nine years ago.
by Mars Breslow
---
Jazz Now Interactive October 2004 Vol 14 No. 6 - Table of Contents
Copyright Jazz Now, October 2004 issue, all rights reserved
jazznow@sbcglobal.net Haybert K. Houston, Publisher Editor in Chief, Jazz Now
You can e-mail comments to jazznow@sbcglobal.net.