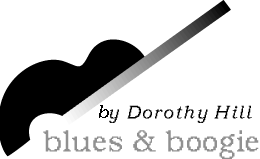 Sunday Blues and Jazz Club
On September 4, 2005, the Sunday Blues and Jazz Club celebrated eleven years of presenting blues performances every Sunday in a congenial atmosphere that attracts a mature audience who dress to impress and shake a leg on the dance floor. The club celebrated the month of September with a series of special shows.
It has become a tradition to book vocalist Jackie Payne, who performed the first concert for the club, and he led the bill at the anniversary show. His band, fronted by guitarist Steve Edmonson, got things warmed up with several tunes, including their version of "Chitlins Con Carne." The band cooked with the Sweet Meat Horns of Carl Green on saxophone and John Middleton on trumpet. Payne opened up with an inventive blues scat in a display of vocal dexterity and then delighted the audience with a program that included a wonderful rendering of the Bobby "Blue" Bland tune, "Room with a View" with phrasing that went from gruff to falsetto voicings. It was an evening of soul and blues delivered by one of the most charismatic performers of this genre and an extraordinary group of gifted sidemen driving it home.
| | |
| --- | --- |
| | The next Sunday was a special birthday party for one of the club members, and the band Five Point O (photo at left) entertained with a show that encompassed RandB, standards and dance tunes that had the dance floor crowded all night. The band is fronted by lead vocalists Cheryl LeBlanc and Carl Norde, Jr. The highlight was an exquisite duo vocal rendering of "Unforgettable" by LeBlanc and keyboardist Grady Wilkins. Norde displayed remarkable full-toned vocal phrasing and enthusiastic energy in his performance. This seven-piece band was as dynamic as it gets. A quartet Motown revue also treated the audience to a soul-stirring exhibit of their vocal expertise and dance routine. |
| | |
| --- | --- |
| Bobby Warren, vocalist and guitarist, brought his Los Angeles VIP Band to the club the next Sunday. The band warmed up the audience highlighted by an achingly beautiful trumpet solo featuring Joe Campbell on the Herb Alpert tune "Rise" and Lucky Lloyd with expressive guitar support. Sweet Ida spiced things up with her blues vocals and titillating stage presence. Then it was time for the man himself, Bobby Warren, who opened up with an upbeat take on the bluesy "Any Where but Here." His vocal phrasing on "Hold On" was incisive along with an emotionally rendered guitar styling. On "You Ain't Right," the swinging tempo was the perfect foil for Warren's controlled vocals. Warren is a veteran of the blues, and this evening was a satisfying demonstration by one of the best in this genre. | Lucky Lloyd and Joe Campbell |
| Bobby Warren | Theodis Ealey |
In the fourth show of the series, Theodis Ealey, billed as "The Bluesman Lover," transported the sold-out audience to the depths of soul and deep blues in an extraordinary show. The highlight of the evening was his rendition of "Stand Up in It," the title cut from his new CD. Ealey demonstrated an incisive guitar styling which was a perfect complement to his raw vocal rendering on this double-entendre tune. Ealey has generated a media buzz with his new CD, and this show reinforced his reputation as one of the most gutsy performers on the scene.
---
Birdlegg
It was fun to catch Birdlegg and the Tight Fit Blues Band at Dotha's Juke Joint located in Everett and Jones Barbecue Restaurant in Oakland on a recent Saturday evening. Birdlegg is a remarkably talented harmonica player who delivers the lyrics with gravelly intensity. He attacks a tune like a man possessed and paraded through the audience pouring out his soul on wailing harmonica. His rendition of the Jimmy McCracklin tune "Just Got to Know" was outstanding with wonderful harmonic flourishes. For good barbecue and exuberant blues, this is the ticket!
---
Freddie Hughes
Soul vocalist Freddie Hughes (photo at right) appeared at Biscuits and Blues with The International Alpha Band on a recent Saturday evening. The band consisted of some of the best Bay Area musicians including Rich Kirch on guitar, Ron Perry on bass, Austin De Lone on keyboards, Ernest Carter on drums, Gaylon Jenkins on trumpet and Ben Petry on saxophone.
Freddie Hughes delivered a power-packed vocal demonstration that had the audience mesmerized, and the clock literally fell off the wall during one long sustained note! On an original tune, "Broke and Hungry," Hughes told his story of being a bluesman in Oakland. His soulful rendition of "Send My Baby Back" had the women cheering with delight. On the Al Green classic, "Take Me to the River," Hughes painted a vibrant emotional palette with his distinctive vocal style. This was an absolutely outstanding show by Hughes who is reaching new heights in his long career as an underappreciated performer (except by some of us who have been following him for a long time).
---
Otis Taylor
Otis Taylor is one of those musicians who cannot be categorized. His music is an acquired taste and a raw expression of racial injustice with an African-derived delivery. At his recent show at Biscuits and Blues, Taylor was celebrating the release of his sixth CD, "Below the Fold." On this occasion, his band consisted of all string instruments in an unorthodox exploration. Taylor's version of "Baby, Please Don't Go" was an intense roots interpretation with a fast voicing introduction to a blistering guitar exhibit. His rendition of "Please Come Home Before It Rains" featured scatting and a spirited solo on mandolin. A highlight was on "Hambone" with Taylor crowd walking while exhorting the audience to join in. Even though the show encompassed blues, Taylor rendered a distinctive edge that pushed the limits with power and emotion. This was an exceptionally creative performance that bristled with intelligent musicality.
---
Alvin Youngblood Hart

Stepping out into the psychedelic side of the blues, Alvin Youngblood Hart made a stop at Biscuits and Blues recently to showcase his heavily rock-influenced crossover style. Only someone as talented as Hart could combine the past and future with such command. On his country-infused tune "Lawd I'm Just a Country Boy in This Great Big Freaky City," Hart's vocals were engaging. His tune, "How Long Before I Change My Clothes," was a mournful vocal exercise reminiscent of Howlin' Wolf. Hart embraced the heavy rock tunes with sizzling guitar intensity. This was a sparkling evening of high voltage music by one of the best of the younger generation bluesmen who are taking the music to another level.
---
| | |
| --- | --- |
| Alberta Adams | R. J. Spangler |
Alberta Adams
Detroit-based vocalist Alberta Adams has been performing for about sixty years and shows no sign of slowing down when it comes to performing. At her show at Biscuits and Blues, she was supported by her manager and drummer, R. J. Spangler, who is the nephew of Bud Spangler, Bay Area Jazz drummer and producer. The band featured James Cloyd on bass and vocals, Rick Smith on saxophone, and Paul Carey on guitar for an entertaining set of funk and blues. Adams hit the stage with the warning "I'm a dirty old lady" and went on to prove it! Her strong voice was amazing and had the sound person turning the buttons down! Her earthy take on the blues was delightfully displayed on "He May Be Your Man (but He Comes to See Me Sometimes)." Alberta Adams charmed the audience with her stage presence and wowed us with her incredible vocal phrasing and timing.
By Dorothy L. Hill
---
Back to

Contents Page
Jazz Now Interactive

Copyright Jazz Now, October 2005 edition, all rights reserved
jazznow@sbcglobal.net