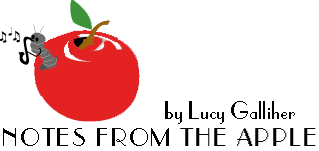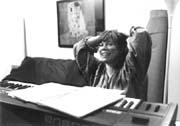 This month I'd like to highlight a few up-and-coming female singers, all with new CDs to present to the public. The singers I have selected are Teri Roiger, Andrea Wolper and Joan Crowe. In addition, a new writer from Jazz Now, Ayana Lowe, will be contributing to this article.
Teri Roiger Sings at Sweet Rhythm
Teri Roiger was a refreshing breath of fresh air: straight-ahead Jazz and Bebop that featured Frank Kimbrough on piano, her husband John Menegon on bass and Matt Wilson on drums. In addition to her recent CD release party at the Jazz Standard, she sang one night at Tessa Souter's Jazz Vocal Series. Teri selected songs from her new CD, Still Life, for her performance at Sweet Rhythm.
Roiger sang in a sultry alto voice in her opening number on "Maybe" by Billy Strayhorn. I liked the way she easily cued the band, especially the drummer, and looked very comfortable on stage. Frank Kimbrough, the pianist, took a funky solo, and surprisingly, after Teri sang the head again, she gave the bass player a solo.
Eddie Jefferson wrote lyrics to James Moody's solo on "I Cover the Waterfront," and retitled it, "I Just Got Back in Town." Teri chose this piece for her second selection. I was amazed at Roiger's great mic technique, in addition to remembering all the words and rhythms to this tune. Even though the tune was played as a ballad, she managed to get all the words in with good diction, so the audience could follow it.
People have compared Teri's voice to Abbey Lincoln, Carmen McRae and Anita O'Day. I can see why, as she has obviously spent a great deal of time listening closely to these Jazz singers. She decided to add the verse to the well-known standard "The Very Thought of You." The band played this song faster than the previous one, and Matt Wilson added some nice brushwork on the drums. Teri scatted a chorus with totally natural phrasing, and got a nice response.
Teri Roiger wrote the lyrics and the music to "Still Life," the title cut of her CD. I was definitely reminded of Abbey Lincoln here. This bossa-nova has beautiful and deep lyrics, and Teri sang it with a cool understanding. Her original lyrics are written on the back of the CD cover - the chorus is: "Still Life, moment's reflections, portrait of life's imperfections."
Roiger's tribute to Carmen McRae was inherent in "It's that Old Devil Called Love." Teri's voice can take on a different quality, but it is just a facet of her personality. This piece was recorded on Teri Roiger's previous CD, "Misterioso," with Kenny Burrell, Jack DeJohnette and John Menegon.
I asked Teri Roiger a few questions about her resulting experience. She said, "I worked several gigs with Kenny, but he's at UCLA now in California, and I live in upstate New York. I really miss him."
"My husband, John and I are starting our own record label. It's called Maki Records, named after our dog, who is part Aussie shepherd."
"We recorded Still Life, and we (the musicians) hadn't ever played together before. And so, now that we're doing the gigs, they're different every time, and I love it. I'm always surprised at how it is going to come out. I did the same thing with my first record - I didn't rehearse it. It's just one way of doing things. I'm going to be doing a Strayhorn CD, for that one I'm going to have arrangements, as David 'Fathead' Newman is playing on it."
by Lucy Galliher
---
An Evening at Makor, featuring Jazz vocalist Andrea Wolper
The recent tragic events of the Gulf Coast region have left this reviewer feeling helpless, frustrated and downhearted. That is why the touching and unusual concert presented by Andrea Wolper was a much-needed gift.
Adorned in a simple outfit of silk black pants and a silver top, the beguiling, red haired jazz singer, Andrea Wolper, held the audience in her arms as she sang from her new CD, "The Small Hours." Her voice was immediate and personal. The roots of her immediate style can be traced to her musical relationship with her mother. As a child, Ms. Wolper and her mother sang songs together. The warmth and tenderness from those interactions filters through her music today. She's a brave, unpredictable and soulful singer whose warm and sensual voice draws the listener into her delectable world.
The evening's music featured a wide variety of styles, but Ms. Wolper fashioned each song as her own by reharmonizing many of the melodies. She also arranged all of her material. Surrounded by a first rate musical ensemble that included Ron Affif on guitar, Ken Filiano on bass, Michael TA Thompson on drums and Frank London on trumpet/flugelhorn, Ms. Wolper aptly told her impassioned story.
The evening's program began with a spirited version of Antonio Carlos Jobim's tune,"Favela." Affif's solo introduction was vigorous melody behind Ms. Wolper's singing. Her elegant scat singing danced with Filiano's arco and pizzicato bass lines and glided on the shimmering rhythms of Thompson's drum patterns. Frank London played the flugelhorn with grace and allure. His tone was akin to Ms. Wolper's voice - dense and melodious. He played as if saying a prayer in Ms. Wolper's rendition of Cole Porter's, "You'd Be So Nice to Come Home To."
Ms. Wolper's arrangements were equaled by her fine lyrics and compositions. "Rendezvous in Providence" was a composition written by Ms. Wolper for the poem of the same name by D. Nurkse, and was performed as a duet with Filiano. In their interpretation, it became a web of passion and longing. Michael Thompson articulated the brooding tension Ms. Wolper created in "It Could Happen to You." His introductory solo sparked a cascade of rhythmic accents.
Ms. Wolper is an artist of uncompromising sincerity and creativity. When she is on stage, it is obvious how much she likes to connect with her audience. Ms. Wolper requested that the house lights remain up so she could see her audience's faces. Her charm, grace and versatility made this a poignant and meaningful musical event. I hope to see many more of her performances.
By Ayana Lowe
---
Joan Crowe at Iridium, celebrating the release of her recent CD, "Bird on the Wire."
Joan Crowe is very personable; she filled the house at Iridium on a Friday evening to perform songs from her recent CD. Her bandmembers were: Tedd Firth, piano; Jay Leonhart, bass; Scott Newman, drums and Lisa Parrott, sax.
Crowe was very well-prepared for this event, and in an upbeat mood. On the tune "Fever/Caught a Touch of Your Love," she got the audience to participate by having them snap their fingers with the music. She moved around the stage in a sexy red and black dress.
Crowe appeals to a wide audience - this is "easy listening" music. She's an actress, a cabaret star, and became involved with Jazz relatively recently.
Joan's tunes are very diverse - she sang Leonard Cohen's "Bird on the Wire" with a gospel feel, and Loesser's "Sit Down, You're Rocking the Boat" as a reggae-funk combination. Crowe's original tune "Petite Southern Woman" is a true story about her mother-in-law, and is quite witty. Her rendition of "The Way You Look Tonight" (Kern/Fields) was very sweetly dedicated to her daughter.
Ms. Crowe's CD, "Bird on the Wire" is engaging. Listeners will enjoy her voice and the variety of styles. That's it for September's Notes from the Apple. See you next month.
by Lucy Galliher
---

Back to

Contents Page
Jazz Now Interactive

Copyright Jazz Now, October 2005 edition, all rights reserved
jazznow@sbcglobal.net