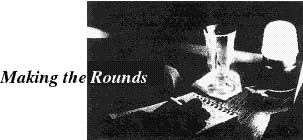 Eddie Gale
The Master Teacher Among the San Francisco Bay Area's creative music masters is trumpeter Eddie Gale, a veteran of the Cecil Taylor and Sun Ra ensembles, whose weekly improvisation workshops sponsored by the California Arts Council continue to inspire and nurture the work of beginning and developing musicians alike.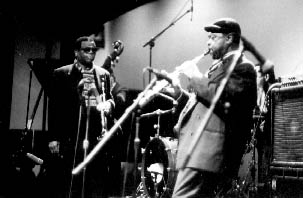 A case is point was the October 10, 2001 "Year of the Arts" concert at San Jose State University, where Gale is an artist-in-residence. What was lost on the media, including the San Jose Mercury News, is that Gale is among the few performing artists in this region who recognizes the importance of oral tradition as a means of imparting musical knowledge. And what better way to establish dialogue with workshop participants than to bring in the reed virtuosos Prince Lasha, Roland Alexander, and Karlton Hester especially for the event? Those who attended the rehearsals immediately prior to the concert witnessed Gale's genius in creating environments that are conducive to musical dialogue.
There were some marvelous moments: Lasha (photo above with Eddie Gale at left by Haybert K. Houston), just in from the long East Bay commute, established near-telepathic communication with pianist Will Nichols, a few moments into his baritone saxophone solo on the piece, "Take Time to Feel." Alexander coached the rhythm section with engineer-like precision, with attention to complex rhythms in their most minute detail. And the sounds of Gale and Hester's horns merged to create a powerful voice greater than the sum of their parts. The pedagogical value of this kind of experience should not be underestimated. A good measure of the success of Gale's workshops is the degree to which participants are able to interact with professional musicians. For further information about this outstanding program, which is held in both Oakland and in San Jose, California, visit www.eddiegale.com.
by James D. Armstrong, Jr.
---
Quad City Blues and Jazz News

The Mississippi Valley Blues Society brought Chicago's Jazz, Blues and Gospel singer, Katherine Davis, for a Blues in the School residency September 24 - 29. Photo below is of Ms. Davis singing and one with a student.



Jazz Singer and educator, Semenya McCord, who has been teaching and performing in Boston for over 20 years, brought her pianist and drummer to do a tribute for her deceased musician father, Ken Henderson, at the Bethel Baptist Church in Galesburg, Illinois. You probably could guess what her closing tune was; Horace Silver's "Song for my Father"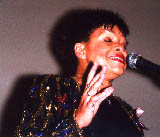 Photos and article by Jimmie Jones
---
Back to

Contents Page
Jazz Now Interactive

Copyright Jazz Now, November 2001 issue, all rights reserved
jazzinfo@jazznow.com