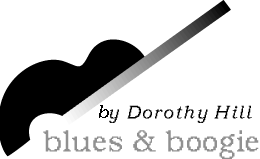 San Francisco Blues Festival
Photos by Dorothy Hill
The 30th Annual San Francisco Blues Festival kicked off with the free waterfront concert at noon Friday, September 27, 2002 and Battle of the Blues Harmonicas featuring James Harman, Paul DeLay, Johnny Dyer and Mark Hummel. Paul DeLay was the outstanding performer with his raw and humorous delivery of original lyrics. This harmonica player's mastery of the chromatic is brilliantly refreshing. It was a stellar group of harmonica players and they put on a rollicking show to get everyone in the mood for the upcoming festival on Saturday and Sunday.
On Saturday, the day was clear at Fort Mason and after everyone staked their claim on the grass, the show began with Producer Tom Mazzolini's welcome. The MoFo Party Band did indeed get the party going with their rocking roadhouse style of blues. A real treat was the acoustic duo of Reverend Rabia and Virgil Thrasher with their country folk blues. Next up was a long-awaited performance by Toni Lynn Washington on her first visit to San Francisco. Now based in Boston, this North Carolina native evolved to rhythm and blues through the church and those spiritual roots were evident in her performance. Ms. Washington delivered powerful, emotional vocals on "Oh What A Dream."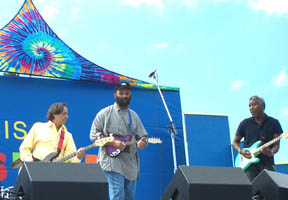 The outstanding performance of the day was that of Otis Taylor (photo at left). Taylor is seemingly an unusual booking at a blues festival since his lyrics are bitingly brutal political poetry delivered with emotional intensity and skillful guitar and electric banjo playing. At first, the audience was inattentive but by the end of the first tune, they were enthralled - they got it! The band consisted of bassist Andy Passarelli and electric guitarist Eddie Turner. Turner's mind-bending guitar sounds stunned the audience. Taylor presented the most original program of the festival. The dark insightful messages conveyed by Taylor's subject matter were enthusiastically embraced and it was all too short for the audience who wanted more. His delivery on the soulful composition, "Resurrection Blues" was riveting. Taylor proved to be a tour de force on this occasion.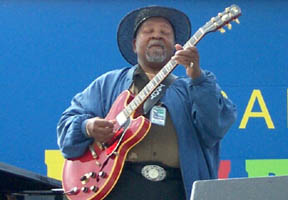 Missing from the music scene for thirty years, Jody Williams (photo at right) in 1966 put his guitar under his bed and became an electronics engineer leaving the Chicago blues scene behind. Although his classic compositions and unique guitar style were copied by blues legends, Williams was never accorded the recognition for his major contribution to the work of others such as Bo Diddley and Howlin' Wolf. But on this day, he certainly proved that "Jody's Back In Town." The excellent Johnny Nocturne Band backed up Williams. Performing his composition, "You May," Williams demonstrated why he remains a legend despite his long absence - his guitar styling is unique and his soulful vocal expressions were distinctively articulate. Clearly, Jody's back and the audience this day appreciated having him back.
Howard Tate also made a comeback appearance returning to the music scene after a long hiatus. This soul singer was a cult figure for many years and presumed dead by many in the music world, but he proved to be up to the task on this day. Tate's falsetto vocals were uniquely visible on the tune "Part Time Lover."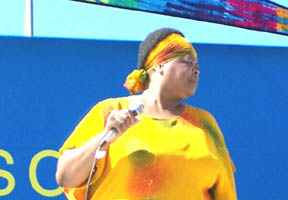 On Sunday, the festival commenced with Stars of Glory consisting of five female vocalists in a traditional gospel program.
In her first appearance at this festival, Big Time Sarah (photo at left) put on a dynamic performance backed up by the Steve Freund Blues Band. Chicago vocalist Sarah turned up the heat with her powerful vocals and upbeat rhythm and blues style. She then changed the mood on a slow mournful version of "Summertime." In a tribute to Big Mama Thornton, Sarah cajoled the audience into getting up and dancing along to a medley dedicated to Big Mama Thornton including the tune "Hound Dog."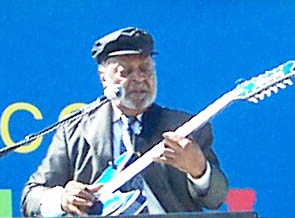 Robert Jr. Lockwood (photo above) at 86 years old is a link to the roots-Robert Johnson, no less, who was his stepfather--and a fascinating figure in the blues world. Lockwood lived up to his status as a legend this day performing his unique acoustic guitar style and still powerful vocals supported only by bass. Lockwood's voice was clear and spirited as he performed including the tunes "Honey Bee," the Robert Johnson composition, "Ramblin' On My Mind," and "C.C. Rider." His playing is understated but makes the point with every nuance of timing and phrasing. Lockwood showed that he remains a blues giant.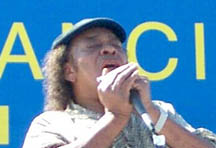 The legendary harmonica player, James Cotton (photo at left), brought along his excellent boogie pianist, David Maxwell, and Darrell Nulisch who took over on vocals since Cotton can no longer sing after successful throat surgery. Cotton has an infectious stage presence and he performed a tireless hard-driving set that had the audience wound tight. Cotton's harmonica expertise is unequaled and he proved this day why he is known as Mr. Superharp.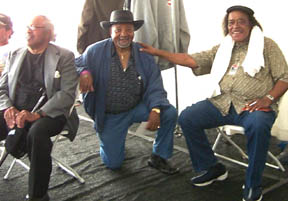 Backstage everyone was catching up with each other. Caught together in a poignant pose were Chicago legends--Francis Clay, drummer with Muddy Waters for many years, Jody Williams and James Cotton (photo at right). The setting was electric and filled with good cheer. Unfortunately, I could not tear myself away to catch the set of Otis Rush but the reports were that he put on one of his best performances of recent years.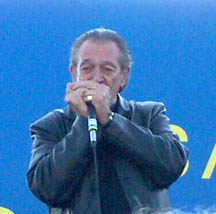 The finale was a Chicago Blues Reunion featuring Steve Miller, Charlie Musselwhite (photo at left), Elvin Bishop, Barry Goldberg, Harvey Mandel, Nick Gravenites and Marcy Levy. Musselwhite's harmonica virtuoso is well-known, but he proved on this occasion that he is also an adept and emotionally moving singer. The long set gave each artist an opportunity to stretch out. This portion of the festivities proved to be a momentous occurrence leaving the audience well satisfied.
The consistent strength of acts presented by the San Francisco Blues Festival continues unabated year after year and the 30th distinguished this festival once again as one of the eminent blues events in the world.
by Dorothy L. Hill
---
Back to

Contents Page
Jazz Now Interactive

Copyright Jazz Now, November 2002 issue, all rights reserved
jazzinfo@jazznow.com