Candido Camero
When I was just a little boy, my brother introduced me to the music of Candido. Candido was born April 22, 1921 in Havana, Cuba. He emigrated to the United States in 1946. He is credited with pioneering the use of multiple congas when other congueros were using a single drum.
I first saw him when I lived in New York. He was performing on the Jazz Mobile in Harlem. I was proud that at that time I had two of my kids, Ronbert and Rhonda with me so that they could see and hear this legend.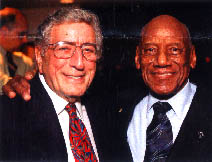 Candido was honored in New York City on September 30, 2004 by a premiere of the film Candido: Hands of Fire. The documentary was followed with a special ASCAP achievement award ceremony and reception which featured a speech by Candido's good friend, Tony Bennett.
Produced by acclaimed independent film director Ivan Acosta, the film examines the life of a master percussionist, whose career began decades ago in Cuba by beating on two empty condensed milk cans in lieu of bongos. In the film Candido reminisces about his humble background and his transition to stardom on the American circuit.
Some of this information and the photo by Martin Cohen was provided by a LATIN PERCUSSION NEWS press release.
Haybert King Houston, Publisher-Editor-in-Chief,
Jazz Now
---
Mindseed Corporation Celebrates 25 Years of Business.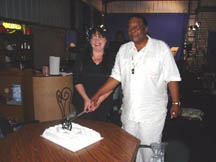 Mindseed corporation consists of an Entertainment Division and a Transit Manufacturing Division. The company was founded by Ed and Joanne Anderson. Ed is the Chairman and Joanne is the President (photo at right).
Mindseed Records is a part of the entertainment division that includes a recording studio, sound stage, a television studio. The record company does highspeed CDs, duplication, thermal printing, CD layout and packaging, design. They track, record, mix and master audio CDs, film scores and original tracks and compositions, create DVDs, duplicate them in stereo and 5.1 Surround Sound and many other things pertaining to the music and entertainment business.
I went by on our publishing deadline eve to attend their 25th anniversary celebration. It was attended by people of the entertainment world and some executives from the new Oakland start up television network Our TV. It seems that Mindseed will play a part in the new TV network.
We hope that Mindseed will be around for at least another 25 years, they are good for the community.
by Haybert King Houston
---
Jazz Now Interactive November 2004 Vol 14 No. 7 - Table of Contents
Copyright Jazz Now, November2004 issue, all rights reserved.
Comments: jazznow@sbcglobal.net