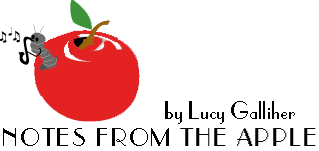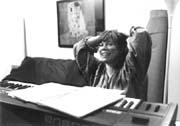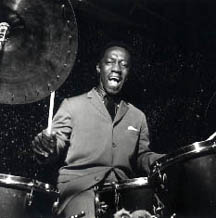 October 2004 - Art Blakey Jazz Messengers Reunion at Iridium. This fabulous week of music at Iridium was a tribute to the legendary drummer Art Blakey, (photo at right by Francis Wolfe) in what would have been his 85th birthday celebration (on October 11th). The night I went, the band consisted of: Valery Ponomarev, trumpet; Bobby Watson, alto; David Schnitter, tenor; John Hicks, piano; Lonnie Plaxico, bass; Ben Riley, drums, and special guest Javon Jackson (photo below left by Jimmie Jones) on tenor sax.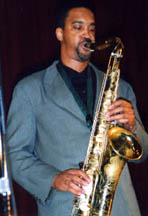 They started out the set with Curtis Fuller's tune, "A-la-Mode." This was a C-minor swing tune that sounded great with a four-horn section! Only one music stand was on stage, as they all had the music memorized - Blakey made them all learn the tunes thoroughly, so they could play them by ear. Watson took the first solo, and what a magnificent tone he can get on alto!
Art Blakey would be proud of this great rhythm section: Hicks, Plaxico and Riley. They were groovin' right in the pocket. On the one hand, Bobby Watson (photo belowby Dan Audain) was chasing the tune, anticipating the moment, and on the other hand, Schnitter came in with little phrases and rests, always answering. Constantly building his solo, David Schnitter's ideas on tenor were angular and modern, and fit in perfectly with the tune. Halfway through, the other horns entered with spontaneous background lines. During all this time, the undercurrent of the rhythm section was rock-solid steady.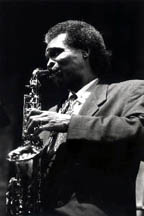 The trumpeter, Valery, was relaxed in manner and knows his instrument inside and out, creating exciting solos throughout the evening. Javon is seemingly the smooth one, but can scream like Trane when he so desires. "A-la-Mode" continued to warm up the crowd, with more riffs played by 3 horns behind whoever was soloing. Bobby started dancing during John's solo on piano. McCoy-like here, he got some fast riffs going in the right hand, while the left hand punched out some chords built on fourths and fifths. People actually were paying attention during the bass solo, it was that interesting.
Benny Golson's "Along Came Betty" was next. The melody was played in unison until the last "A" section, then Javon took it away. Valery obviously liked what he heard, and played his trumpet up into the stratosphere, eliciting a big applause. Schnitter once again showed that he believes in contrast. His solo started out exactly opposite to what went before, in this case an understatement. But soon he started wailing, showing his depth of feeling. The pianist is next, double-timing an entire chorus of the music. Totally in control, Hicks reeled off some hip lines, leading the band to the shout chorus.
Watson, (was a subscriber to the Jazz Now print magazine and was the cover subject of Volume 6, Number 10, the March 1997 issue) the extrovert, acted as the spokesman (and the comedian) of the group. At the end of "Along Came Betty," Bobby started playing Bird's "Little Suede Shoes" over the turnarounds! Long introductions of each member of the band made the audience feel like they knew the guys. He spouted several anecdotes, and got a smile out of Plaxico for calling the bass player "the Workhorse."
"One By One," a Wayne Shorter composition, was again a feature for all the horns to solo. In a nutshell, Bobby played a smoker, David brought it down to a slow roar, Valery responded with long bebop lines and a beautiful tone. Javon was all business but "so cool," and all eyes turned to John during his gorgeous G-minor piano solo.
"Blues March" and "The Theme" are two of Blakey's most popular tunes, played by most Jazz musicians. The march started off with a drum introduction, and the horn players traded first choruses, then four measures, then two! If that wasn't enough, they all started soloing at once! John Hicks' solo on piano was incredible after this. No pedal, he just played his fast fingers on the keys, followed by two-fisted chords, with Ben Riley following his every move. Here the expertise of the drummer was finally allowed to be heard, and what an honor to be following in Blakey's footsteps.
I stayed for part of the next set, wherein the band played "E.T.A.," "Body and Soul" and James Williams' tune, "Alter Ego." James Williams died way too young this past summer, and he will be sorely missed, but we can pray that he's up in heaven with Art Blakey!
History was being made here, and I was glad to be a part of it, if only to cheer them on. Russ Musto, Jazz Journalist, organized this group of musicians for the occasion of Art Blakey's birthday, and was able to amass quite a collection of alumni. Some of the other featured guests that week were: Mulgrew Miller (piano), Louis Hayes (drums), Gary Bartz (alto), Donald Harrison (alto) and Ralph Peterson (drums). Great work!
by Lucy Galliher
---
Jazz Now Interactive November 2004 Vol 14 No. 7 - Table of Contents
Copyright Jazz Now, November2004 issue, all rights reserved.
Comments: jazznow@sbcglobal.net