UMBRIA Jazz 2004
by Kate Kaiser
The Umbria Jazz representatives at the IAJE (International Association for Jazz Education) Conference in January 2004 in New York had done a fantastic job promoting their baby, the Umbria Jazz Festival in Perugia this past July! Not only lured the prospective visitors with delectable samples of regional food and wines but they also brought along a very exciting young ambassador of Italian Jazz, 14-year-old alto saxophonist Francesco Cafiso from Sicily. Festival founder and Artistic Director Carlo Pagnotta's enthusiasm and track record as organizer of one of the premier Jazz festivals in the world convinced me right then and there that I had to go to Italy to experience this event first hand.
With ample of lead-time, I set up a low budget vacation in Perugia. Not the $4,500 per person SF Jazz-sponsored trip to the same festival, but the real Jazz thing, an economy class flight on Alitalia from Newark, New Jersey (very special place for Jazz right there) along with a double occupancy room in a $30 per night historical Perugia bed-but-no breakfast inn. I had no idea who my roommate would be but amongst Jazz fans, I was not worried. It turned out my bed neighbor was a middle-aged flutist from England - attending the Berklee Summer School at Umbria Jazz. Sally was her name and she was so enthusiastic about her first days there that I went with her right that morning and signed myself up for the Clinics as well. For lack of proficiency on a musical instrument, I was assigned to the gospel choir classes. I didn't care as long as I was admitted. By the way, famous Italian bassist Giovanni Tommaso served as Director of the Umbria Jazz Clinics, and he was not the only well-known musician making an on-campus appearance, Grammy Award winning Pianist Michele Camilo and Swing tenor saxophonist Harry Allen also stopped by to lead clinics for the students. The atmosphere on the historical campus was inspiring and competitive. My gospel choir class was proof of that. There were nearly 250 students from all over Italy and the world, including Russia, Germany, France, England, and even Australia. Up for grabs were 20 prestigious Berklee scholarships, totaling $166,000. One of them was won by 27-year-old Italian National Miwma Pistol from my gospel choir class. (Photo below of the scholarship winners with Miwma Pistol in front).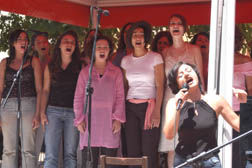 After and in-between my morning and afternoon classes (six days a week!), I rushed uptown and downtown the medieval cobble-stoned streets and back alleys, to attend as many of the 230 concerts (over 400 artists) as I possibly could pack into my 10 days there. Without air-conditioning and in temperatures between 80-90 degrees I actually got a great physical workout without evening thinking about it. The action was spread onto 11 stages all over town. Many concerts were free of charge, the program spanning from gospel matinees, bands parading New Orleans style down the main street, several outdoor arenas and Jazz brunches and dinners in featured restaurants/hotels. It was Jazz non-stop from noon to 3AM each day. After the last concerts were over, people were still partying in the streets. There were long lines in the bakeries in the wee hours of the morning, night owls trying to grab fresh pastries straight from the oven.
During the 12 days of Umbria Jazz 2004, about 250,000 visitors descended upon this usually much sleepy university town. Sold out concerts included B.B. King, Keith Jarrett, Alicia Keys and Burt Bacharach in the main concert venue, Arena Santa Guiliana. Audience favorites in the smaller venues included Charlie Haden, Joe Lovano, Marc Ribot, Kurt Rosenwinkel and Nicola Conte.
I actually had the pleasure of meeting Bacharach and his wife Jane prior to the concert at the "La Taverna" restaurant where they enjoyed a quick bite. Great people, both of them. Genuinely unpretentious and nice. Before heading off, Burt said to me "you better rush now, otherwise you'll miss Michael Bublé, and he is really good." (Note: Bublé was opening for Bacharach that evening.) A hug - just like among old friends - and off they went. The evening continued to be magical for me with one of the best concerts I ever saw in 27 years of live music exposure. It was amazing to have an entire stadium of 4,500 mostly Italian fans sing along "What the World Needs Now Is Love" and "Windows of the World" with Bacharach and his choir. Not Jazz but definitely integral parts of the Popular American Song Book, a world class act, appealing to a wide audience.
Aside from live music and Jazz education, there were also press conferences for Italian authors of Jazz-themed books. One of the featured books was Adriano Mazzoletti's history of early Jazz in Italy (a second book is planned to complete the history). Mazzoletti, coincidentally had organized, together with Carlo Pagnotta, the very first Jazz concert in Perugia 50 years ago, two nights featuring Louis Armstrong at the historical Teatro Morlacchi. An author event highlighted Vittorio Franchini, music reporter at the famous Italian newspaper Corriere della Sera, who ventured out to write a tour guide (in Italian language, no photos) subtitled "Lousiana: Jazz, voodoo, alligatori."
I had a great time in Perugia and have definite plans to return soon. The atmosphere was magical, mixing and mingling with fellow Jazz fans, musicians, students and local Italians a non-stop happening. Oh, before I forget, Francesco Cafiso, the young Sicilian tenor man I previously mentioned, was there as well. He is 15 years old now - which makes a BIG difference at that age - and had matured remarkably since his New York visit only six months before. He was still a shy boy back then, in awe of the musicians he sat in with at the IAJE conference. In Perugia, Francesco ascended the stage as an equal, negotiating his solos and showing a remarkable enthusiasm. Not only did he play at the various venues around town each single day, but he also stopped by Harry Allen's late night performances at the "Bottega del Vino" to sit in every other night. They couldn't get him off the stage, not even after the restaurant closed at 2AM and Umbria Jazz Artistic Director Carlo Pagnotta cheering Francesco on (after all he discovered the teenager) only assured that the jam sessions continued on. Umbria Jazz signifies the spirit of Jazz, full of life and fun, thriving as far as audience numbers are concerned and with ample of opportunity to learn for those who seek personal and professional fulfillment in this wonderful music.
---
Jazz Now Interactive November 2004 Vol 14 No. 7 - Table of Contents
Copyright Jazz Now, November2004 issue, all rights reserved.
Comments: jazznow@sbcglobal.net