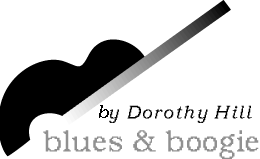 Arkansas
Blues and Heritage Festival
(aka King Biscuit Blues Festival)
The King Biscuit Blues Festival, upon reaching its twentieth anniversary, was blindsided and the festival, under the direction of the Sonny Boy Blues Society, ended up at the last minute with a new name. The behind-the-scene facts were that an entertainment corporation in New York City which owns the King Biscuit trademark demanded a large portion of the proceeds from the festival. Since the festival is free and run by volunteers, this was unacceptable. To most of the estimated 85,000 attendees, it was still King Biscuit. Even the weather cooperated with comfortable daytime temperatures, although it was cold in the evenings.
This three-day blues pilgrimage, from Thursday, October 6 through Saturday, October 8, cannot be compared to a mere festival. It is a gathering of blues aficionados from around the world who soak up the Delta blues atmosphere in historic Helena, Arkansas, which is located on a levee of the Mississippi River. Nearby attractions include Beale Street in Memphis, Tennessee, and Clarksdale, Mississippi. Of all my experiences in attending blues functions, this is the ultimate.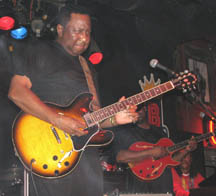 After arriving in Memphis, I headed over to B. B. King's on Beale Street where guitarist/vocalist Preston Shannon (photo at left) was appearing. Shannon is a fixture on the Memphis scene, and his repertoire covered a good dose of soul along with blues-infused tunes. The outstanding band with Norris Johnson on Hammond B-3, superbly supported the charismatic Shannon. His smoldering slow version of "Purple Rain" was uniquely rendered with gravelly vocals and stinging guitar. Shannon also covered the Bob Seger tune, "Trying to Live My Life without You" and "The Sky Is Crying." It was obvious from this performance why they call Shannon one of the reigning princes of contemporary Beale Street!
The next day, I drove to Lula, Mississippi, to check into the host hotel, the Isle of Capri, also a major sponsor of the festival. That evening the festival hosted a cocktail get-together and after finding the ballroom, it was wonderful to see the Diddley Squat Band (whom I met at the festival last year ).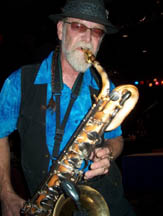 This unusually talented group concentrates on original tunes featuring graphic lyrics relating to the travails of life. Their live-wire performance warmed up the sparsely filled room with Rick Sims (photo at right) coming down into the audience playing baritone saxophone while guitarist/vocalist Jim Cobb with his bluesy vocal styling and Rodney Beal on bass and Morris Eldridge on drums kept the groove going on stage.
The first day of the festival dawned early for those of us who wanted to get good seats in front of the main stage and orient ourselves to the many vendor booths and street musicians performing on historic Cherry Street in downtown Helena. We checked out the locations of the other stages spread out over several blocks. Along the way, there were many reunions with acquaintances from last year.
The festival officially opened with Big George Brock and the Bill "Howl-N-Madd" Perry Band. Brock, seventy-three-year-old Delta harmonica master, still dazzles with his powerful vocals and astounding harmonica riffs. Always smartly attired, Brock is one of those seasoned veterans who knows how to ignite a crowd. His performance was certainly a momentous opening.
In searching for a soul food breakfast, a small group of us discovered MaMa Curtis Deli and Home Cookin'. There were five tables in front and a kitchen in the back run by a gracious group of women. We learned the first day that orders were made from scratch, and timing was not part of the menu. The food was wonderful, and we kept returning and sharing stories about our adventures at MaMa Curtis's such as the time we ordered sweet potato pies to go when we arrived and when leaving were told to come back in two hours only to find that they had sent one of the family members to the store to purchase a needed ingredient. Our pies were finally ready seven hours later and well worth the wait! We were treated with that good southern hospitality, and by the time the festival was over, we just went right into the kitchen to get our orders and whatever else we needed.
This year the festival licensed musicians to perform on the street, and it definitely made for a lively scene. Wandering back down Cherry Street, it was a delightful surprise to run into Lil' Jimmy Reed (whom I have enjoyed at his many appearances at festivals in the Bay Area) performing on the street. He was set up with taped background and a harmonica rack and was singing and playing guitar. On this occasion, his choice of material was more eclectic, and he happily obliged when I requested some downhome blues. His musical prowess came through even with the limited support.
Back on the main stage the winners of the Sonny Boy Blues Society Battle of the Bands, A. J. and the Two Tone Blues Band out of Shreveport, Louisiana, made a most impressive showing with A. J. demonstrating an uncommonly clear vocal tone and expressive harmonica especially on the title cut from their CD "Blue House."
| | |
| --- | --- |
| Lil' Jimmy Reed | Diunna Greenleaf and Jonn Richardson |
Diunna Greenleaf and Blue Mercy Band were the standout performers of the day. Jonn Richardson who won the 2005 Albert King Award for best unsigned guitarist demonstrated his searing technique while Bob Margolin held steady on bass and Kevin Barry drove the beat on drums. Greenleaf has one of the most powerful voices in blues and her distinctive delivery lights up the stage. Greenleaf's version of "Built for Comfort" was delightfully suggestive while her rendition of "Mother Earth" was soulfully elegant. Greenleaf was stunningly effective in her vocal delivery, and the interplay with Richardson was delightful.
Several other groups deserving mention were Mark Sallings and the Famous Unknowns with C. W. Gatlin and Sherman Billingsley with James Morgan. Lonnie Shields, Helena native, who has gained international recognition was home for the first time in five years. Big Jack Johnson joined the band on guitar for a wonderful solo on "Freedom." Shields delivered a solid set of blues on guitar and gospel-infused vocals.
A group of us closed out the evening at an unnamed juke joint ("Home of Frank Frost" was painted on the wall) where Terry "Big T" Williams was jamming with a number of musicians. James Morgan (who had appeared earlier on the main stage for only one tune) delighted the audience with his showmanship dancing, incisive blues vocals, and vocal mimicry of the harmonica. Big T is a fantastic guitarist/vocalist, and his souped-up version of "Little Red Rooster" was sensational.
Terry Big "T" Williams and James Morgan

Friday's main stage opening began with a minute of silence for the well-loved John Weston who recently passed and then a musical tribute which included Carla Robinson on bass guitar, high-hat, and bass drum; Dave Riley on guitar and vocals; and Bob Corritore on harmonica. Their set consisted of Weston originals including "I'm Not Your Junkman."
The legendary Sam Carr was still celebrating his seventy-ninth birthday and, although he seemed slowed down a little since last year, he and the Delta Jukes (consisting of Dave Riley on guitar and vocals and Stick Davis on bass) put on an exuberant performance. Carr is the godfather of the shuffle, and he was in the pocket. Larry McCray's set was a little rockish for my taste, so I headed off to the acoustic stage to catch Bob Margolin, and, to my delight, his partner on stage was not other than Hubert Sumlin who was not on the bill to play. Mookie Brill joined in on harmonica, and soon after Diunna Greenleaf joined the group. It became an all-star jam session which was absolutely riveting.
| | |
| --- | --- |
| Hubert Sumlin | Fruteland Jackson |
Next up on the acoustic stage was the uniquely talented storyteller/educator Fruteland Jackson who was accompanied by Fernando Jones on harmonica ("I Was There When the Blues Was Red Hot," a book by Jones, is getting critical acclaim). Jackson performed his tune "The Lonely Traveler" in tribute to Jimmie Lee Robinson (his friend, the late Chicago blues musician). His soulful version of his original tune "Blues 2.0" featured a field shouting melody.
Back on the main stage, Bob Margolin was joined on drums by Willie "Big Eyes Smith" and Mookie Brill on bass. Smith also displayed his skill on vocals and harmonica for a couple of tunes. Also, James Harman jammed on harmonica on a tune, and Calvin "Fuzz" Jones did a couple of Chicago-style vocals. Then it was time for ninety-two-year-old Pinetop Perkins, who still displayed pungency on keyboards and in his craggy vocal explorations. The next set featured Walter "Wolfman" Washington with a New Orleans-infused sound that lent a little funk to the festival. Washington's vibrant vocals were outstandingly effective on the tune "Mary Ann."
Another festival highlight was the performance of Bobby "Blue" Bland. This superstar remains at the top of his form, and he had the audience in the palm of his hand throughout. He plowed through tunes for which he is so well known including "I Pity the Fool," "Members Only," and "Saint James Infirmary" with total emotional involvement. It was an exhilarating performance. By that time, the weather had become so unbearably cold that I had to seek a warm place, thus missing my old friend James Cotton, but reports were that he was in fine form. I headed back to the juke joint for another session of rollicking blues with Big T.
| | |
| --- | --- |
| Bobby "Blue" Bland | Otis Taylor |
Memphis-based vocalist Reba Russell opened up the main stage on Saturday with a high energy vocal session. Russell's rough-and-ready rock style with a country-western twang were intense. Little Charlie and the Nightcats managed to energize the crowd with their jump-style blues show featuring Rick Estrin on harmonica, and it was especially entertaining when Pinetop Perkins strode onto the stage to just say hi.
Otis Taylor defies the conventional blues trail, and his performance this day with an all-string instrument band proved as riveting on a large stage as in an intimate club setting. His passionate and haunting vocal narratives and intense chord progressions on guitar were spine-chilling. This was definitely one of the premiere acts of the festival.
Although the band was still billed as Anson Funderburgh and the Rockets featuring Sam Myers, John Nemeth ably replaced Myers on vocals. Myers, who has been suffering health problems, made a brief appearance on stage in a bright red suit to cheers from the audience. Myers did a couple of harmonica riffs and a little dance. Legendary Robert Lockwood, Jr., stepson of Robert Johnson, is synonymous with Delta blues, and he was at the top of his game with a large band with a great horn section supporting his soulful vocals and warmly expressive guitar.
| | | |
| --- | --- | --- |
| Sam Myers and John Nemeth | David "Honeyboy" Edwards | |
On the acoustic stage, the most revered Delta bluesman alive, David "Honeyboy" Edwards, received the festival's lifetime award and then delivered a soulful take on "West Helena Blues."
| | | |
| --- | --- | --- |
| Mac Arnold and Max Hightower | Irma Thomas | Bobby Rush |
The act that I was most anxious to catch was Mac Arnold and Plate Full O' Blues on the Alltell Emerging Artist Stage. Arnold is "emerging" only from a long hiatus of touring, and if this performance was any gauge, he will be playing main stages everywhere soon. Arnold started his career as a bassist in the Muddy Waters Band. His cohort, Max Hightower, played harmonica and keyboards, and this band cooked. When Arnold sang "I'll Play the Blues for You," he meant it! His muscular vocal delivery is unusually effective, and he has charisma to spare. This was a rollicking blues presentation. I am happy to report that Arnold and the band will be appearing at Biscuits and Blues in San Francisco on November 15 in a birthday tribute to Francis Clay with whom he played in the Muddy Waters Band.
Back on the main stage, Irma Thomas, the Soul Queen of New Orleans, took charge in a classy performance of R&B and soulful lyrical interpretations. The closing act of the festival was the supreme showman Bobby Rush. His chitlin' circuit revue was delightful as usual with three dancers taking turns in the spotlight. Rush was as raunchy as ever, and had the audience in a frenzy with his provocative patter and suggestive lyrics. Starting off with "Ain't She Fine," Rush gave one of his finest performances. He didn't want to leave the stage and we sure didn't! It was a good thing that Rush closed out the festival because no one could have followed him!
---
The Twentieth Arkansas Blues and Heritage Festival
The Twentieth Arkansas Blues and Heritage Festival was as good as it gets. Legendary blues veterans were in abundance mingling with their fans and signing autographs. We were introduced to many future stars who are defining the blues from their personal experiences. Blues artists who have not had the spotlight but work in the trenches in the local clubs represented the richness of the region. These segments of the music were all represented on the various stages. This massive undertaking cannot be underestimated, and my hat goes off to all the volunteers who made it possible. As I have said many times over the last few weeks, this was indeed "blues heaven."
---
Clarksdale, Mississippi
After the festival, many of the musicians and fans head to Clarksdale's Hopson Plantation Commissary on Sunday for the annual Pinetop Perkins Homecoming. After reserving a table up front at the venue, I headed off to Ground Zero Blues Club for brunch.
Eb Davis, a wonderful blues vocalist, serenaded us with "Monday Morning Blues," backed up by a keyboard player and guitarist. Back at Hopson, the cavernous commissary quickly filled up to standing-room-only capacity. Clay Swafford, an extraordinary young keyboard player, enlivened the scene with his solo boogie-woogie styled tunes. Steve Cheseborough and the Mississippi Spoonman gave a spellbinding duo performance with Cheseborough on National Steel guitar. Mark Hummel and the Blues Survivors with Hummel on vocals and harmonica, Charles Wheal on guitar, Marty Dodson on drums, and Steve Wills on bass really got the place rocking.
| | |
| --- | --- |
| Big George Brock | Diunna Greenleaf and Bob Margolin |
The day was a free-for-all party with Big George Brock, Willie "Big Eyes" Smith, Bob Margolin, and Mookie Brill on bass doing a set of Chicago-infused blues, then Calvin "Fuzz" Jones joining the rhythm section for a turn on "Honey Bee."
When Pinetop Perkins took to the stage, the crush of people in front was incredible. During the show, tickets were being sold for a raffle and I purchased three. When my name was drawn as the winner, I went into total shock. The prize was the most beautiful huge bronze sculpture of Pinetop on piano by renowned Saskatchewan sculptor Pat Keenan. After all the excitement had died down, I mulled over whether I wanted to ship it home only to sit in my living room where it could be enjoyed by my friends. After deciding to donate it to a museum, I consulted Pinetop and he chose the Delta Blues Museum in Clarksdale. The next day we went to the museum where it had been moved at my request and took photos in the area where a permanent exhibit dedicated to Perkins will be assembled with the sculpture as the centerpiece. This was the most rewarding experience of my trip.
| | |
| --- | --- |
| Pinetop Perkins | Scultpture of Pinetop, Pinetop Perkins and Dorothy Hill |
---
Red's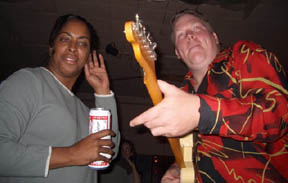 A more authentic juke joint could not be found anywhere, and after the Hopson show it is mandatory for those of us in the know to go to Red's. Lightin' Malcolm (photo at left with a fan) was holding forth on solo guitar and vocals. This quickly turned into an all-star jam with many of the festival attendees who also happened to be musicians (there was an aggregation from Belgium), unknown and known alike, sitting in. Especially intriguing was an harmonica player named Paul Orta who regularly tours internationally and did a stint in the house band at Antone's in Austin, Texas. His imaginative style was brilliant. Many hours of great music culminated with Malcolm closing out the evening with "Baby, Please Don't Go."
The next evening T-Model Ford was appearing at Red's in a special show. Opening up, eighty-five-year-old Ford proclaimed "I'm an old man, but I'm in a young man mood" while flirting with every woman in sight. He is known for his fondness for Jack Daniels but he seemed to be drinking something less strong this evening, and his guitar rendering and strong vocals were absorbing. The evening dragged in to the wee hours with many of the same musicians showing up and sitting in with one of their legends, T-Model Ford.
---
Boogie-Woogie Extravaganza at Ground Zero Blues Club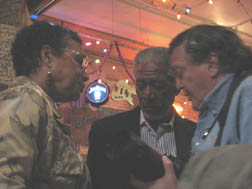 SunLion Films was in town filming a documentary honoring Pinetop Perkins and to emphasize the influence that boogie-woogie had on rock and roll. In addition to filming at the homecoming on Sunday, a special concert was held at Ground Zero on Wednesday night. I spent a large part of the day sitting on the porch of the club with Pinetop watching the crew set up while throngs of people came over to greet Pinetop (even Bobby Rush came by to say hello).
When the show got rolling, Clay Swafford played boogie-woogie on a beautiful blue Baldwin piano, and his rendition of "After Hours" was exquisite. Henry Gray (representing the New Orleans style), Marcia Ball (Texas) and, most importantly, Pinetop Perkins (Delta to Chicago) all performed while dancers recruited by the filmmakers did their thing for the cameras. Morgan Freeman (co-owner of Ground Zero and yes, the actor) and his wife (photo at right talking with famed photographer Dick Waterman) arrived and almost immediately took to the dance floor.
The icon of rock and roll, Jerry Lee Lewis, closed out the evening with boundless energy and absolutely tore the place up! Lewis appeared in better form than when I last saw him in May of 2004, and although it is hard to believe that he is seventy years old, he still delivers a dynamite show. From "Great Balls of Fire" through "Whole Lotta Shakin' Goin' On," he covered his hits with speed and dazzling technique. In an effort to see this phenomenal demonstration, people stood on chairs and lined the bar standing on top. This colossal event was the capper to one of the most incredible blues journeys of a lifetime!
Article and photos by Dorothy L. Hill
---
Back to

Contents Page
Jazz Now Interactive

Copyright Jazz Now, November 2005 edition, all rights reserved
jazznow@sbcglobal.net