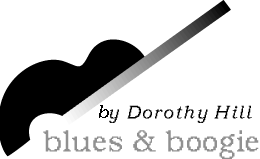 The Holmes Brothers
The Holmes Brothers were welcomed to Eli's Mile High Club by their loyal fans for a fantastic show of uplifting blues and a little spiritual gospel. The band consists of Wendell Holmes on guitar, keyboards and vocals, Sherman Holmes on bass and vocals and Popsy Dixon on drums and vocals. This trio has become one of the most sought after groups touring the world and after thirty years of performing in every type of venue, itís about time!
| | | |
| --- | --- | --- |
| Wendell Holmes | Sherman Holmes | Emma Jean Foster |
| | | |
Wendell Holmes started off the show with his funky version of the Jimmy Reed tune "Big Boss Man" on guitar and vocals. On "The New And Improved Me," Wendell's gritty vocals plead for one more chance. Their version of the Merle Haggard tune, "Okie From Muskugee," was hilarious.
Vocalist Emma Jean Foster joined Sherman Holmes in a breathtaking rendition of "Amazing Grace." Ms. Foster projects a majestic elegance on stage and remarkable vocal delivery.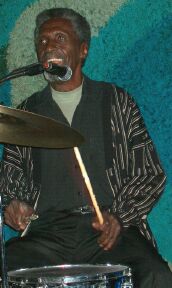 One of the highlights of the show was a three-part harmonizing on the tune "There Goes My Everything" with the awesome falsetto styling of Popsy Dixon. The show-stopper of the evening was a solo vocal by Popsy Dixon (photo at right) who possesses one of the richest voices in gospel and blues.
The Holmes Brothers were right at home in the juke joint atmosphere of Eli's. This show was riveting to say the least and again affirmed my opinion that this is one of the most refreshing and innovative acts to be found on the planet!
Zakiya Hooker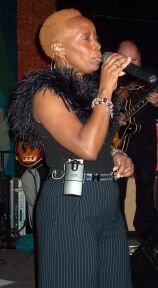 Although better-known as the daughter of the legendary John Lee Hooker, this lady is an extraordinary vocalist in her own right as she amply proved on a recent evening at Eli's. Hooker combined a variety of musical styles in her show and started off the evening with a funky version of "Crossroads." Hooker's soulful take on "Damn Your Eyes" was a revelation of how good she can get. Of course, as she said ìit wouldn't be a blues show without "Down Home Blues." Drummer Marlon Green did a wonderful solo on drums and came down on the floor playing the tables proceeding over to play my legs!
If you want a good solid fun show featuring a wonderfully talented performer, you have to catch Zakiya Hooker (photo at left)!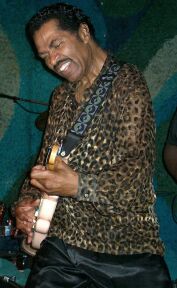 Bobby Rush
Bobby Rush (photo at right) is definitely one-of-a kind southern soul performer! Recently honored as the Best Live Performer by Living Blues Magazine and featured in the PBS blues series segment "The Road Memphis" along with B. B. King, Rush is finally getting some long-deserved recognition. His new DVD and CD entitled "Bobby Rush--Live at Ground Zero" was recorded at Morgan Freeman's club in Clarksdale, Mississippi. What a treat it was to have Rush in the Bay Area again for the first time in over two years and he appeared at Eli's in Oakland, Moe's Alley in Santa Cruz and at the Horsemen's Club in Sacramento.
Rush brought along his Mississippi band including three dancers who perform some amazing gyrations with concentration on the backside. All of this is done with tongue-in-cheek double entendre and the setting at Eli's was perfect for the raunchy performance. Rush's personable banter with the audience was delightful. While doing the tune "She's So Fine," Rush's leering grins matched those of the men in the audience.
Rush ran the gamut of entertaining tunes including "Hen-Pecked" ("I'm not hen-pecked, I just been pecked by the right hen"), "What's Good For The Goose Is Good For The Gander," "A Man Can Give It (But He Can't Take It)," balanced off with some good solid blues songs. Rush played harmonica on some tunes and at the end of the show picked up his guitar to thrill the audience with his inventive high-energy licks.
At the Sacramento performance, Rush was surprised by women in the audience who showered him with an offering of roses to celebrate his sixty-ninth birthday.
Rush's warm-heartedness along with incredible sexuality are the ingredients which make his live performances ones never to forget--a Bobby Rush show is the antidote to our daily woes. I will definitely be counting the days until his next visit which the rumor mill says will be in February--watch out!
James Cotton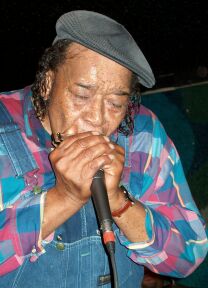 Mr. Super Harp, James Cotton (photo at left) is a true legend. In an evening of true Chicago-style blues, Cotton performed his wares at Eli's in Oakland dressed in his trademark overalls. Cotton's harmonica style blends a powerful effect of texture and rhythm and on this evening he proved that he can still reach those amazing high piercing notes. At one point, Cotton's elongated circular breathing had us wondering if he would come out of it alive! But, in his own inimitable way, he just laughed at the end, like he knew he really got to us. Cotton was backed by a group of young Chicago musicians who kept the energy high and funky. The highlight of the evening was Cotton's harmonica version of my favorite song "After Hours." It is incredible that despite a major bout of throat cancer, this legend is still going strong and is just as wild and crazy as ever.
Birthday Bash for Francis Clay at Biscuits & Blues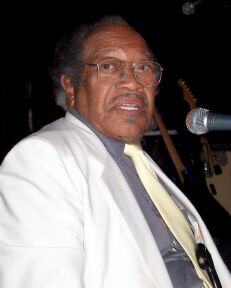 On November 16, 2003, Francis Clay (photo at right) reached the young age of eighty years old. For friends of Clay, this was a much anticipated event to celebrate this renowned Chicago drummer who put Jazz into the art of blues drumming. As a long-time member of the Muddy Waters Band and co-founder of the James Cotton Band in 1967, Clay's musical influence is legendary. Clay is the drummer's drummer--revered like no other.
Clay's band Blues Crusade, led by vocalist and harmonica virtuoso Carlos Zialcita, backed up the guest artists. For the opening set, Blues Crusade presented a performance by the wonderful vocalist Myrna Del Rio and her husband, Zialcita, who sang several tunes at the special request of Clay. The sweet horns of John Middleton on trumpet and Carl Green on tenor saxophone were featured along with Steve Griffith on drums, Rich Kirch on guitar, Vince Nash on bass and Steve Evans on keyboards. Paying homage to Clay, Elvin Bishop performed an exuberant set directing his attention directly to Clay throughout. Other guest artists included Big Bones, longtime Clay friend and fantastic harmonica player and gritty vocalist, and Pete Sears who soloed on soulful blues on the piano and sat in most of the rest of the evening. Chicago musician Craig Horton now residing in the Bay Area, rendered a lively guitar set in tribute to his hometown colleague. In between, there were proclamations and awards--all handled superbly by the MC, Joseph Jordan, National Editor of Southland Blues Magazine. In a highlight of the evening, Clay read several of his poemsóhe is an exceptionally talented poet.
| | | |
| --- | --- | --- |
| Myrna Del Rio and Zialcita | Elvin Bishop | Craig Horton |
| | | |
Clay managed to blow out the candles on two large cakes with little effort and, despite the late hour, was one of the last to leave.
Article and photos by Dorothy L. Hill
---
Back to

Contents Page
Jazz Now Interactive

Copyright Jazz Now, December 2003 issue, all rights reserved
mailto:jazznow@sbcglobal.net