Jane Monheit at Nairn, Scotland
Sunday, 30th. November, 2003
There is something about Scottish Highland hotels and American Jazz singers that seem to dovetail perfectly; and despite the large and sparsely populated area that the Scottish Highlands represents, 450 souls turned out on a frosty night to appreciate the sweetheart of two previous Nairn Jazz festivals. A bit of choosing on her part too; flying in from Zurich at the end of a continental tour, Nairn was her only UK venue.
Backed by her regular group and singing Jazz standards, Christmas numbers and a Brazilian repertoire of mostly Antonio Carlos Jobim, and favoring the songs of Harold Arlen and Gerswhin, the evening was an assured success. There is a bit more glitz and dazzle about her now; though she will have to be careful that this does not fall into too much of an affected presentation. Plenty of drive about her too; "Nice Work If You Can Get It" really moved along as did "Lover Come Back To Me", and "Cheek To Cheek", which I fondly remember as a foxtrot, would have had Fred and Ginger pulling out all the stops to keep up with this arrangement. Jane is very sure of her material, her crystal-clear voice can very quickly have an enrapturing effect; but it is with the ballads that she really comes into her own.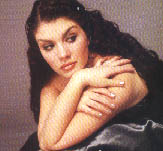 "Somewhere Over The Rainbow," which she has been singing since the age of two, has just the right ingredients; her ability to sustain an almost hypnotic feel in the audience when holding a long note, then embellishing it with faint nuances of exquisite Jazz phrasing has long been her hallmark. She is very difficult to place as a Jazz singer, although a bit of mystique is probably all to the good. She has a nice foil for duet work in the polite tenor saxophone of Joel Frahm (usually known as a talented hard-bop soloist) and "Once I Walked In The Sun" was one song in particular. Frahm plays a well-tempered melodic tenor, scampering over the notes deliciously, but never in bad taste; though "Santa Claus Is Coming To Town" was notable for a walloping tenor sax solo. Michael Kanan is an interesting pianist; he raises his hands above the keyboard when seemingly thinking hard on just where he is going next. His often sparse, inventive improvisations were a delight; a refreshing change from crashing cascades that often fill every part of the keyboard. Rick Montalbano, drummer and Jane's husband, kept quiet good order at the back. The evening was rounded off with "Have Yourself A Merry Little Christmas", this was a shameful and delicious way to pander to the masses; and as an encore? Then she did Gershwin's "Love Is Here To Stay." Need I say more?
by Ferdinand Maylin Photo by Melanie Dunea
---
Back to

Contents Page
Jazz Now Interactive

Copyright Jazz Now, November 2003 issue, all rights reserved
mailto:jazznow@sbcglobal.net