Jouralist, Thomas C. Fleming, Honored
November 21, 2004, the New College of California, East Bay, renamed its library in honor of 97 year-old journalist, Thomas C. Fleming.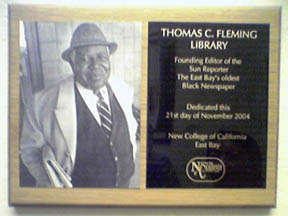 Mr. Fleming was born in Jacksonville, Florida, but moved to California in 1919. He went to college in Chico and then settled in San Francisco to pursue a writing career. He and his best friend, the late Dr. Charlton B. Goodlett, started the Sun Reporter, one of a very few black-owned newspapers in the San Francisco Bay Area that deals with social issues. Mr. Fleming retired after 53 years with the Sun Reporter in 1997.
Our connection with Mr. Fleming was the several very interesting and historical articles he submitted to Jazz Now, and one of the Sun Reporter's writers, Rochelle Metcalf, was also a columnist in the print issues of Jazz Now.
We are grateful for Mr. Fleming's contribution to our society in general and to Jazz Now in particular. As quoted from the flyer that we received during the dedication:
"We consider this ceremony an opportunity to salute an elder warrior for social change. New College of Califronia, a thirty-three year old private college, is truly committed to providing higher education experiences for those who consciously desire to act as social change agents. Mr. Fleming's exemplary career as a jounalist dedicated to truth, justice and social progress is an inspiration to the entire New College of California community to incessantly work to contribute to a 'More Just, Sacred and Sustainable Future for All of Humanity.'"
The following links connect you to articles written by Mr. Fleming for Jazz Now:
Langston Hughes Comes West May 1999 issue
C. L. Dellums and Mr. Bojangles April 1999
Memories of Duke Ellington December 1998/January 1999
Black Entertainers in Vaudeville September 1998
Encounters with Fats Waller August 1998
Black Musicians and Early Radio July 1998 issue
---
IPO Recordings Announces New Release by Roger Kellaway
Celebrating the Music of Bobby Darin
I Was There ­ Roger Kellaway Plays From the Bobby Darin Songbook (IPOC1006)
Street Date: January 18, 2005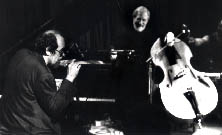 (1992 photo by Jim Redke of Roger Kellaway and Red Mitchell)
IPO Recordings Announces New Release by Roger Kellaway
Celebrating the Music of Bobby Darin
I Was There ­ Roger Kellaway Plays From the Bobby Darin Songbook (IPOC1006)
Street Date: January 18, 2005
New York New York November 22, 2004 IPO Recordings is pleased to announce a new recording by Roger Kellaway to coincide with the release of the new film biography of Bobby Darin, Beyond the Sea. The recording, titled I Was There ­ Roger Kellaway Plays From the Bobby Darin Songbook (IPOC1006), features tunes that Kellaway performed with Bobby Darin when he was Darin's musical director in the late 1960s, and will be available at leading CD retailers around the country and through IPO's distributor, Qualiton Imports (www.qualiton.com).
Kellaway is also touring the country in December with Kevin Spacey, who stars as Bobby Darin in the new film, performing tunes associated with Darin. Concert appearances will be in San Francisco (Dec 5), New York (Dec 14), Los Angeles (Dec 6), Atlantic City (Dec 11), Boston (Dec 12), Chicago (Dec 21), Miami (Dec 23), and Las Vegas (Dec 26 & 27). Kellaway worked extensively with Spacey to prepare his musical performances in the film.
Roger Kellaway has been described as "a musical chameleon," not inappropriate for a musician whose resume ranges from accompanist for the Borscht-Belt comedian Jack E Leonard to composer of orchestral works for the New York and Los Angeles Philharmonic Orchestras, and covers just about everything in between.
As a pianist, Kellaway has performed with everyone from Elvis to Ellington, Dizzy Gillespie to Yo-Yo Ma, Sonny Rollins to Joni Mitchell, Maureen McGovern to Natalie Cole, Quincy Jones to Michael Tilson-Thomas. He has played and recorded with many of the most important jazz musicians of the last 40 years.
As a composer, he has written extensively in the jazz, classical and popular music fields. His acclaimed "Cello Quartet" albums, described by some as the beginning of "New Age," were the first of an eclectic array of compositional projects that have included a ballet for George Balanchine and the New York City Ballet, orchestral pieces commissioned by the Los Angeles Philharmonic, the National Symphony and the New American Orchestra, and "Songs of Ascent," a Tuba Concerto commissioned by the New York Philharmonic, the premier of which was conducted by Zubin Mehta. In addition, Kellaway has written more than twenty-five film scores, including Barbara Streisand's "A Star is Born" for which he received an Academy Award nomination.
But Kellaway's roots have always been in jazz, and the new IPO recording features straight-ahead, swinging versions of standards like "I'm Beginning to See the Light," "That's All" and "Just in Time," as well as tunes particularly associated with Bobby Darin, like "Beyond The Sea" and "When I Look In Your Eyes," and a great new tune by Kellaway celebrating his time with Darin, called "I Was There."
Label Website: www.iporecordings.com
In conjunction with Kevin Spacey concerts Roger Kellaway will appear at the following venues:
December 3rd - Ventura, CA @ The Ventura Theatre
December 5th - San Francisco @ Bimbo's
December 6th - Los Angeles @ The Wiltern
December 11th - Atlantic City @ Taj Mahal (Mark Etess Arena)
December 12th - Somerville, MA @ Somerville Theatre
December 14th - NYC @ Rose Hall
December 15th - Mashantucket, CT @ Foxwoods Resort Casino
December 21st - Chicago @ House of Blues
December 23rd - Miami @ Barton G
December 26th - Las Vegas @ Wayne Newton Theatre (Stardust Hotel)
December 27th - Las Vegas @ Wayne Newton Theatre (Stardust Hotel)
---
Media Contact For IPO Recordings:
Jim Eigo
Jazz Promo Services
269 S Route 94
Warwick, NY 10990
E-Mail: jazzpromo@earthlink.net
Web Site: www.jazzpromoservices.com/
"Specializing in Media Campaigns for the music community, artists, labels, venues and events."
---
Jazz Now Interactive December 2004 Vol 14 No. 8 - Table of Contents
Copyright Jazz Now, December 2004 issue, all rights reserved.
Comments: jazznow@sbcglobal.net